As the year is approaching to an end, the lists of Top and Best of 2013 are flooding the internet. Following the trend, leading research firm Nielsen is out with the list of Top Smartphone Apps Of 2013. No prizes for guessing, Facebook Inc. (NASDAQ:FB) secured the top position in the list with a distinctive margin beating its arch-rival Google Inc. (NASDAQ:GOOG) . According to the report, 103,420,000 Smartphone users (iOS and Android) used the Facebook app on an average each month, between January and October 2013, while Google Search remains the next most used app, used by 75,984,000 unique users during the same period.
The list portrays another surprising scenario, the world's most valuable brand of 2013 and maker of the much-desired iPhone and iPad, Apple Inc. (NASDAQ:AAPL) is yet to claim a sizable pie of the app market. While Google apps secured 5 places in the list and Facebook 2, only a single iPhone app made it to the list. This becomes even more surprising with the fact that iPhone enjoys nearly 20% of global Smartphone market as on 31, October 2013.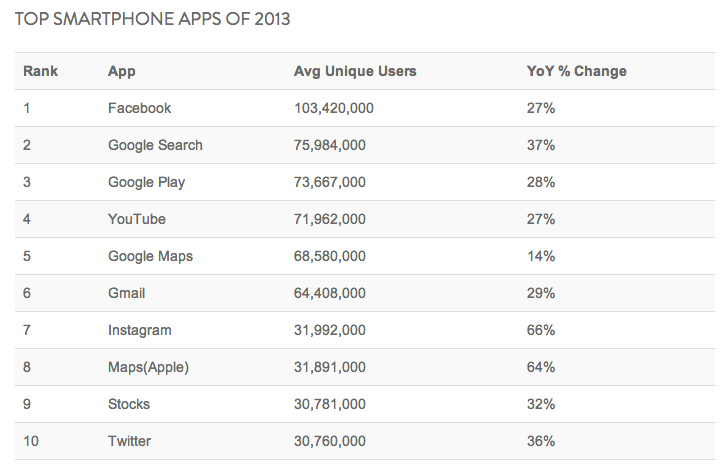 The list also highlights the growth in usage of each app in the list. Facebook tops the list though Instagram and Apple Map have emerged as the fastest growing Smartphone app (in usage) with a 66% and 64% Y-O-Y change. However, the total number of usage for these two apps is still far below the top 5 apps in the list.
On a scale of global Smartphone adoption, each individual app is still far from a sizable app usage market claim. By October 2013, 22% of global population owns a Smartphone, a majority of these people bought Smartphones in 2013.
The number of unique app users of top apps in comparison to total Smartphone users clearly depicts that the entry-level Smartphone users who are yet to get hands on 3G networks, are still driving the Smartphone market. Therefore, for the most part, the usage of Smartphone is still limited to calls and SMS. Third-generation mobile internet (3G) is adopted by a small set of Smartphone users, which is resulting in low penetration and use of Smartphone apps.
Source: Nielsen