The micro-blogging site Twitter Inc. (NYSE:TWTR) recorded a blistering start at silicon-valley's hottest IPO in recent memory with over 73% of increment in its share value on the opening day. The share prices rose at an exploding pace on day one. They rose from $26 to a high of $44.10 (with a peak price of $50 during the course of the day) converting a majority of investors to instant millionaires. Although, Twitter shares have dropped since Thursday's debut, trading around $41.86, very few investors are worried about it. Twitter is being treated like a growth stock with huge potential. But, there are a few challenges ahead for the micro-blogging specialists which might result in further drop in share prices unless they come up with some brain storming ideas to resolve the issues listed below.
Nearly 84.6% Of User Base Is Passive!
There are more than 904 Million registered Twitter accounts, whereas MAUs (Monthly active users) are a mere 232 million, about one-fifth the MAUs of Facebook Inc. (NASDAQ:FB). Moreover, hardly 139.2 Million or 15.4%  of Twitter registered users Tweet, which is a sign of worry for the world's most popular micro-blogging site.
Although, Twitter has done well by adopting mobile first strategy, with more than 75% (173 Million) of total user users of Twitter using the mobile platform and the income derived from the mobile section accounting for 70% of overall revenue. Still the company has a bigger challenge of driving back fickle minded users and keep them engaged at the earliest to ensure future growth. If Twitter is able to incite its registered user base of 904 million to Tweet or engage actively, then revenue growth is likely to explode and head northwards, closer to where Facebook is currently. Social media titan, Facebook has nearly the same number of monthly active users (1.189 Billion) as that of Twitter's registered users (904 Million), which signifies the need for scaling up Twitter's user base's tweeting habits, in order to stretch the sparkling momentum of the IPO in the long run.
Retention Of New Users
As mentioned earlier, out of a 232 million user-base, hardly 139.2 Million of them are monthly active, tweeting users. If we consider daily active, tweeting users, the figure accounts for a mere 42 Million or 19% of total active users. Twitter has a stable group of active users, but the major concern lies with new users who are unable to acquaint themselves to Twitter's customs and traditions.
Out of the 45 million people who tweeted on October 25th  (the day when analysis was made), a majority of them were already on Twitter on July 25th. Of the 90 million accounts that registered in the last 3 months, only about 3 million turned into daily active, tweeting users. This is a very marginal figure and is probably the main reason why advertisers are not ready to risk their investment due to the lack of higher retention rates of newly registered users. For the accounts that registered in July, 61% of them haven't placed a single tweet until October 25th. Only 7% tweeted equal to or more than 50 times. It is important for Twitter to come up with some sort of a strategy that addresses this issue.
Revenue Generation From Non-U.S Users
Like other social media firms, Twitter's main revenue comes from ads for corporate accounts, specific tweets and topics, and the sponsored content. Twitter's revenue figure is expanding at an enormous rate on Y-O-Y basis. But, the company is facing challenges in proving its advertising power beyond the U.S. Out of 232 million MAUs, nearly three-fourth of them are from outside the U.S, but only one-fourth of its revenue is generated from the rest of the world (outside the U.S).
Comparatively, Facebook's revenue outside the U.S and Canada accounts for 48% of total revenue. Advertisers beyond the U.S are well-accustomed to traditions and usage of Facebook for advertising when compared to Twitter. 1000 timeline views in the US generate $2.58 in revenues, which is approximately 7 times the revenue generated by 1000 international timeline views ($0.36) on the Twitter platform.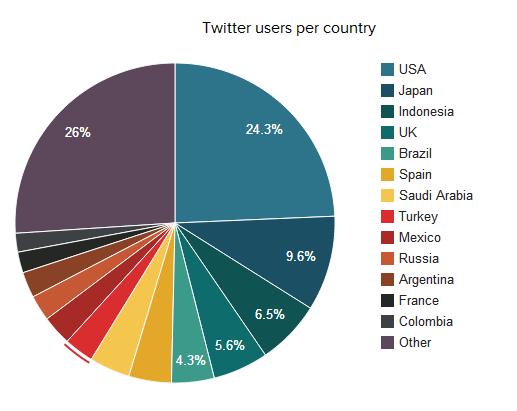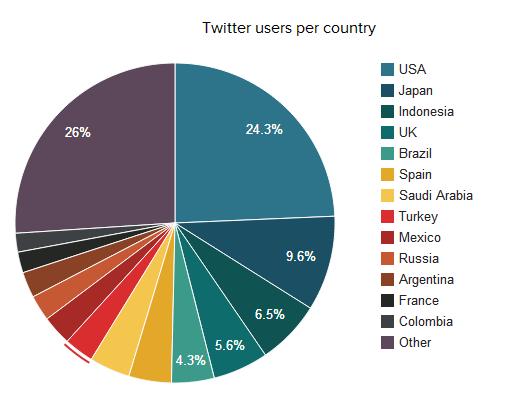 Twitter should focus on generating more revenue from its user base in Japan (9.6% of MAUs), the United Kingdom(5.6% of MAUs), Brazil(4.3% of MAUs), Saudi Arabia and Russia. Twitter has no doubt proved useful in terms of spreading important social, political and corporate messages at a rapid pace. When an airplane landed on the Hudson river, or in the Arab spring revolution, Twitter had played an important role to amplify the voice of the people. But advertisers beyond the U.S are looking for a more convincing picture to invest in the micro-blogging platform in order to publicize their brands.
Advertisers in developing countries are somewhat aware of Twitter's potential in advertising but Twitter's Ad success stories are not yet clear and many are confused if the ads are all that valuable. Twitter should focus on providing a better insight into the Ad success reports in detail, like that of Facebook. They should focus on attracting a user-base which belongs to developing countries, where social media platforms like Facebook are just making their mark. This might boost their revenue from the rest of the world.
More Number Of Users Are From Non-Working Class
A majority of Twitter users are young, on an average they are about 24 years of age. Twitter is dominated by teenagers and only 20% of the tweeps are older than 30 years in age. If we analyze the graph below more than 43% of users are in the age group 10-19, and about 6% more than the working class in the age group 20-29. About 13% are in the age group of 30-39.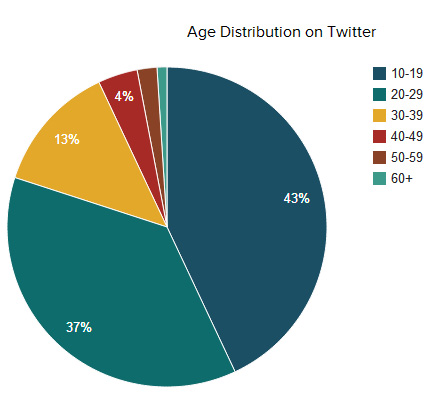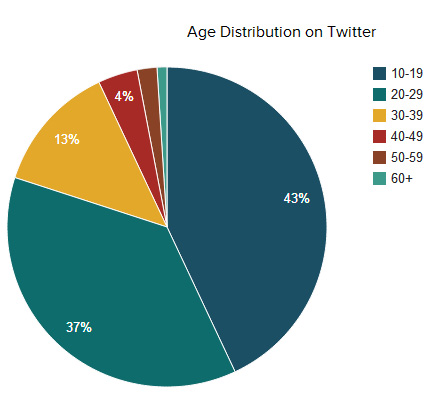 If we analyse country-wise, a majority of Asian countries have users from lower age groups. Philippines, Indonesia, South Korea and Japan all have users in the age group of 17-23, which concerns a majority of advertisers about the buying power of the engaged user base. A majority of users in the age group of 22-40 generally belong to the working class and hence they are less dependent on others for making decisions related to buying or shopping. Brand advertisers prefer engagement from user groups who can make their own buying decisions.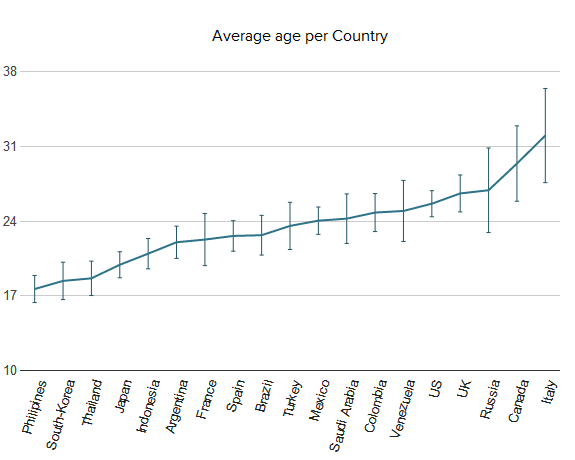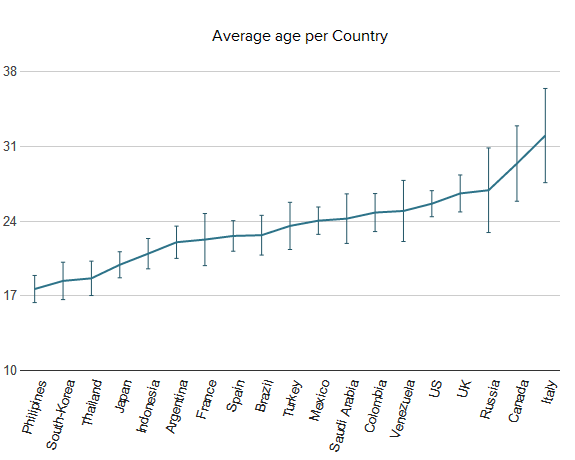 The developing markets in Asia are still open for many new players to dominate and hence most of the brand advertisers would probably be looking to establish the supremacy by targeting the potential working class group. The working class group generally has less time for checking every single update from brands, which is why they are unable to leverage upon new quality focussed brands. They depend more on recommendations from friends or on  the satisfaction rate of the brand, which they had used previously. Hence it is important for Twitter to increase its user base in the higher age group categories amongst developing countries. They should try providing customization to users to view their favorite Tweets at the top which will certainly save time.
Source : Peerreach Blog