Good customer service is the lifeline of any business. Brands can grab in new customers by offering discounts and attractive deals but firms will remain profitable for long periods only if they are able to convert at least a few of them to repeat-consumers. It is vital for any brand to have well organized customer service which is available for all possible support channels likely to be used by customers. Proper guidelines and regulations must be set to provide efficient and promising service to customers. This would give rise to the loyalty factor towards a brand.
A new report from Zendesk reveals detailed findings regarding various factors which contribute to overall customer satisfaction. Time of the day when a customer requests for a query response, the support channels used by customers and Customer Tenure are 3 major factors which impact the rate of customer satisfaction.
Queries Between 9am-12pm Receive Fastest FRT (First Reply Time).
Customer satisfaction is synonymous with the FRT (First reply time) factor. If customers don't receive a quick reply on first approach then their hopes of getting the query resolved is almost diminished leading to poor satisfaction rate. When customer satisfaction was studied based on time of queries and response delivery, the observed trend was intuitive. Queries or complaints submitted outside normal business hours of 9am-5pm received slowest FRT.
The queries or requests which were placed at late evening after 6pm including late night hours took on an average of 13-17 hours for FRT delivery resulting in customer satisfaction rates of 75%-77%. Whereas queries or complaints registered between 9am – 5pm received the quickest response with an average waiting period of 5-10 hours. Customer satisfaction rates during this period averaged around 78-79%. For queries beyond 5 pm, when a majority of the working staff leaves for the day, the average delay in FRT spiked from 10 to 17 hours.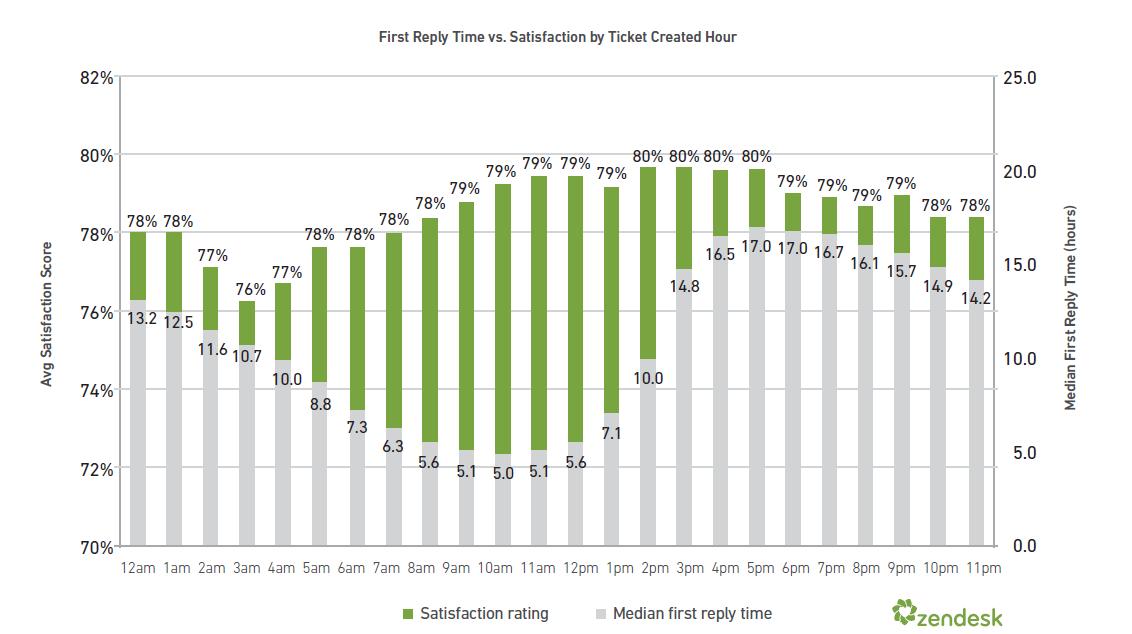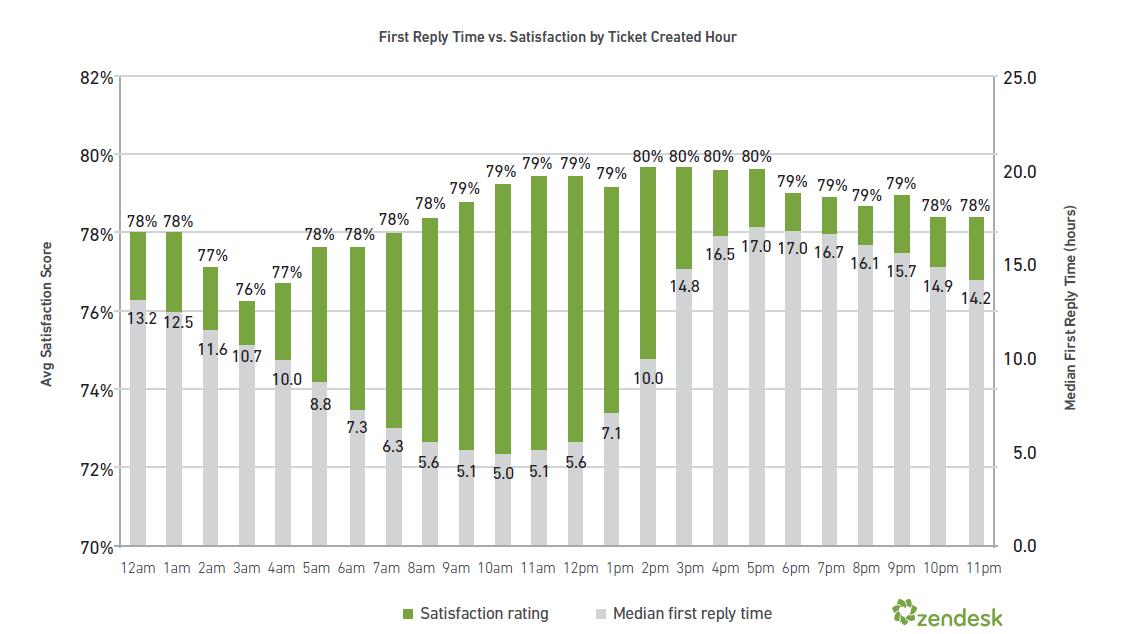 It is important for companies to have sufficient workforce for customer servicing. The working shifts must be assigned such that at any point in time a customer service executive is present to handle queries. There must be clear guidelines for providing a response to a customer request based on timescale. Customers get frustrated with fake assurances of getting their complaints resolved. Instead of brushing off or providing customers with meaningless suggestions (which you know, won't work), acknowledge that you don't have a solution and it would take a little longer to provide an efficient solution. Customer service can be improved by analysing the performance and activity on a daily basis and by implementing necessary modifications.
Voice Channels Continue To Dominate With 91% Satisfaction Rate!
Due to high-end technological development, support channels available for customers has revolutionised vividly, providing them with numerous options to get connected with their brands. It is very important for companies to establish themselves in all possible support channels used  by customers – from the phone and the email to Twitter, Facebook and whichever new channels creep up in the near future. A majority of businesses are facing challenges in providing an effective service across all channels used by customers.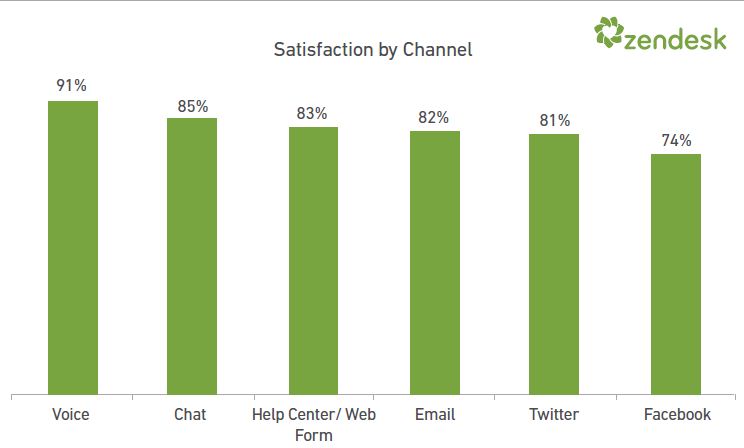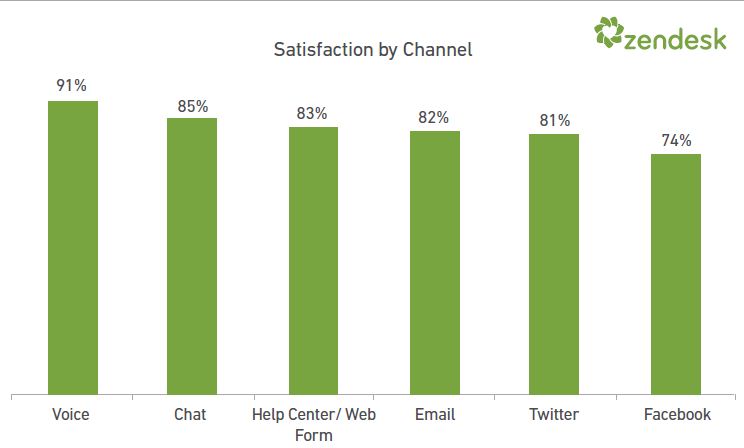 The voice channel is the most preferred option as a majority of customers find responses through the human voice much more trustworthy when compared to other channels. Customer satisfaction rates through the voice channel was as high as 91%. Consumers are more emotionally attached to the activity pertaining to buying or engaging in any form of service provided by brands as they invest a significant amount of time and money into it. Hence they prefer a direct interaction (voice channel) with customer service representatives as their first option. A majority of firms have got accustomed to the above facts well and hence satisfaction rate is maximum in case of voice channels.
Customer service via the chat option received a satisfaction rate of 85% followed by help centers/web forums with 83%. Twitter and Facebook received satisfaction rates of 81% and 74% respectively. Generally the online shoppers, while browsing through various options, prefer interacting with customer service representatives via the chat option plugin available on a majority of websites.
It is convenient for a user to get directly in touch with the service personnel on online chat and get a better picture about the various options available. It is a lot more convenient than making frequent calls for every single query. Help centers or web forums also serve better for customer servicing, as a majority of customer care personnel are active on web forums/help centers to assist consumers with their issues.
The usage of Facebook and Twitter for registering queries or complaints is increasing these days amongst customers. Social media platforms are most decisive for brands as the complaints posted by consumers are likely to be viewed by a large number of brand followers. Hence brand image might get a negative affect. It is important for firms to have 24/7 monitoring of social media platforms to provide immediate solutions to customers.
A Long-Time Customer Generally Leads To Higher Satisfaction.
The amount of time that a customer interacts with a company is an indicator of their likely customer satisfaction. Customer tenure is a measure of how long a customer has been using the services or purchasing products from the firm. The general belief is that a long-time customer is generally the result of higher satisfaction. If a customer is satisfied with the service being provided, chances are that he/she might use the service again. But due to different constraints, the service provided by the firms might vary for a particular customer over a period of time.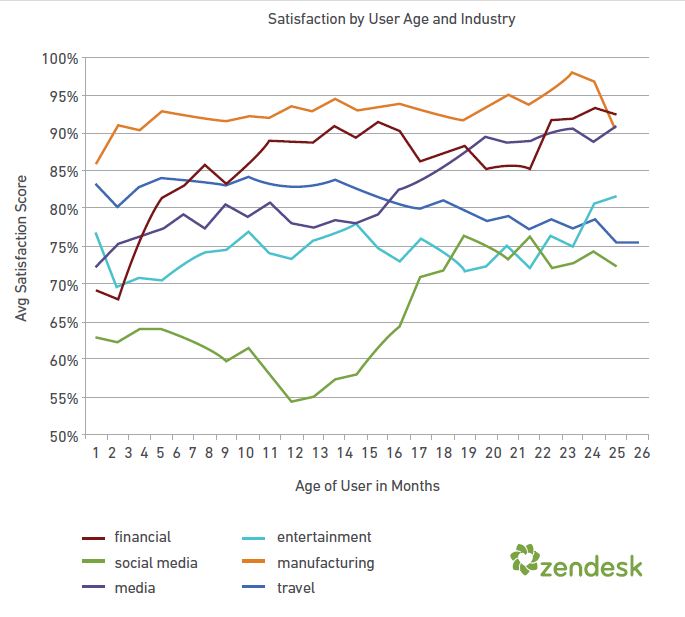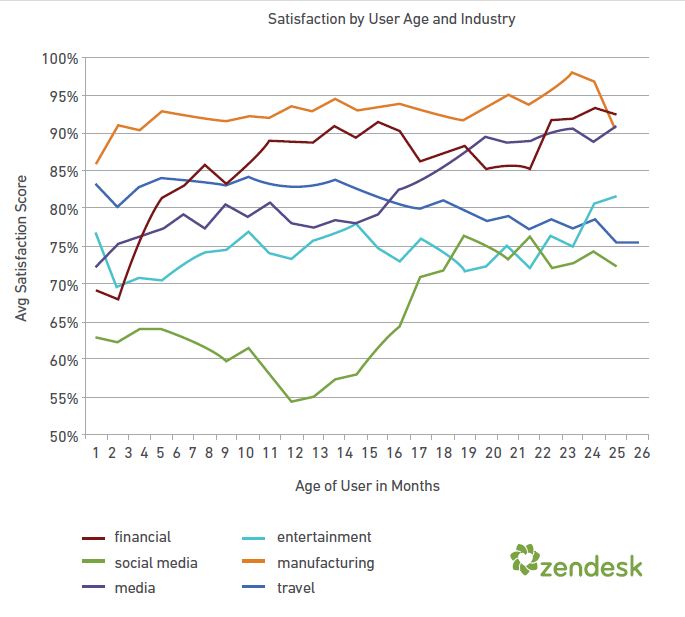 Customer tenure in the manufacturing sector is on the rise and is comparatively doing better than the rest of the domains. Latest technological developments are likely to be the main factors which have boosted satisfaction rates for clients of manufacturing firms. Social media was the worst in providing effective service throughout the customer tenure. This is mainly because the number of spams and privacy related issues on social media platforms are on the rise. Social media firms are unable to provide 100% spam-free experience to the users, which has resulted in poor satisfaction rates. Finance, media, entertainment and travel sectors have had mixed results throughout the customer's journey with the brand.
Source : Zendesk Benchmark, Q3 – 2013