According to a forecast report published by Cisco in February 2013, the global mobile data traffic will increase 13x from 2012-2017. People are increasingly using mobile devices to access internet as they can be carried anywhere and don't bind the user to a fixed spot. As a result, people are spending more on mobile data plans. Smartphones have emerged as the most favoured devices for accessing the internet due to the varied functions that they offer. Many markets have already reached the saturation point, where smartphones have penetrated more than 50% of the total mobile devices market, emerging markets are catching up rapidly.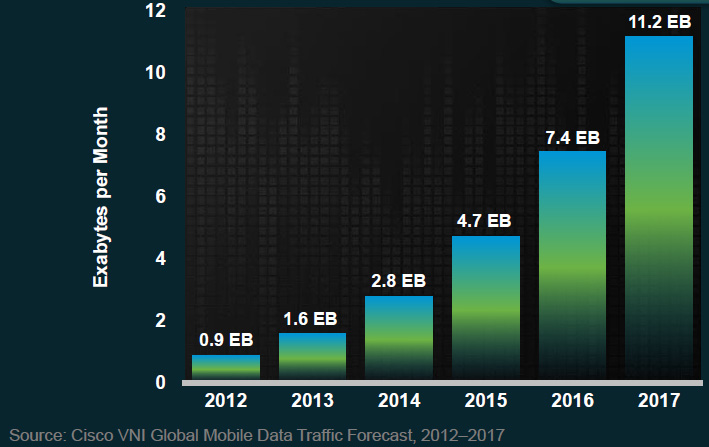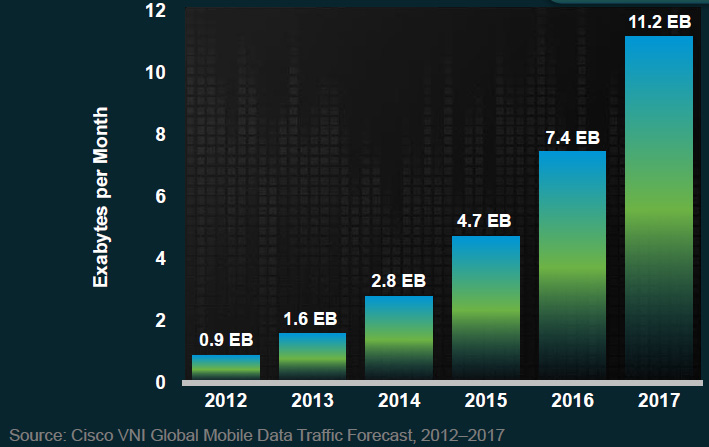 The number of mobile internet users in India is expected to reach 130 million by March 2014 as number of smartphone users are growing and mobile data plan charges are continuously declining. Smartphone penetration is quickly gaining momentum in India due to low-cost smartphones offered by local as well as Chinese vendors. India being a price sensitive market welcomed these vendors warmly.  Samsung, the international brand which has the largest market share in Indian market is now being threatened by local smartphone manufacturer Micromax. Micromax's clever marketing techniques and advertising that mainly highlight specific features of their smartphones, for instance – screen size, dual SIM, etc, was able to draw people's attention towards itself. Currently, Micromax has 22% market share, while Samsung has 26%.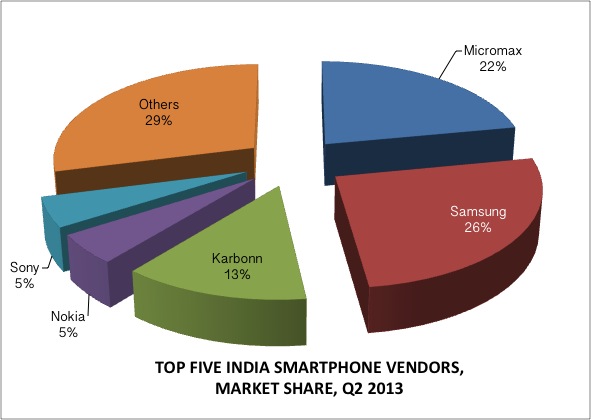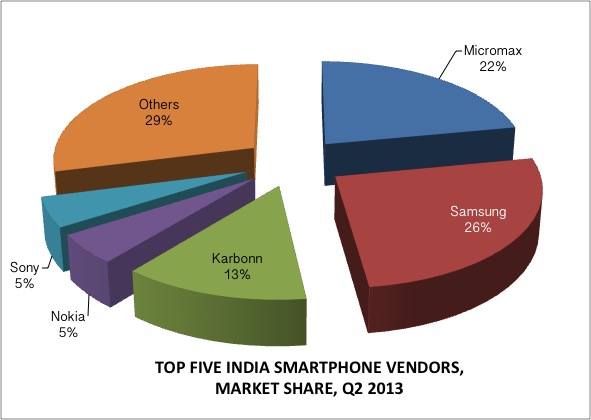 Micromax being an India-based smartphone vendor seems to understand the Indian consumer very well and has been designing products specifically targeted towards the price sensitive consumers. Apart from India, it currently has its presence in Bangladesh, Nepal and Sri Lanka.
The company recently announced that it aims at being the number one smartphone vendor in India by Diwali (November) – quite an ambitious statement but given the track record of Micromax, it doesn't seem entirely impossible. The company had a 19.3% share in the smartphone market in the first quarter of 2013 as opposed to Samsung's 40.7%, but it has managed to increase its market share by 2.7% in the second quarter.
Yesterday, Micromax entered into a partnership with Aircel – one of India's major telecom service providers with an aim to drive data growth in the Indian market. Aircel currently offers voice and data services ranging from prepaid and postpaid plans, 2G and 3G services, Broadband Wireless Access (BWA), Long-Term Evolution (LTE) to Value-Added-Services (VAS), it currently has 61 million subscribers, with a successful bid of 3G licenses/spectrum in 13 states, its 3G rollout has been the fastest in the Indian telecom space.
This was a very well-thought partnership. According to a previous report, an average Indian spends around INR 500 every month on mobile bills and mobile internet data plans. Micromax is offering the following benefits on purchase of its products:


It sure looks like a win-win situation for both the partners, as both the companies will benefit from customers who purchase Micromax's products. Indian consumers will also benefit as they will be exempted from shelling out extra money for data plans. With this partnership, they plan to acquire 4-5 lakh device users per month. Micromax sells around 2.3 million mobile devices every month so after this partnership it should be able to sell a minimum of 8.1 million devices in the next three months at the rate of 2.7 million devices per month.
This strategic partnership can be a serious move against current smartphone market leader, Samsung.