As we reported earlier, local smartphone brands in India, China and other surrounding countries are giving it a tough fight to International brands in their respective countries. The report, though, only reveals the sales numbers but does not expose the details about the average selling point or price range of the products sold. The number of handsets sold in the lower and mid range price segment will obviously be much larger than the number of mobile phones sold in the higher end of the segment.
Right now, only a handful of players have been able to make their strong hold in the higher price segment such as Samsung, Apple and HTC. When consumers are spending huge amounts of money to buy a smartphone, they are satisfied by nothing but the best. They want to show off not only their shiny new pricey gadget, but also the brand name of their phone. It is very hard for other brands to enter this segment and win. In spite a lot of efforts from Sony, LG, Asus, and even Nokia, have been able to sell only a limited amounts of high end smartphones.
Global Players Tweaking Their Offerings To Satisfy Mid-Range Smartphone Consumers
Consumers who are new to smartphones or who are searching for a smartphone in the mid-range price segment are completely different. They value features and performance of device more than keener things like looks, build quality and brand name. They are willing to try various brands in the mid-range price segment, sometimes even the brands, which they have not even heard of earlier. There is a lot of growth happening in the mid range price segment, thanks to tremendous amount of value for the price. There is increasing attraction of smartphones in the consumers all over the world and they are ditching dumb phones for new smartphones.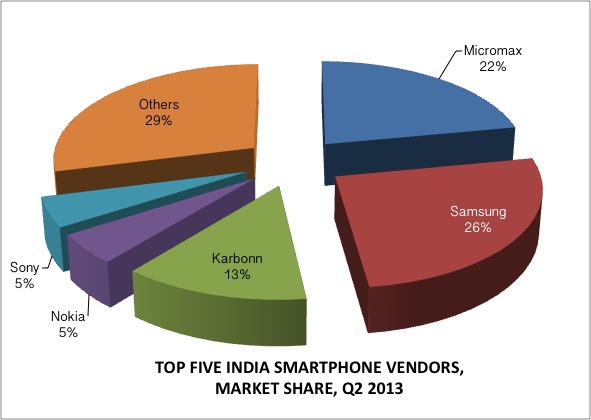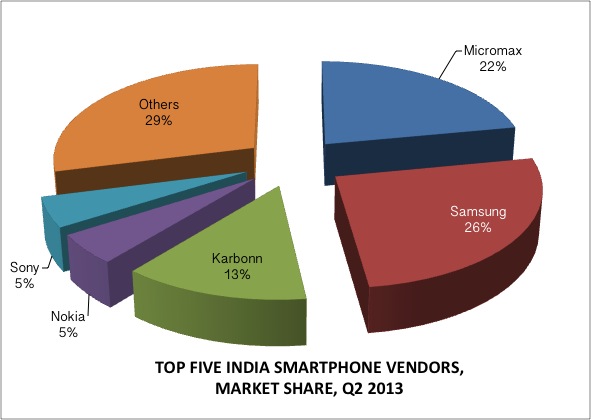 Brands like Sony, HTC, LG are trying to gain their market share with more intelligent efforts in the mid-range price segment. LG had a fair bit of success with their L series of Android smartphones. HTC has been on a full range assault in mid-range price segment with Desire series of smartphones. Sony has announced a lot of decent options in the form of Xperia M, Xperia C and Xperia L. This segment has a fair bit of profit margins per device and high number of sales. These brands are ready to offer what consumers need in this segment. People often compare phones by their hardware specifications and not real-life performance. The devices from international brands have lower and less powerful hardware compared to options from local brands. So international brands are trying to be neck to neck not only in performance but also with respect of 'on-paper' specifications.
Even well-known Chinese brands are starting to focus on the Indian market. Huawei, ZTE and Gionee are competing with Indian brands in mid-range segment with aggressive prices and similar or better hardware. They have understood the market very well and have established themselves in an impressive manner, be it distribution or after sales service.
Quad Core Processor
All the international segments used to stick to either Texas Instruments and Qualcomm processors in their smartphones but after the impressive show of MediaTek's MT6589, be it performance or large-scale availability, these brands are forced to use these chips. The MediaTek MT6589 has impressive performance, thanks to ARM Cortex A7 cores which are known to be power efficient and the decently powerful PowerVR SGX544 GPU.
Dual SIM Connectivity
The feature which is a crime to let out of a mobile phone feature list, especially in the low and mid range price segment. The MediaTek MT6589 has inbuilt support for dual GSM SIM card slots. The Sony Xperia C uses the MediaTek MT6589 to enable this feature while the HTC Desire 200 uses the Qualcomm Snapdragon 200 for this feature. All the phones in mid-range price segment apart from devices based on Windows Phone 8 have dual SIM or their dual SIM clones, which shows the importance of dual SIM in India.
Better Camera Performance
The devices from HTC, LG, Samsung often have better camera quality and performance in comparison to devices from local Indian brands. If you consider the price of INR 13K, devices like Gionee Elife E3, Nokia Lumia 620 and Sony Xperia M has better camera performance compared to the likes of Celkon A119Q or Micromax Canvas HD.
Software Optimization Quality
Even with a dual core processor, the devices from international brands are smoother than the quad-core variants of local brands, thanks to extensive software optimization and excessive product testing. They also offer a large variety of customization options and useful features. Just have a look at Samsung Galaxy Grand, with features such as battery stamina mode and dual window mode. Both of them are extremely useful in day-to-day lives.
Indian Brands Might Want To Improve Themselves & Be Fully Prepared To Face The Competition
Good looking and attractive devices
Often, all the devices from the likes of Xolo, Micromax, Celkon and tens of other local brands have no distinguishing factors in their looks and design. All of them look similar white or black slabs of hardwares. Where as consumers could easily make out the difference between a Sony handset and a Samsung mobile or a Nokia device, thanks to family design factor.
Good Software Quality & Updates
The Android smartphones from local Indian smartphones don't receive much software updates, newer versions of Android or bug fixes. But if they expect these consumers to be loyal to their brands, they need to give all this stuff, which in turn increases the trust factor. Brands like Lenovo, Xiaomi and Gionee provide constant software updates through OTA.
Clear Differentiation Of Price & Features
Right now, Indian smartphone brands don't have a clear differentiation of features between their line-up of smartphones depending upon the price tag of each of them. There is one new model for price increase of INR 1K. This results in not much of a visible upgrade between devices proved so closely, sparking confusions in consumer's mind. They should increase the price gap between different models, reduce the number of products and offer substantial upgrades in hardware and software features.
As more and more brands fight in the mid-range market, this should cause serious concern to Indian smartphone brands, which would definitely force them to improve in areas where they are not perfect. Not only well-known international brands but even Chinese brands like Oppo, Xiaomi and Coolpad want to expand internationally, and may want to enter Indian market which is another cause of concern as they sell devices in the exactly same price range where Indian smartphones do. As per a consumer's perspective, this fierce battle will only bring more value, choice and powers to the consumers.