Smartphone market in India is poised to grow. And, signs are clearly visible from the mobile handsets market performance between January – April 2013.  In the said duration, 9.4 million Smartphones were sold, 6.6 million more compare to same duration a year back. The overall mobile handsets market in India grew by 11.1%, to 73.5 million, compare to same time in 2012.
Smartphone Market in India, April 2013
According to latest CMR's June 2013 report, while Smartphone market in India is registering astounding growth, feature phone market is still strengthening with 2.4% comparative growth.
While Korean mobile device maker Samsung is still retaining its top spot in Indian Smartphone phone, Indian phone makers Micromax and Karbonn secured second and third spot. The growth of Indian mobile makers came at the cost of Nokia and Sony Corp, once mobile market leaders in India.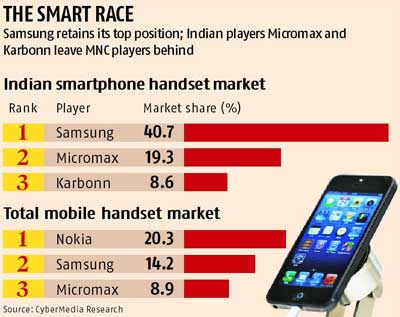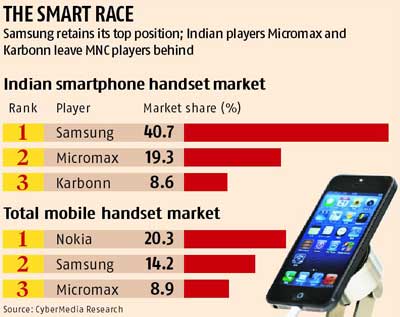 Those feature phone users who migrated primarily drive this growth to entry-level Smartphones. The positive sales growth of feature phone indicates that Indian mobile phone users are quite sensitive toward price. Consequently, migration to Smartphone is also towards low-price Smartphones being manufactured by Indian mobile makers. And, most of such users are going to stick with respective makers apparently. This shows a clear sign that Smartphone market in India is only heading towards new heights.
"The featurephones market in India has matured, whereas the smartphones category is showing promising growth. This is attracting relatively new entrants such as Micromax and Karbonn to start offering smartphones, particularly for entry level users who would like to migrate to a more sophisticated mobile experience", stated Faisal Kawoosa, Lead Analyst, CMR Telecoms Practice
Mobile Handsets Market in India, April 2013
Though, Smartphone market in India is showing sizable growth but the market of feature phone is still improving its numbers in market. This is because overall mobile phone market in India has only scratched the surface. Indian is the second largest country in the world in terms of population only after China. However, the total mobile handsets penetration is only about 26% of total population that results in nearly 400 million unique mobile subscribers, according to Telecom Regulator Authority of India (TRAI).
While majority of new subscribers in Tier 2 and Tier 3 cities are adopting feature phones. This is due to the fact that technology infrastructure in these cities is still below than standard.