Just a few months before, I described about the reasons why 3G operators were struggling to entice a significant number of mobile users in India. However, the 3G penetration has incredibly been grown up across the country during 7 months average period ended June of this year. Nokia Siemens, a multinational data networking and telecommunications equipment company, has recently reported its Mbit Index which covers 2G, 3G and overall data traffic growth trends at Pan-India level. The report also reveals a detailed comparison of data consumption per users on 2G and 3G services. The primarily objective of this index is to provide an insight about mobile broadband traffic growth in India.
Growth Of 3G Data Consumption In India
The networking and equipment company has reported that mobile data consumption on 2G and 3G networks grew up by 54% in India during 7 months average period ended June of this year. The company has also revealed that the mobile data consumption is doubling in every 12-14 months period.
During 7 months average period, 3G reported an extraordinary growth of 78% in India compare to 47% growth of 2G networks' growth. Despite of just 6% penetration and one-tenth of 2G coverage, 3G dominated over 2G in terms of mobile data traffic during last seven months average period ended June 2012. However, 2G still accounts for three-fourth mobile data consumption. 3G data consumption grew up from 20% to 25% during seven months average period ended June this year.


The report has clarified, on taking an average, each 3G user consumes more than 4 times of data consume by each 2G users. At present, 3G is considered as an alternative for broadband due to better speed and experiences. Adoption of 3G started to increase since December last year and 3G reported a 7% growth from Dec last year to May of this year, while it mounted up to 17% during May to June of this year.
I think, the increasing number of Smartphone and cut in 3G tariffs are two key driven forces for the growth of 3G networks in India during seven months average period ended June of this year. The condition of broadband coverage in India is still shabby. Half of the web traffic in India is being generated by mobile devices and fixed broadband connection is still far behind to the benchmark level.
Mobile Data Consumption On 2G And 3G Networks 
Mobile data consumption (aggregating both 2G and 3G) surged by 54% during an average of 7 months period ended June this year. The data consumption has tremendously increased during these periods, while subscribers' addition was quite low. Undoubtedly, 3G played a crucial role in mobile data consumption during seven average period ended June this year.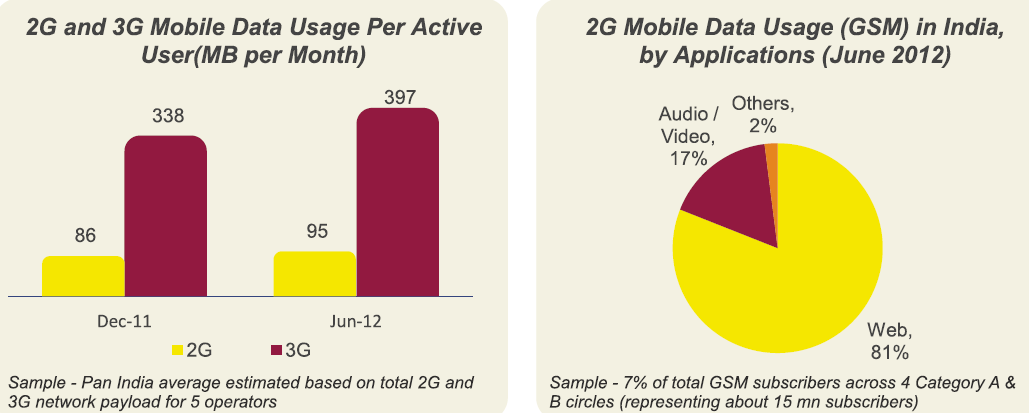 At present, existing 3G tariff is significantly expensive than 2G tariffs. On the contrary, an average 3G data consumption per user has been doubled since about a year ago. During last quarter, mobile data consumption augmented due to streaming of audio and videos and sharing of images and files on social networking sites through mobile devices. About 14% of the current 3G data is driven by uploading of audio, video and picture on social networking sites such as facebook and YouTube. 3G users mostly use to access the networks for personal entertainment between 10 P.M. to 11 P.M. (also considered as peak time for 3G access) at home.
Metros account 21% of total mobile data consumption on 2G networks, however, 3G penetration (10-12%) in the metros is somehow greater than its overall penetration across the country. Users mostly access mobile data (especially on 3G coverage residential areas) at home during non-working hrs.
Why 3G Is Disappointing In India?
Despite of indefatigable endeavors, 3G penetration in India is still low. In order to make stronger 3G penetration, operators need to focus on 'in-building coverage' and also, they require to ensure good speed and quality of experiences to users in these areas. Obviously, in residential areas, the reach of fixed broadband services is low.
On the other side, smartphone's penetration in India is still not up to the mark level. Thanks to Android cheap smartphones, which have boosted to Smartphone proliferation across the country. Here, majority of users have 2G enabled mobile handsets, which are needed to be replaced with 3G enabled sets. In the matured markets, smartphones are being subsidized by operators by offering contract for some limited period. Due to operators' efforts, users need not to pay a hectic price for the device and they could easily afford the device. But in India, users need to pay a huge amount to own smartphone. Indeed, this time Indian operators need to look at new business models to improve smartphone penetration across the country.
In addition to these, we could also see a tariff gap between 2G and 3G services in India and operators also need to bridge the gap by implementing numbers of plans such as application based plan, sachet plans and more. However, operators' decision to reduce 3G tariffs has fueled to 3G growth in India. Besides, operators also need to educate folks about the channels; how 3G networks are better in data transmission and receive than 2G.
There's also a need to promote local contents and application for the prevalence of 3G services in India. In this context, we can take an example of China, where Chinese language based internet sites have stimulated internet usage—grew from few households to 3.5 million. Internet content in India should also be enhanced by local regionalized contents and Multilanguage support.