Competition among mobile phone makers before the onset of smartphones were all about features. Today, smartphones have become a software game. Every smartphone platform out there wants to win the hearts of consumers by providing a well-designed, fast, pleasant-to-use bit of software: fluid operation, responsive interaction, and fast graphics, so as to deliver the best user experience possible. And quite frankly, user experience matters a lot to end-users. No matter how sophisticated the coding underneath is, if the average non-technical user isn't able to get what he/she wants from his/her smartphone, the user is likely to move away from the platform. The operating system, which is the heart of any smartphone, plays a very important role. The way an operating system behaves depends on its underlying algorithms. The UI is what a user sees and interacts with, so designing a friendly UI can go a long way along with integration of applications and the overall coherence.
Today we have four major mobile operating systems, namely Apple Inc's (NASDAQ: AAPL) iOS, Google Inc's (NASDAQ:GOOG) Android, Microsoft Corporation's (NASDAQ:MSFT) Windows Phone 8 and BlackBerry Ltd.'s (NASDAQ:BBRY) BlackBerry OS 10. Let us take a look at the overall user experience that all these platforms deliver and find out which of these makes the user more happy using his/her smartphone, because a good experience is like leaving a good impression, and we all know how that can drive sales!
Pfeiffer Consulting has recently conducted an in-depth research to compare the five major mobile operating systems in use today: iOS7, iOS6, Android, WP8 and BlackBerry 10 and rate them in terms of user experience. The six parameters used to conduct the research were: cognitive load, efficiency and integration, customization and user experience friction(UXF).
Here are the findings:
Cognitive Load:
It is the sum of all the elements one needs to be familiar with in order to be able to use a device spontaneously and intuitively. It is one of the key aspects of user experience for any non-technical user. For this benchmark, the number of apps/widgets as well as other icons and user interface elements that a default installation of the operating system contains were counted.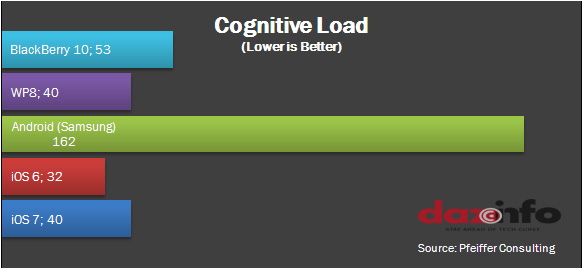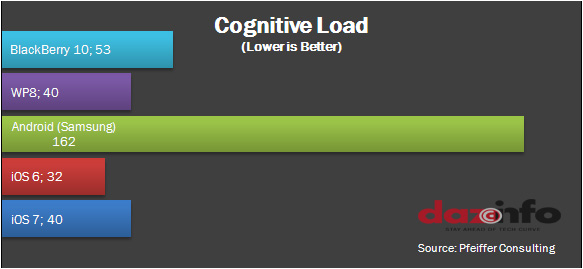 iOS6 ranked first having the least cognitive load with a score of 32. WP8 was the only mobile OS that has a cognitive load as low as iOS7(40), BlackBerry OS 10 ranked fourth in the comparison with a score of 53. Samsung's version of Android ranked last with the highest cognitive load of all mobile Oss (162) – with 104 apps and widgets and higher number of icons and user interface elements.
Efficiency and Integration:
Access to key settings, integration with notifications, multitasking, and camera access, among others were analyzed for this comparison.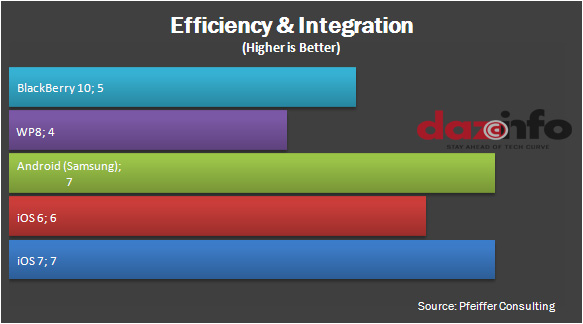 iOS7 scored 7 out of 10 and stood at top, followed closely by Android which also scored a 10, but slipped to second place due to lack of direct camera access from the lock screen.  iOS6 came second due to its good basic efficiency and integration features but lacked shortcuts for key settings.
Customization:
Android, as expected, scored the highest as it has the longest list of customization options. iOS 7 scored a decent 6 out of 10 score. It offers similar customization options as the previous release but adds dynamic type support, as well as comprehensive accessibility options.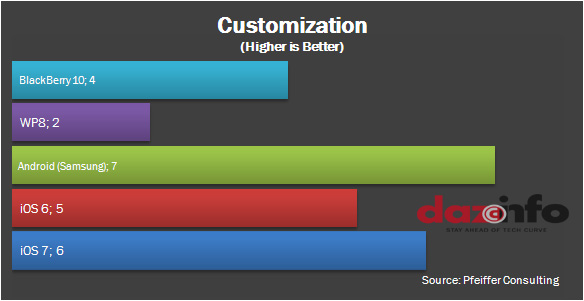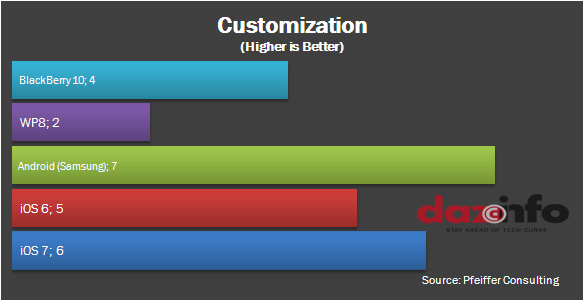 iOS 6 scored a 5, it has good basic customization options and some accessibility features that aren't yet available in competing mobile operating systems. BlackBerry OS 10 offers basic customizations that is better than WP8 but clearly lags behind Android and iOS. WP8 finished last in this race with a score of 2/10: it offers the poorest customization options of all the operating systems taken for comparison – lack of background colours, no background image can be set for the home screen, apps can't be grouped into folders.
User Experience Friction (UXF):
These are those aspects of a device that can annoy users due to lack of a key feature that should be available or whenever a device fails to do what users expect it to do.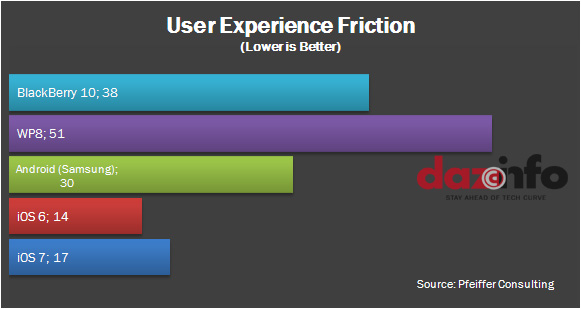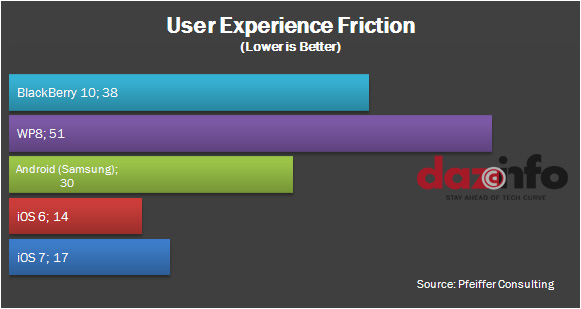 WP8 ranked high in UXF factor due to minimal customization of the user environment, which makes it oppressive after a while. BlackBerry 10's UXF factor scored 38; absence of a Home or Back button hindered users' experience more often. Although Android has improved immensely since earlier releases, but some aspects like the unintuitive way of deleting selected apps, or the inconsistent approach to interface design hold it back. iOS 7's Control Center is clearly useful, yet has the annoying habit of accidentally popping up. iOS 6 had the least UXF, clearly linked to low cognitive load and a streamlined UI design. One of the elements that contributed to UXF in iOS 6 is the confusing multitasking manager that makes it difficult to kill running apps.
Clear Advantage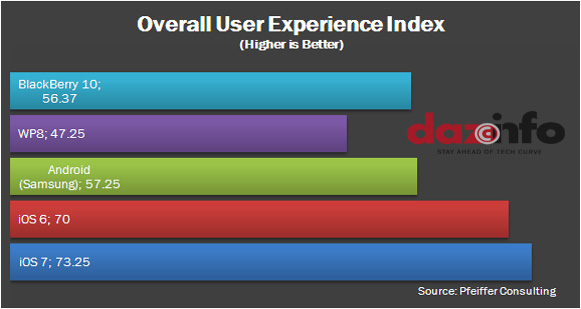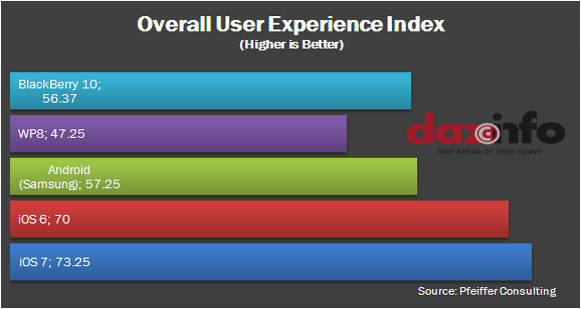 The overall user experience index derived from the combined results of the four different benchmarks gives iOS 7 a clear advantage, taking into account the context defined for these benchmarks, i.e. the day-to-day user experience of an average, non-technical user.
Source: Pfeiffer Report