The declining PC market has hit Microsoft Corporation (NASDAQ:MSFT) badly due to increasing number of people going for mobile devices, which is currently dominated by Google Inc.'s (NASDAQ:GOOG) Android OS. Microsoft's Windows OS was what it was best known for; the company earned billions licensing its OS to server and desktop hardware companies. Then came the age of smartphones! Google did the same thing with its mobile OS; it distributed Android to almost all the mobile manufacturers who wanted to power their devices with it, flooding the entire smartphone market. Vendors could also add their own features to personalize and differentiate their products. Microsoft's late entry into the smartphone segment using its Windows Phone couldn't generate enough momentum to make up for the loss it is incurring in the PC market.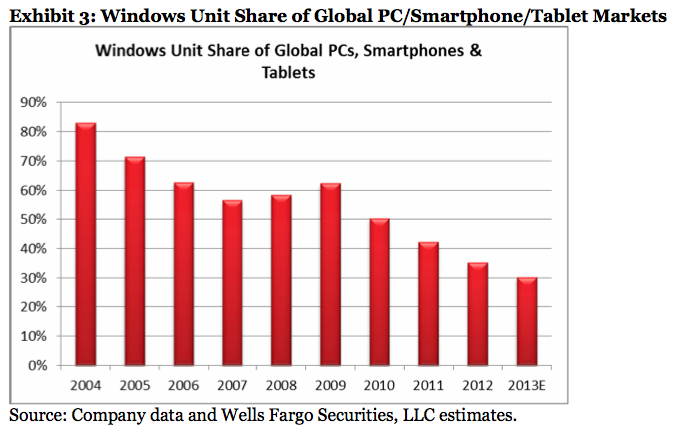 Going The Apple-Way?? Why??
Its recent acquisition of Nokia's Devices and Services hints that Microsoft may be going the 'Apple-way'- designing their own smart mobile devices powered by their own mobile OS and offering its own services. While it did license its OS to some vendors such as HTC (TPE:2498) and Samsung (KRX:005930), it couldn't gain much market share from Android. This vertical integration approach may have worked for Apple Inc. (NASDAQ:AAPL) in the initial stages of the smartphone age as the market was new and it was the first one to introduce the world to real smartphones, but some analysts feel that the market has now moved back to a horizontally oriented approach and Microsoft's current strategy no longer seems to be right.
Close Integration Isn't The Answer
Google's current approach seems to be the right approach now, while seemingly offering an integrated experience, doesn't fixate on it and also develops its services and software to run on others' platforms – putting the user and data first and not the vendor. On the other hand, Microsoft too has a range of services like Hotmail, Xbox Live, etc. that run at dynamic scales and cater to other devices and platforms too. However, with the purchase of Nokia's phone business, there is a real risk that Microsoft will stitch together software, hardware and services in a tightly integrated way, which may be Microsoft's way to protect the Windows business but will lock Microsoft in an old way of thinking.
The way forward for Microsoft can be, firstly, to loosen its hold on vendors and allow them to add features to their devices that end-users may like. Secondly, Microsoft should keep its services like Hotmail open to other platforms and and not tightly integrated with any particular hardware or OS.
Source: ReadWrite