Lenovo Group Limited (ADR) (OTCMKTS:LNVGY) has unleashed the IdeaCentre Horizon 27 in the Indian market. Yesterday at a glittering event in Bangalore, Lenovo showcased this 27 inch, Windows 8 powered beast of a table PC.
This interesting product is the world's first multi-user, multi-touch, multi-mode table PC and Lenovo are positioning it as a product for the masses.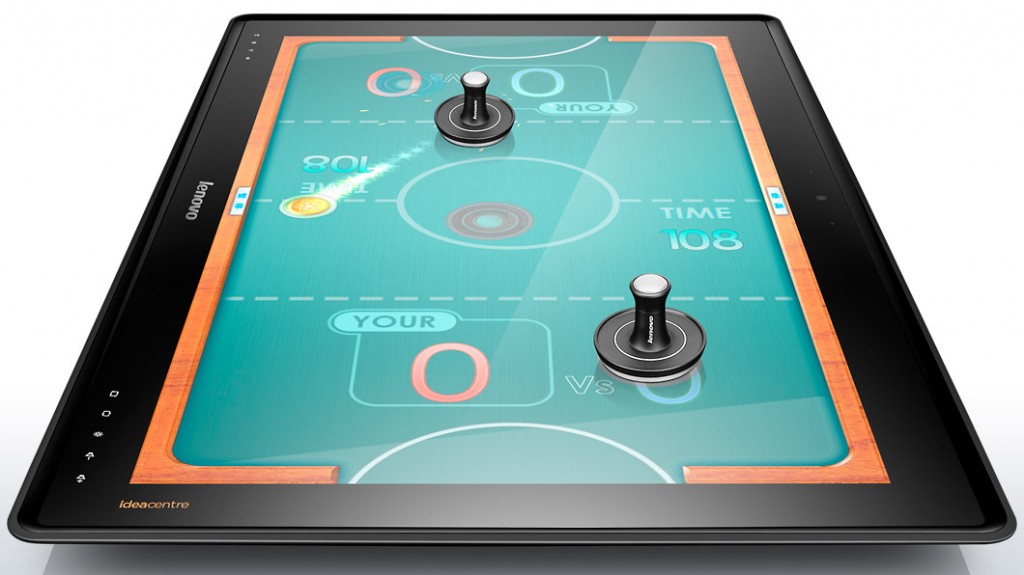 Here are some fun facts about the Lenovo IdeaCentre Horizon 27 :
The product bagged more than 14 awards at the Consumer Electronics Show 2013.
The product can double up as a Desktop PC.
Horizon comes integrated with the Aura interface, which enables two or more people to access content, videos, pictures and play games.
It comes bundled with some very unique Table PC accessories such as the Joystick, Striker and E-dice.
It has a few preloaded games along with a wireless mouse and keyboard.
Access to great third party apps including the Intel AppUp store.
With the Horizon 27, Lenovo is not looking to tap into the already crowded desktop space but is positioning this terrific product as an all-in-one 27 inch desktop. With this product, Lenovo are actually targeting a brand new consumer market, one that probably doesn't exist as of now.
Owning a 27 inch table computer at home might not catch the fancy of many people but owning a touchscreen desktop PC which doubles up as a table PC and triples up as a collaborative interpersonal device, will surely grab more than a few eyeballs.
Lenovo also unveiled a high performance inclusion to its Y series notebooks – the IdeaPad Y510p. Given the specs on the Y510p, if ever there was a chance of Lenovo positioning themselves as competitors to the Alienware range of gaming rigs, then this is it. More on the IdeaPad Y510p, later today on dazeinfo.
Here's a quick run down of the specs on the Horizon 27 :
A high quality 27 inch display.
Powered by Nvidia GeForce GT 620M 1GB/2GB graphics with DirectX 11.
Runs on 3rd generation Intel Core i7 – processor for smooth multi-tasking.
Features stereo speakers with Dolby Home Theatre V4.
Weighs about 8.6 Kgs.
As of now the only thing that might hinder the sales of this amazing product is the price. The IdeaCentre Horizon 27 comes at a whopping Rs. 1, 36, 500 (taxes included). That pushes the product in a luxury range, certainly for the India market which hasn't experienced a product of this nature and price point before.
In my interaction with Lenovo's top executives present at the event I pitched forward the idea of the Horizon being considered for an enhanced gaming experience, but the response indicated that currently Lenovo's gaming focus rests with the Y series notebooks. I for one, believe that given the specs on the Horizon 27, there's a good opportunity for Lenovo to offer a unique gaming experience to the hard core gamers. That offering will not only justify the price of the Horizon 27 but also enhance their target market manifolds.
The Lenovo IdeaCentre Horizon 27 is certainly the most attention grabbing product in its category currently on the market, now whether the attention translates into sales is something that remains to be seen.