Emergence of touch-based devices and low-priced ultrabook continued their effect on declining worldwide PC shipments in Q2 2013. According to latest IDC report, total 75.7 million units were shipped during the second quarter of the year, a straight 11.4% decline compare to the same quarter in 2012. However, analysts find the growth quite satisfactory, as it remained slightly higher than projected.
Worldwide PC Shipments Q2, 2013
Though, most regions, including EMEA, APAC, Europe presented a disappointed show and remained below than expectations, US managed to compensate.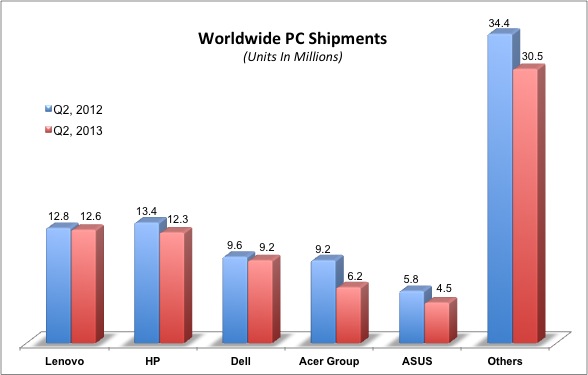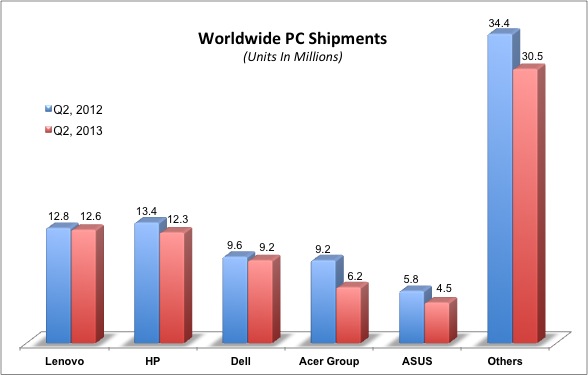 All top 5 PC vendors recorded negative PC Shipment growth in Q2 2013, lead by Lenovo that managed to squeeze the damage resulting in replacing HP as top PC vendor in latest quarter. While Lenevo shipped 12.6 million PC units, down 1.4% from 12.8 million in Q2 2012, HP recorded 7.7 negative growth resulting in 12.3 million PC unit shipments. Lenovo gained the top spot with 16.7% market share of PC in Q2 2013, follows by HP with 16.4%. Dell managed to grab the third position with 12.2% market share with 9.2 million PC unit shipments in Q2 2013.
Other top PC makers, like Acer and Asus and local ones, posted significant double-digit market loss in Q2 2013.
We're also starting to see more stabilization in shipments, which we think is a reflection of PC lifetimes finally starting to even out after a long period of gradual increase. The end result should be more PC replacements, even if consumers and companies are selective in making replacements and wait until PCs are older before replacing them." said Bob O'Donnell, Program Vice President, Clients and Displays, IAB .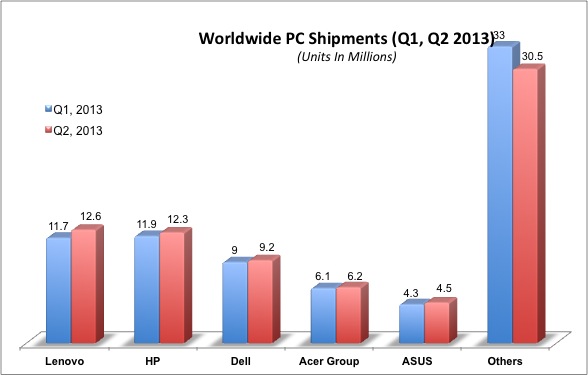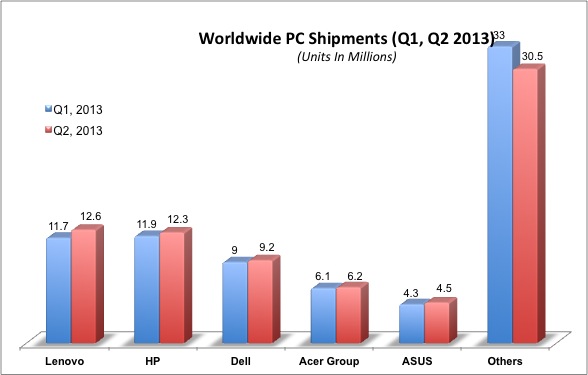 The decline in worldwide PC shipments in Q2 2013 reflects the ongoing transition to touch-devices and low-price Ultrabook and Laptops. While windows 8 powered touch-Tablets and Touch based tablet-cum-laptops are flooding the market, consumers are willing to go mobile with their data as much as possible.
Worldwide PC shipments Q1 2013 reached to 76 million units, a slightly higher than this quarter. However, market analysts are still optimistic towards the growth as they feel there is still enough room for PC market to flex. But in the era low-price mobile devices where competition level has reached to dog-eats-dog situation, it would be interesting to see how worldwide PC shipments could roll bak in remaining quarters of this year.