In Q2, 2013 Global PC market has remained flat despite 42.9% growth in the tablets. Nearly 109 million PCs (includes Desktops, netbooks and tablets) were shipped in Q2, 2013 with a negligible growth of 0.3% compare to a year back quarter. We can now surely say the world is under the process of a makeover; the huge 42.9% growth in the tablets have left the numbers flat by decline in shipments of notebooks and desktops by 13.9% and 7.4% respectively. We can clearly observe that desktops serve the purpose more than notebooks by looking at the drop. It's a clear fact that desktops are still being used for high-end programs and complex software's in institutions. Whereas the usability and compactness of notebooks is being completely dominated by the tablets. Tablets are more comfortable to read, capture, browse and present than notebooks. With cloud in the picture there are no more storage woes.
The following graph includes the shipment of Desktops, tablets, and notebooks. Apple Inc. (NASDAQ:AAPL) remains the top individual vendor but has lost it share from 19.4% in 2012 to 17.1% in 2013 majorly to Android. iMac and iPhone maker needs to incorporate more innovation in its features to fights it competitors who deliver similar products for a lower price. Delay in new iOS 7 , no new considerable changes in hardware except dimensional changes (iPad Mini) might be some crucial factors in its loss.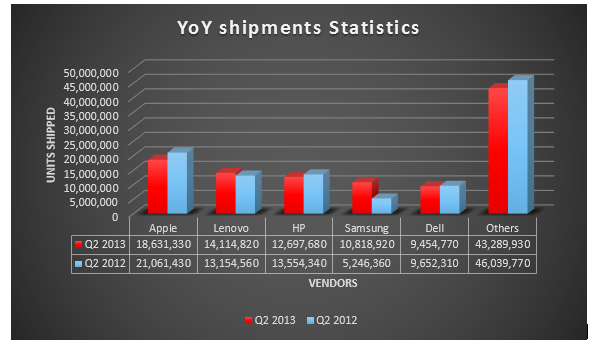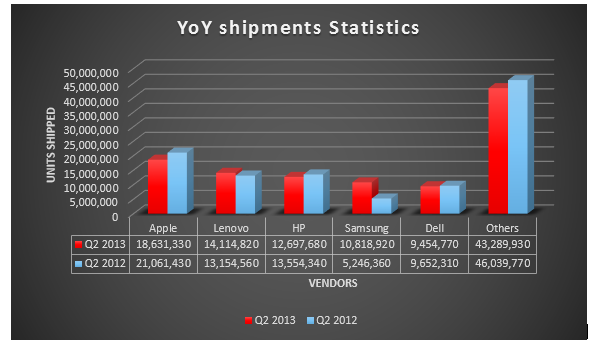 Lenovo, on the other hand, made a strong comeback with 34% EMEA, 28% US, 93% Latin America annual growth rate. The new tablets and Ultra books from Lenovo have extremely done well. It has crossed the one million mark in tablet shipments with ease and has managed to market its products all over the globe effectively.
HP with its wide variety of products has managed to take the third place this quarter in the Pc market. The launch of its new tablet Slate 7 has come very handy for HP this quarter but if we look at the Year over Year growth Samsung Has grown tremendously with 106.2 % growth rate. The number of shipments of Samsung have nearly doubled over the year and most of its product share has been dominated by tablets. The Samsung galaxy Tab 2 and Tab 3 have done really well. There might be no surprise if Samsung takes over HP in the coming quarters. Samsung  is also extensively spending its money to  market its products well.
iOS and Android have both been benefited by the increase in the no of shipments in tablets , but the total market share of Android has increased from 6% in 2012 to 17%  in 2013 . With leading manufacturers of PC preferring Google, the share of Android is set to increase more in the coming quarters. But the advantage where Apple can dominate over Google is its poor management of security issues and malware affecting the Android applications. Google should seriously think over existing strategies and new ones to curb the issue. if this can be achieved it can capture more market.
Source: Canalys