Google Inc. (NASDAQ:GOOG) apps market Google Play – after a tough back to back fight with Apple Inc. (NASDAQ:AAPL) App Store – has finally taken over the latter by 10% in number of downloads. Apple App Store, however, is still the money maker in the market. In Q2, 2013 App Store has managed to generate 2.3 times the revenue of Google Play. However, Google Play narrowed this gap over this quarter compare to previous quarter when it was settled to 2.6 times. According to another report there has been a 75.5% increase in mobile OS market share over the year for Android and 20% decrease for iOS over the year. The Android market is increasing rapidly in sales and innovation comparatively better than iOS . Even considering the fact that App store was launched way ahead of Google play , Google has managed more downloads this quarter and the number is tend to increase more in future.
Apple relies more on revenues by the cost of download of app while Google has a different revenue model depending on advertisements. Currently the Apple's model seems to be working but the pace at which Android is making business things are tend to change.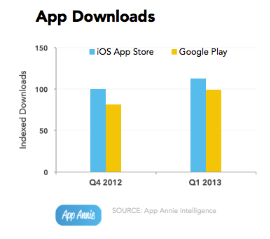 In Q4 2012 And Q1 2013 iOS was leading in number of downloads but Q2 2013 has turned out to be a turning point for Google play. The number of users downloading free applications in India and Brazil have helped Google Play with this feat. Low-priced smartphones by Samsung, HTC and LG have greatly helped Google with downloads. Even the distribution network of these companies is strong as well, which is helping them to take the lead over local competition.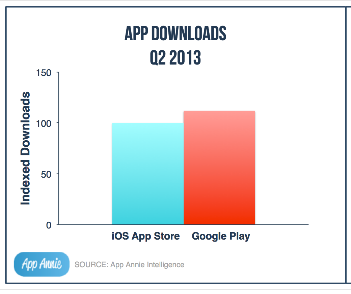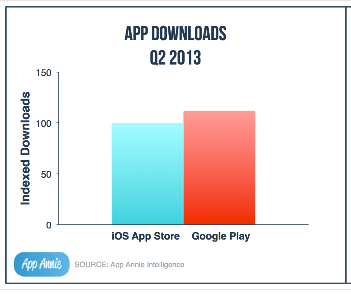 USA, South Korea, India, Russia and Brazil have been the top countries have turned out to be favorite for Android and are downloading the most from Google Play. Other countries as USA, Japan, UK, China and Russia are apparently more fascinated towards Apple, which is resulting in higher number of downloads from App store.
Revenue Trends
Apple has been making considerable amount of money in the application market but these numbers are changing very slowly. We can observe the comparative revenue generated by Apple and Google in the last three-quarters.
USA, Japan, UK, Australia, China have been the top money makers for Apple's iOS. Nearly 50% of its app revenue is contributed by USA and Japan while Australia has moved 4 positions up this quarter and is looking strong. The monetary aspects in Google play are picking up momentum as 70% of the Google play revenues are generated by Japan, South Korea and USA. Japan, being at the top position, is influenced by many local tablet manufacturers that are largely adopting Android.
Category Trends
Games have been the most popular and money making apps for both Apple and Google. 80% of the revenue in Google play and 75% in App store are driven by Games.  Social, entertainment, utilities and tools have remained in the top for both the Companies in terms of downloads and revenue.
Source (App Annie)