Worldwide tablet shipments in Q2, 2013 settled for lower than expected number and recorded a sequential decline of -9.7% from first quarter of the year (Q1, 2013). According to latest report from Internet Data Corporation (IDC), 45.1 million tablets were shipped during the second quarter of this year. The number of shipments in Q2, 2013 is lower than its previous quarter though, tablet industry recorded 59.6% higher shipments in second quarter compare to same duration a year back, when tablet shipments reached to 28.3 million.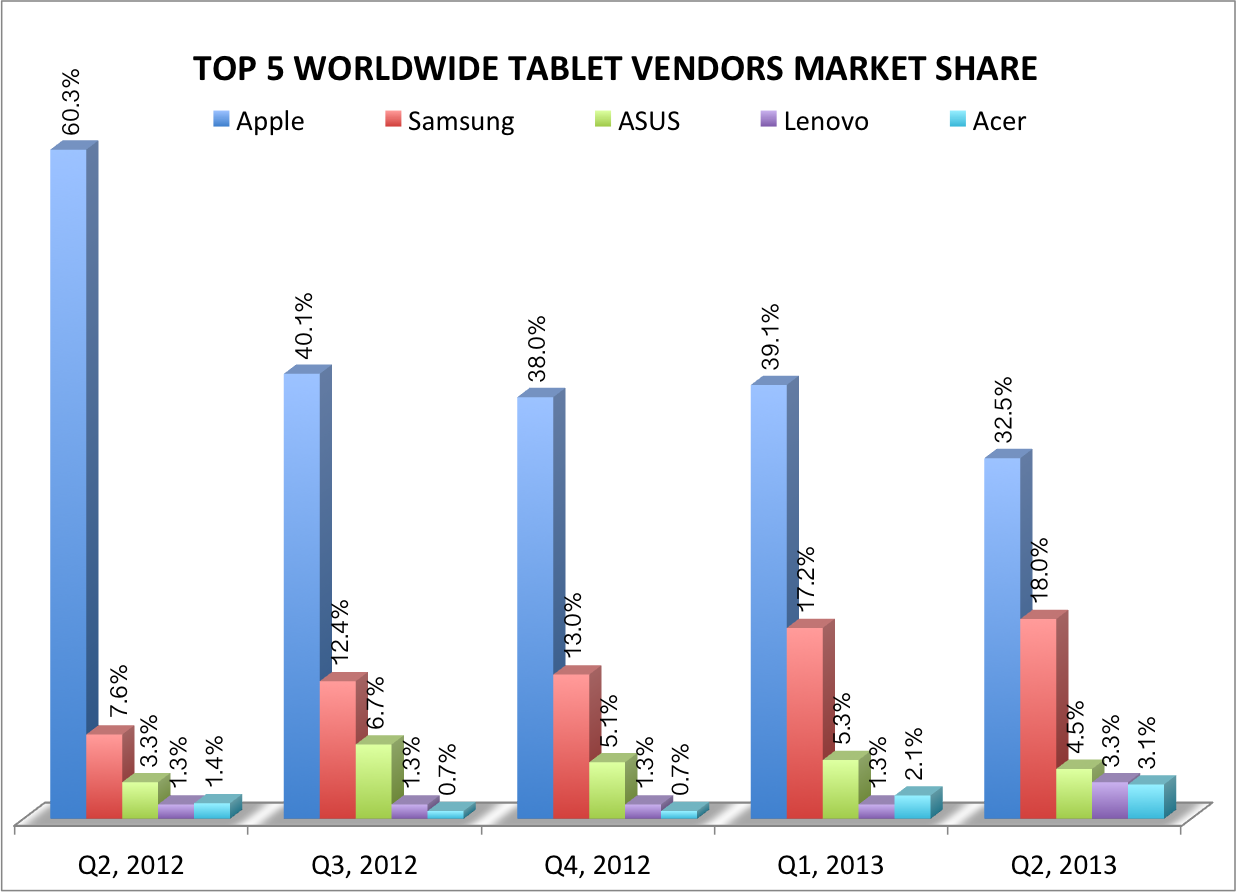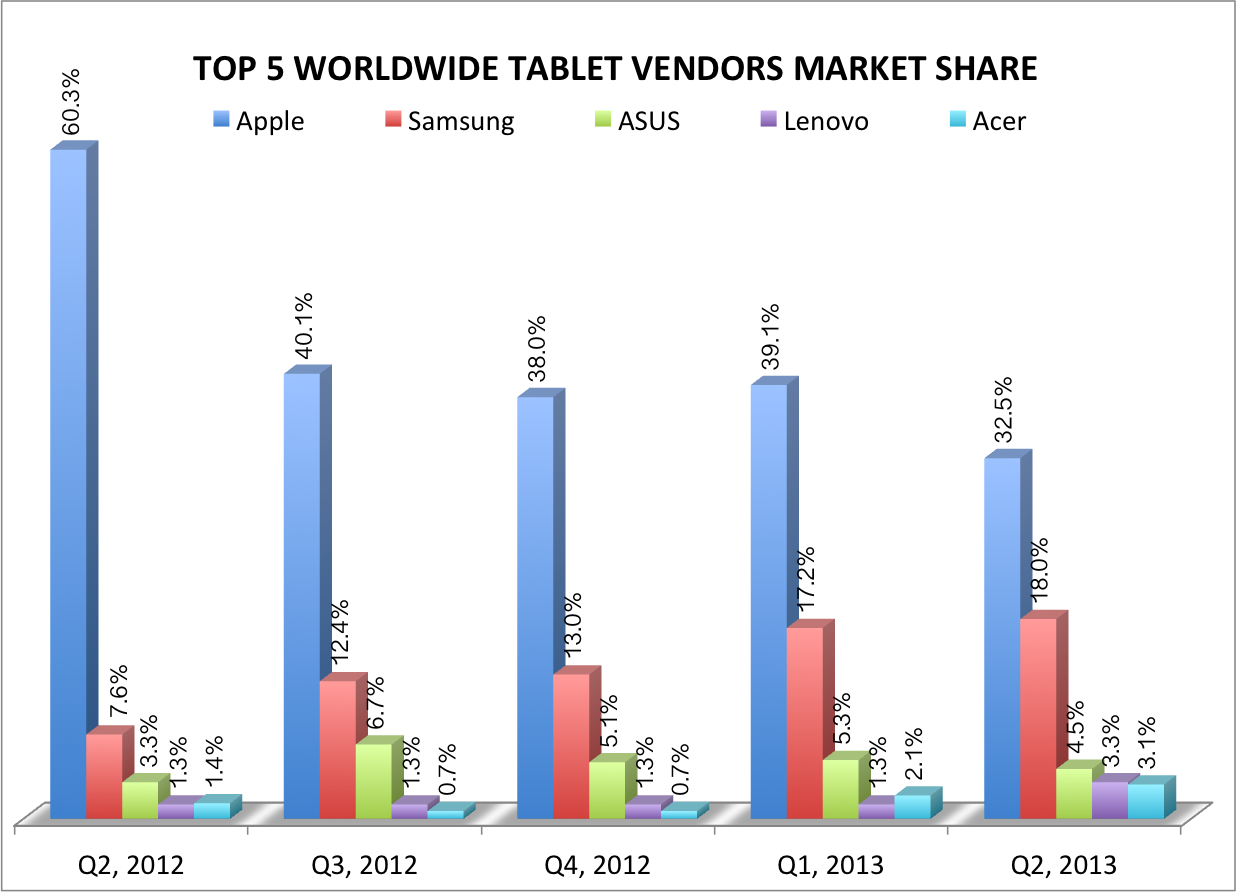 Almost every tablet maker experienced slow growth in Q2, 2013 but it was Apple Inc. (AAPL) that recorded negative Y-O-Y growth in Q2, 2013. Apple managed to ship 14.6 million iPads (iPad & iPad Mini) in second quarter, 14.1% down from 17 million during the year before quarter.
"A new iPad launch always piques consumer interest in the tablet category and traditionally that has helped both Apple and its competitors," said Tom Mainelli, Research Director, Tablets at IDC. "With no new iPads, the market slowed for many vendors, and that's likely to continue into the third quarter. However, by the fourth quarter we expect new products from Apple, Amazon, and others to drive impressive growth in the market."
The negative growth haunted almost every tablet maker in Q2 2013 if you compare with first quarter of this year. Samsung was down to 8.1 million tablet shipments in Q2, 2013 from 8.6 million in first quarter. However, its was again Apple that presented the most devastating performance Q-O-Q shipments, down to 14.6 million in second quarter from 19.5 million shipments just a quarter before.
Tablet OS Market Share Q2, 2013
Samsung tablet shipments slowed down though, but overall Android OS market share in tablet segment recorded promising 162.9% year on year growth. Nearly 28.2 million Android powered Tablets were shipped in Q2, 2013, resulted in 62.6% market share. On the other hand, Apple's iOS market share – iPad market share to be more specific – in Q2 dived down to just 32.5% in last quarter, from 60.3% in a year back quarter. Blackberry was nowhere in the competition though, it reached to negligible market share in Q2, 2013 by shipping mere 0.1 million tablets.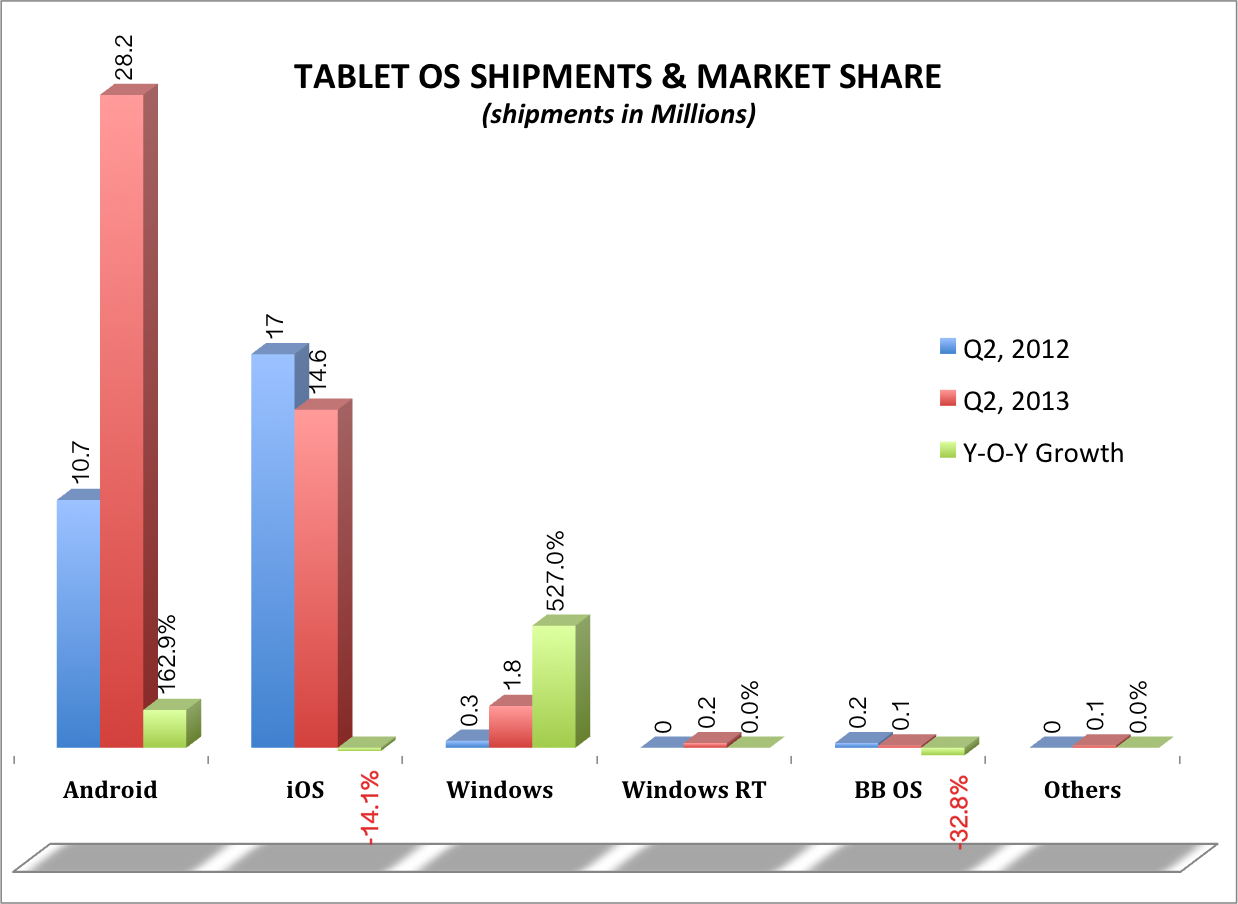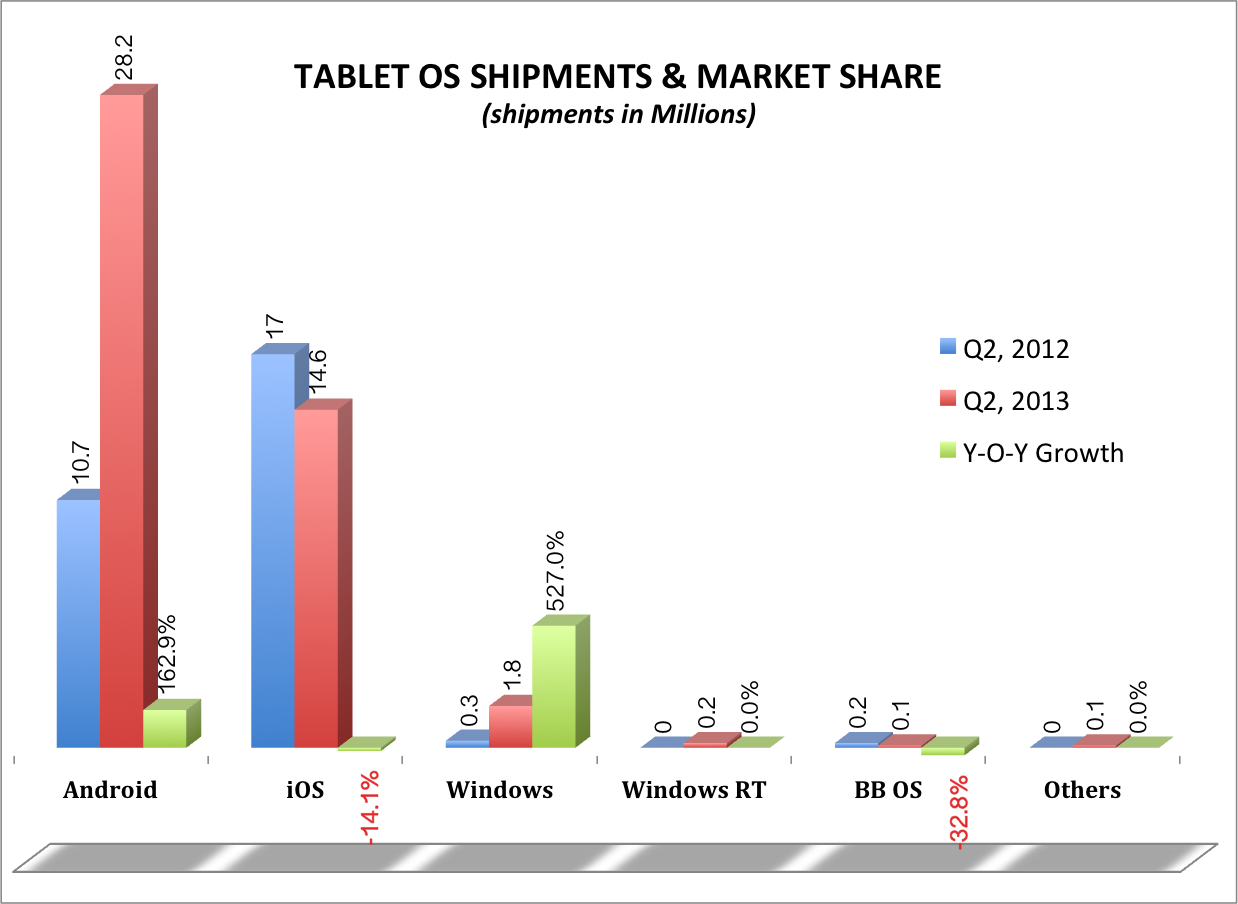 The biggest surprise came in form of small time tablet vendors, who registered the highest growth in Q2, 2013. ASUS shipped 2 million tablets in Q2, 2013, up by 120% from 0.9 million a year ago that resulted in 4.2% market share. The other tablet maker Lenovo managed to grab 3.3% market share by shipping 1.5 million tablets during the same quarter. The growth of these tablet makers were largely pegged to smaller screen tablet shipment in Q2, 2013. In 2013, small screen tablets , 7 to 8 inch, are projected to control nearly 60% of total tablet market that is expected to reach 170 to 180 million shipments in 2013.