Micromax Canvas 4 is finally rolling in the market after lots of hue and cry. The Indian mobile maker made every possible effort to enlarge the pre-launch vacuum of excitement and now when the Canvas 4 is finally available on the shelves, reviews are crafting mix feedback. A mega 5-inch Android phone purported to challenge Samsung Galaxy S4 in price sensitive market like India. Ahh, I must admit; Micromax has done a superb job by pricing Canvas 4 Rs. 17,999 (Nearly US$ 300) marking it an 'affordable' smartphone phone for users who are ready to scale up from their entry-level Smartphone for a professional device that could 'really' get them count into a Smartphone computing era.
Micromax Canvas 4: Not An Innovation
While many out there would really appraise Micromax Canvas 4 as the latest entrant into Smartphone market in India, but lets move with step-by-step analysis of all efforts Micromax has put behind Canvas 4. First and foremost, it's not a new innovation in terms of design. Micromax Canvas 4 precisely replicates the look of Chinese phone "Blue Life One", though the farther one is also manufactured in China for India.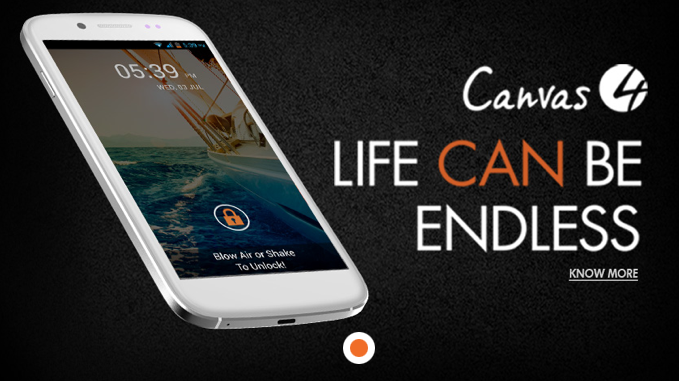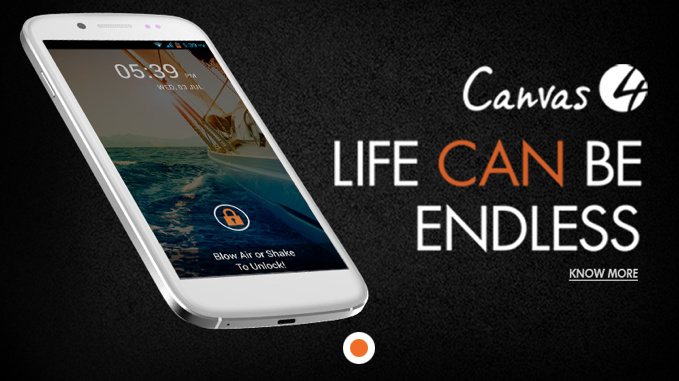 Though, reviews and in-depth performance analysis reports of Micromax canvas 4 are yet to be out, specifications and features don't ring any bell that could be tagged as a new innovation from Micromax. However, it's a pick-and-choose of few best features from other fast-moving Smartphones available in the market.
Micromax Canvas 4: Specification and Price
Before, I move further with my agonistic approach, let's have a look what Micromax has got inside Canvas 4 at such lucrative price tag:
True Color (16.7 M) 5-inch IPS screen
1280 X 720 pixel resolution with HD Graphics
Quad-Core Mediatek 1.2 Ghz processor
1 GB RAM
13 Mega Pixel Rear Camera (4160 X 2120 px image resol)
Sony Sensor
5 Mega Pixel Front Camera
16 GB Storage Space
Android 4.2.1 OS (Jelly Beans)
Dual Sim
3G/Wi-Fi/Blutooth/USB Support
Salient features like Blow Air Unlock, Look-Away Video Pausing and Popup windows multitasking.
Micromax Canvas 4: Life Can Be Helpless
It's clearly evident that Micromax has tried cut the corners to cut the price of Canvas 4. Though, the effort is to make such powerful devices more affordable, Micromax is still missing few critical elements of a Smartphone essential to ensure the overall success of a device.
While there are many features that every one out there could generally talk about, but the overall focus, with Canvas 4, is on Video and Multimedia content. Let's accept this; 16 GB default storage, 5 Mega Pixel front camera for video conference and 13 mega pixel rear camera with Sony Sensors for best shoot are the most admirable upgrades in Micromax Canvas 4. Unfortunately, the company failed to understand that supporting ecosystem is equally important for the above to breath-like-best.
2000 mAh Battery: Ripping You Apart
We are living an era when Mobile Internet, use of Mobile Apps, adoption of Mobile Camera and relevant apps have already marked their presence. The usages of these are already mounting with each passing day. And, to leverage upon above efficiently it's important to have high-speed third generation data connectivity too. Unfortunately, these all activities are high consumers of battery life. A phone capable of executing such next-generation activities but with low battery back-up is definitely a disappointing show.
Don't go on my words blindly; Samsung Galaxy Grand with many identical specs, but higher on battery life (2100 mAh) but low on few components like camera and screen last for maximum 9 – 10 hours. The figure has been put only after putting phone on real usage scenario with constant HSPA connection (3G), aprox 120 minutes of daily calling, 30 minutes interval for 3 social apps – Facebook, Twitter and Google+ – and 20 – 30 inbound SMSs. Its important to note that the claimed life of Samsung Grand excludes the consumption of Video-conference, Video viewing or much of Camera usage.
 It's Mediatek Processor not Snapdragon: Mind It
Unlike most of Samsung in-class smartphones running on Snapdragon, Micromax Canvas 4 is powered with Taiwanese chip Mediatek Quad Core processor. Processor plays an important role on overall smartphone performance on combination with battery, especially if you are working on low-power battery like 2000 mAh. Mediatek processor consumes more battery compare to Snapdragon and therefore you will have to be organized enough while using your Canvas 4.
1 GB RAM: Are We Really Talking About 3rd Generation
While most of pre-launch rumor claimed that Micromax Canvas 4 will be loaded with minimum 1.5 GB of RAM, the company down played their thought by loading the phone with only 1 GB of RAM which is standard benchmark of entry-level Smartphones now.
By default, Android eats up nearly 400 MB memory with factory installation. Once you install and run few other 'inevitable' apps, like Facebook, Twitter, Gmail, RAM consumption `is bound to go up up. Top of that, if you are making use few 'nice-to-have' top apps from Google Play Store, like True Caller, you are throwing your 1 GB RAM phone for limit. Barely there is any resource left for other functionality like Camera and Video Call. This results in sluggish performance of your Smartphone.
So much compromised device only to pull the cost down !!! It's not the first time when Micromax has tried to play cost-card to woo Indian smartphone users. However, with Canvas 4, the company is targeting to 'poach' Samsung's Smartphone market share in India. NO, I am not trying to be over-optimistic or playing down Micromax's effort. But there are few grey areas that Indian mobile maker is not willing to address apparently.
Having said that all, I would not like to craft by final verdict yet as Micromax Canvas 4 is yet to go through real-time performance testing. However, from users prospective, there are many other options are also available in same class. Indeed it's the most expensive smartphone rolled out by Micromax since existence. And, if Canvas 4 fails to justify its presence, I wont be surprised to see it meeting similar faith that Samsung Galaxy S4 experienced – lower sales, revised projection and reduced unit shipments.