If content is king, then content marketing is the royal way of connecting marketers and consumers. Undoubtedly, its is a prime way to reach business-to-business (B2B) decision-makers, and a good number of these executives say content does sway them toward certain vendors. A full 91% of B2B marketers are using content marketing tactics to reach their target audience and the most popular content marketing tactic is distribution via social networks like LinkedIn, Twitter, Facebook, and YouTube – the four most popular channels B2B marketers are using for content marketing. Both brands and marketers have embraced content marketing as a key to building relationships with customers and, ultimately, a lucrative and worthwhile endeavor. With content marketing on the rise, the CMO Council and Net line conducted a survey of B2B marketers worldwide. 60% of decision-makers said online content has a moderate effect on choosing of vendors they will work with. 27% of respondents said it had a huge impact and only 13% seemed indifferent to online content marketing. It's very important to understand that how marketers access materials as in what devices they use. It has been known that the office desktop is the most popular device used by 68% respondents to access digital content. 58% of respondents use notebook, 41% of respondents uses the smartphone to access and 30% of B2B decision makers used tablets to consume content.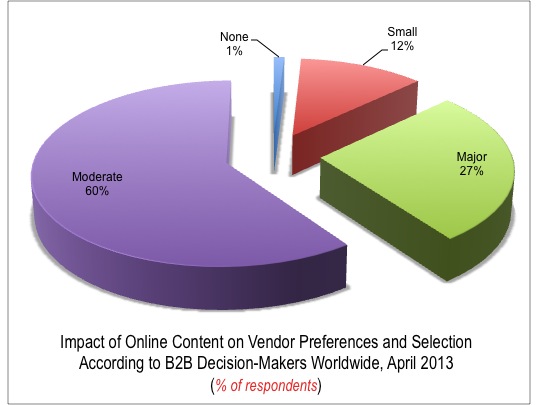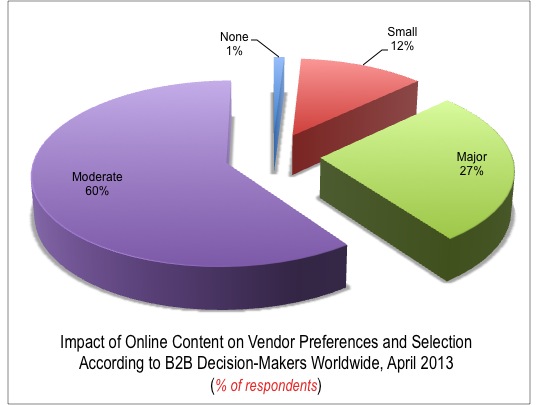 What Kind Of Content Works Best?
The survey done on marketers indicates the prime characteristics that are most valued in B2B content are; Breadth and depth of information said by 47% respondents. Ease of access, understanding and readability said by 44% respondents and originality of thinking and ideas said by 39% respondents. These were the most important characteristics of content.
Content creation (marketing) is the art of communicating with targets and customers without selling or being overly promotional. 58% of marketers said that content played a role in purchasing decisions as provided help to find new solutions to problems. And 38% respondents said content which brought fresh thought around business challenges, affected what they bought for their company.
Characteristics most disliked in B2B content are:-
Too many requirements for download responded by 50% marketers.
Blatantly promotional and self serving responded by 43% marketers.
Non-substantive and uniformed responded by 34% marketers.
The most valued and trusted B2B content are:-
 Professional association research reports/whitepapers, said by 67% respondents of marketers.
  Industry group research reports/ whitepapers, said by 50% respondents of marketers.
Customer case studies said by 48% respondents of marketers.
Analyst reports and whitepapers said by 44% respondents of marketers.
Independent product reviews said by 40% respondents of marketers.
Only 9% said they trust vendor content.
Feeding the content marketing funnel isn't always easy. Two of the biggest challenges: producing enough content and producing engaging content. Content marketing is the art of communicating with your customers and prospects without selling. It is non-interruptive — instead of directly advertising your products or services, you are communicating with your target audience by sharing valuable, free information. The core of this content strategy is the belief that buyers will be driven to do business with you if you provide valuable information to them on an ongoing basis.