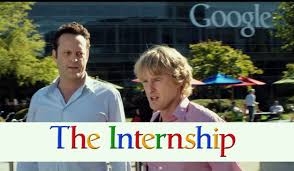 "The Internship" it's a movie about two salesmen whose careers have been crushed by the digital age and how they find their way into an envied internship at Google Inc (GOOG), where they have to compete with a group of young Tech-Savvy geniuses for a shot at employment.
Benefits For Google
The idea of Hollywood making a movie about a big Tech company is not new, as people have already seen "The Social Network" based on Facebook Inc (FB). But when compared Facebook was not involved with the making of "The Social Network" in any way. In one of the Google's developer conference, its CEO Larry Page said that the movie would be a great vehicle to showcase computer engineers.
Google is a well-known enough company, the company didn't need to take part in the movie but, it did it take an advantage of a great opportunity.
The opportunity here is Google, can build a strong brand. The strength of a powerful brand is not just about the money they make from the sales, it's about building significant business efficiency; it's about retaining the best employees. Larry Page also accepted the fact that computer science has a marketing problem.
So may be the movie will help Google in attracting a bigger audience and help in portraying a human face to Google.
Google's Internship
Google has its own internship program which has been admired by thousands of applicants each year as they pay well, offer good fringe benefits and when completed, it looks good on ones resumes and this movie helps Google to showcase its culture and intern program and attract new minds i.e. new and capable employees.
Google Highlights
Google used the movie to highlight or advertise its Google glasses, and even the interview conducted was by using Google Plus and the showcase of Google's very own idea, driver-less car and also the new phone by Motorola mobility. Google also made some sparks from its legendary free snack supplies, its "nap pods" for resting and on-campus beach volleyball games, all of which makes people envy the employees at Google.
Evolve or Extinct
The mantra of Google, Evolve or Get Extinct, it's an ugly truth. Today the technology has evolved so much that it has become very important to stay updated all the time, it looks like Google is trying to convey a message to the audience to embrace the new technology and stay updated all the time and Google also tries to show how its evolving day by day to achieve the perfection.
All- in-all the movie is a win-win for audience as well as for the company.
[youtube http://www.youtube.com/watch?v=712JPHER0uY]