Smartphone industry is just going gaga since last year. Mobile leaders are scaling up by bundling more powerful specification to devices, prominent markets like Europe and Korea is apparently stagnating on the other hand. It's been inevitable for Smartphone makers to set an alternative strategy in place to keep the growth pace intact. Consequently, all top Smartphone makers including Apple and Samsung have already started working on low-price smaller screen version of their prominently successful handsets. And, now Taiwanese mobile giant HTC Corp (TPE:2498) has also joined the race as the new leaked images portraits that the troubled smartphone maker is working on scaled-down version of much appreciated HTC One.
The images clearly showcase the both the handsets next to each other And the rumors claim smaller-screen scaled down version fo HTC One would be titled as One Mini.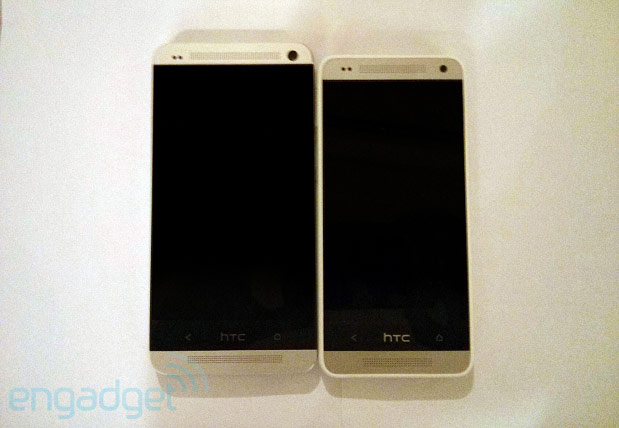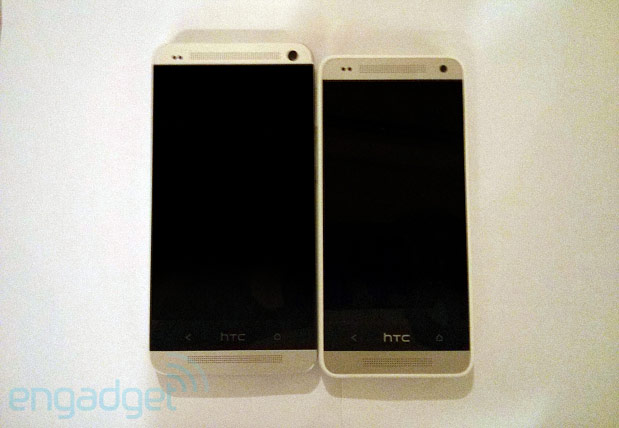 Image Credit: Engadget
HTC One Mini having a screen size of 4.3 inch could be loaded with 1 GB of RAM – unlike 2 GB in HTC One – but still holds unified body making the handset still look elegant. However, a rubber quoting around the edges doubts about the single piece of body and there are every chance that HTC may have cut the corners in order to reduce price and make it stand against upcoming Samsung Galaxy S4 Mini and Apple's low-price iPhone scheduled for this fall.
However, HTC has apparently decided to load One Mini with the fantastic four features HTC One is actually being acclaimed of; But still its not clear if company would decided to go ahead with similar quality components, like beast sound and Ultra-mega pixel camera, with One Mini.
There is also no information on pricing of HTC One Mini yet, but if rumors are there be believe, the company is targeting to tag it under $350 to make more adoptable and affordable.