Mobile giant Samsung Electronics Co Ltd (005935) has announced to release two new Android smartphones (Phablets) with massive display sizes. Aptly named as Galaxy Mega 5.8 and Galaxy Mega 6.3 will be released next month. Though the whole internet is buzzing about the 'Mega' devices – as per Samsung Press release – it will only be available in the Europe and Russia. And, there is no word about introducing these in Asian Market for now.
"We are aware of a great potential in the bigger screen for extensive viewing multimedia, web browsing, and more. We are excited to provide another choice to meet our consumers' varying lifestyles, all while maintaining the high-quality features of the award-winning GALAXY series," said JK Shin, CEO and Head of IT & Mobile Business, Samsung Electronics.
Galaxy Mega 5.8 and 6.3, along with some good specifications, has also included software applications like group Play, Samsung Watch On, S Translator which were recently introduced in Galaxy S4 model. In addition both Galaxy Mega phones will come with newly introduced "S Travel" and "Story Album" features.
While the war about more powerful processor is stagnating  Samsung has intelligently powered both the Mega devices with little lower yet powerful enough processors. Galaxy Mega 5.8 is powered by 1.4 GHz dual-core processor running on Android latest version 4.2 Jellybean. The phone comes with 8 Mp rear camera along 1.9 Mp front facing shooter.
On the other hand, Galaxy Mega 6.3 display has a resolution of 720 X 1280 pixel but with a lower PPI of 233; Compare to Mega 5.8, Samsung has loaded it with slightly more powerful 1.7 GHz Dual Core processor enough to provide smooth experience of Android 4.2. One of the improvement has come in the form of battery as Mega 6.3 is housed with 3,200 mAh – powerful enough to run at least for a day.
Technical Specifications: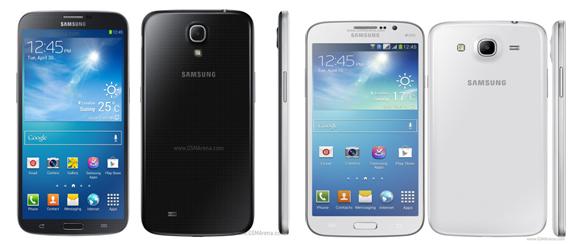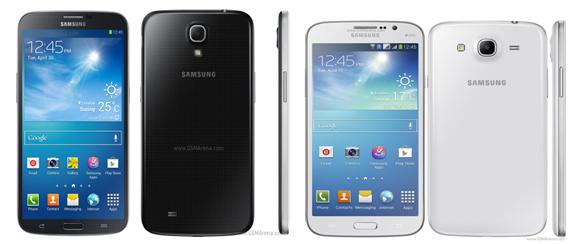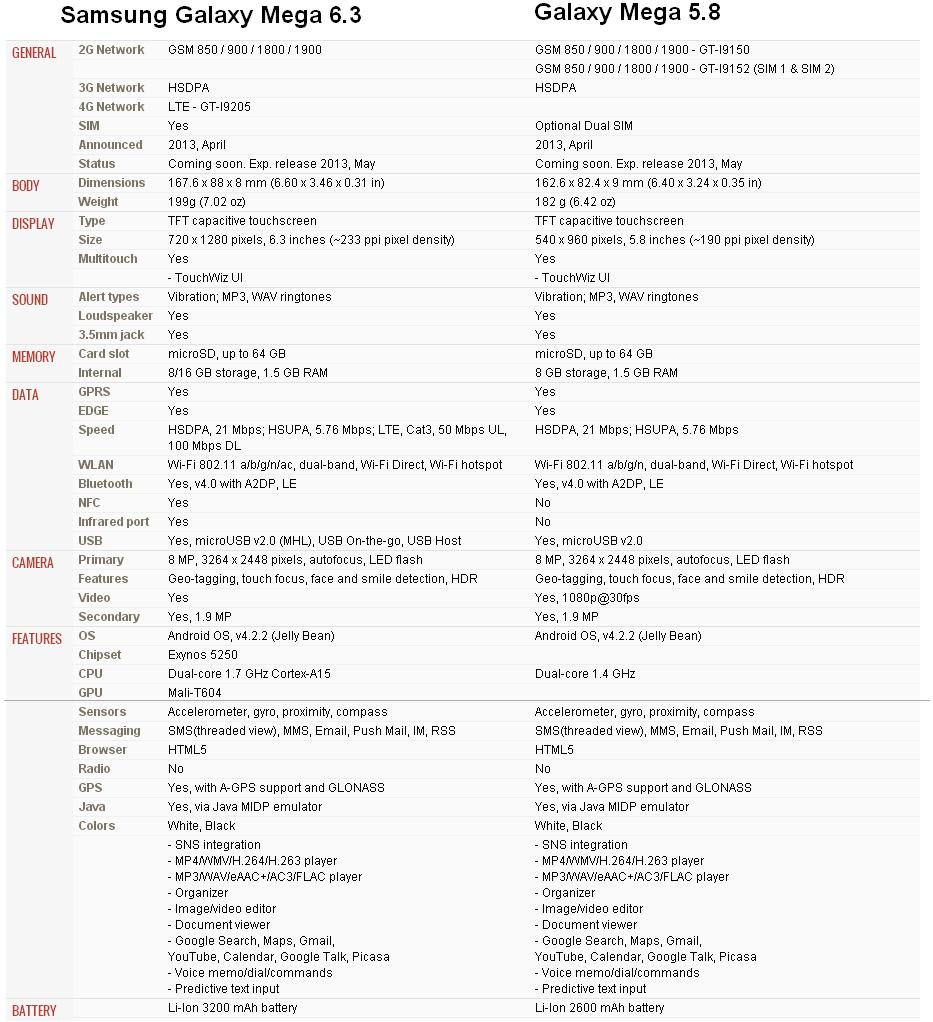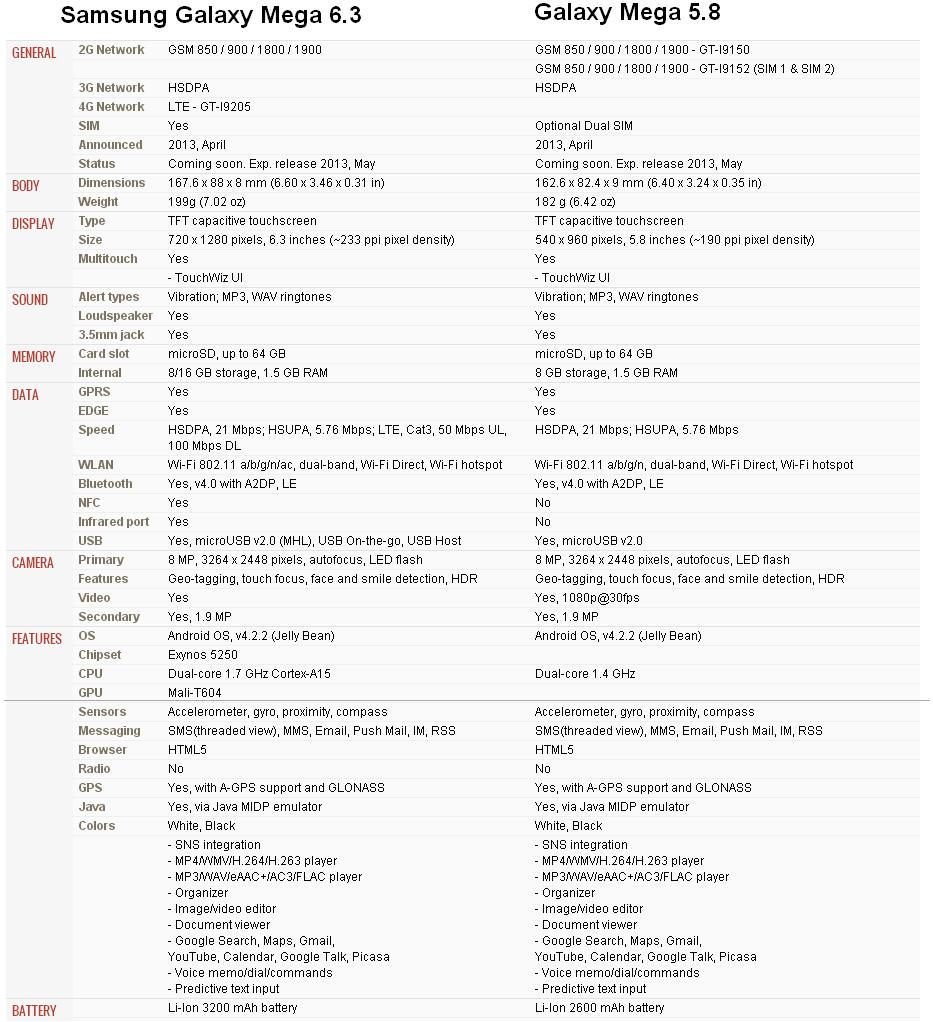 Is Galaxy Mega 5.8/6.3 Any Challenge To Galaxy S4 ?
Samsung has adopted an aggressive approach this year by launching giant devices one after the other; Galaxy S4 is right at the next corner, while two more mega devices will follow S4 release. But the big question here is whether Samsung has taken the right decision to introduce two devices with almost similar look and size but greatly different in terms of technical specifications?
Last year Samsung released massively successful S3 but soon after the release of Galaxy Note 2, Galaxy S3 market started tumbling down. It's not fair to compare Galaxy Note 2 with Galaxy S3 directly though, but the figures say Note 2 significantly affected S3's market.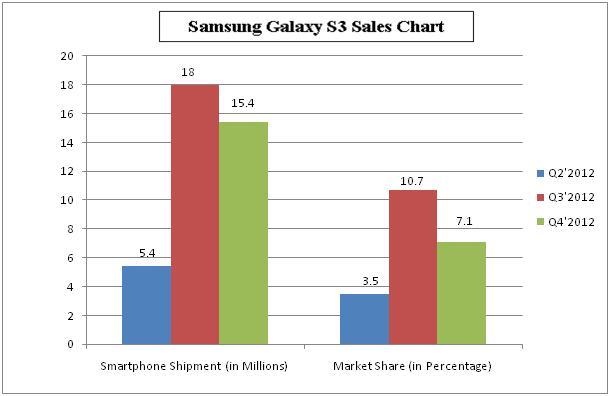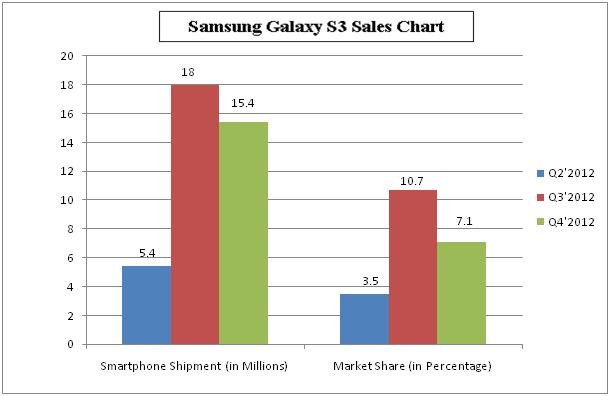 To avoid similar disappointment, Samsung has majorly differentiated S4 and Mega series on technical grounds. Though Mega series Phablets have got bigger screen size, Samsung has provided very high-end features and protection to Galaxy S4, discounted in Mega 5.8 and Mega 6.3.
The Galaxy S4 is equipped with Super AMOLED screen with 441 ppi density; the screen is also protected with Corning Gorilla Glass 3. Where as these two Mega Phablets equipped with TFT display screen and lesser ppi (190/233) density which directly reduces the sharpness and clearly of icons, images and text compare to Galaxy S4. Besides, in spite of holding bigger screens, Mega 5.8 and Mega 6.3 don't enjoy any protection of Gorilla Glass, which is a major drawback of these two Phablets.
The introduction of Mega series looks like an effort to woo users who are quite fascinated towards Galaxy S4 but don't have deeper pockets. Those who can't afford Galaxy S4 due to its high cost, Mega series Phablets provides quite a reasonable alternative. Defiantly, Samsung doesn't want to lose out any user who are stuck with the selection due to any form-factor.
Could Galaxy Mega Help Samsung to Keep Leading In Europe Market?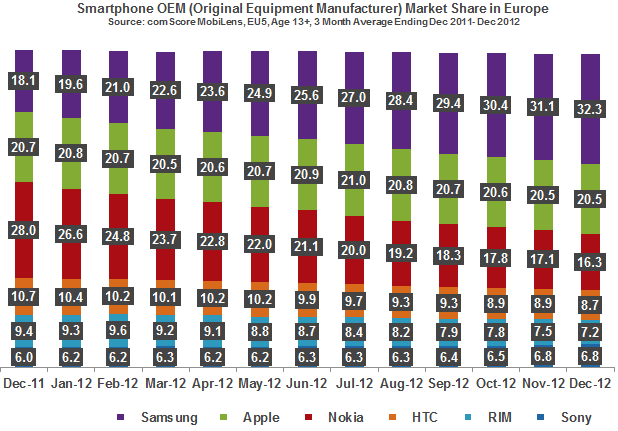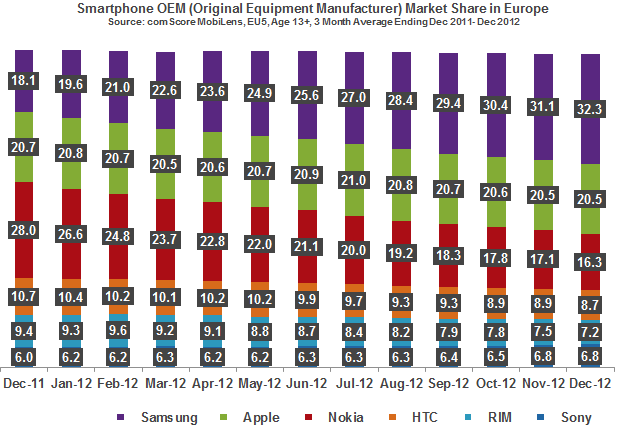 Samsung has been continuously growing in European Smartphone market since last few years; we can say that the release of Mega series Phablets along with Galaxy S4 will help Samsung to Lead European market even in this year too – despite of the fact that its biggest competitor Apple is also planing to bombard the market with at least 3 new devices. For Apple, Europe is one of the biggest markets as developing countries, like India and Indonesia, are yet to contribute sizable sales figures in Apple's record book. Latest rumors claim that Apple is all set to introduce at least 3 devices – iPhone 5S, iPad5 and iWatch in 2013.
However, for Samsung is important to crack Apple's prominent markets as iPhone maker has started denting Samsung's few promising  markets, like India, by drastically discounting iPhone 4 and iPhone 4S. As Samsung is targeting to sell 500 Million smartphones this year, Korean Electronics giant must have its pockets full of variants and offers to lure users worldwide.