Samsung (KRX:005930), the world's largest mobile handset maker, has set a new target to sell 500 million mobile handsets this year. Of course, the South Korean company is currently the king in mobile segment, and there's no doubt whether it could retain its position this year or not. Citing to the company's supply chain, DigiTimes has told that Samsung is aiming to push out a whopping 500 million mobile handset shipments in 2013.
At present, Samsung is selling all types of mobile handsets, meaning the company is currently making a mobile phone for every person on the earth. Last year, the Galaxy lineup maker snatch the throne of selling highest number of mobile handsets from Nokia. Besides, the company also dominates in smartphone segment in terms of shipments. Currently, the company is selling a lot of budget and mid-range smartphones in emerging markets like India and China.
Would Samsung Face Supply Constraint Issues In 2013?
There's question; whether Samsung would face supply constraints or not. In fact, BOE, a Chinese based panel maker, ships out about 10 million panels every month for Samsung's mid-range and entry-level phones. On the other side, some big names such as  Sharp, Japan Display, and Samsung Display are providing panels for the company's high-end smartphones. In simple words, Samsung might not face constraints related to components (like panel supply) productions, in order to achieve 500 million figure.
Still, selling 500 million mobile handsets in a year isn't an easy job. If Samsung wants to reach the target, then it would have to work on its current sales performance of mobile handsets. Just few days before, we revealed that Samsung could sell over 70 million smartphones in the first quarter of this year. With this pace, it's really tough for the company to ship 290 million smartphones this year.


Is 500 Million Mobile Handset Shipments Target Achievable For Samsung?
Last year, Samsung succeeded to ship a whopping 385 million handsets, up from 315 million units back in 2011. This year, the company wants to increase the shipments of its mobile handsets by 30%. However, last year, the company managed to improve the devices' shipments by 22% Y/Y, and in this context, the target seems achievable.
As the competition in mobile handset market is ramping up every day, it's really difficult to say in the favor of Samsung. Indeed, selling 500 million mobile handsets in a year is an ambitious target, and if the company reaches even close to the target, then definitely it would be one of the biggest alarm bell for its competitors.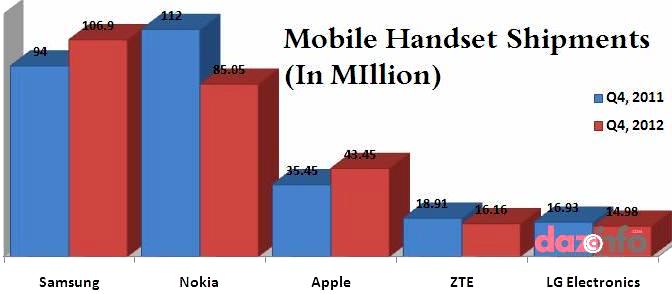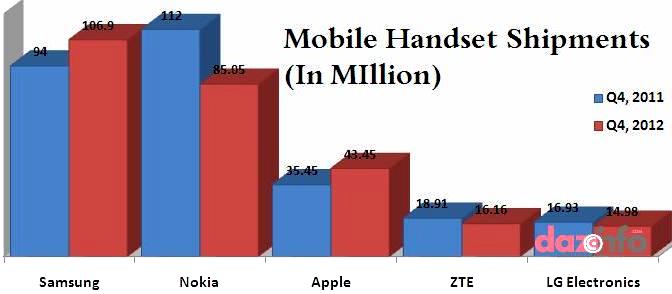 This time, the company seems very optimistic with the performance of its mobile handsets. More importantly, the company is betting big on its Samsung Galaxy S4 model; the company is aiming to sell more than 100 million units of the device this year. In addition, the sales of Galaxy Note 3 and older versions, such as Note and Note 2, are also going to play significant role in overall mobile handset shipments in 2013.