Over the last six years, Apple Inc. (AAPL) has been selling smartphones, and it's the first time in the history, the Cupertino-based company seems defensive against Samsung. Now, the Samsung's Galaxy lineup smartphones have become one of the major threats for its iPhones business. The South Korean company has already sold 60 million Galaxy S III smartphones till date, and now its one of the most hyped smartphones–Samsung Galaxy S4–is in the row. However, Apple Inc.'s iPhone 5 is still selling well, but an arrival of Samsung Galaxy S4 could impact on its sales later this year.
On March 14, 2013, Samsung announced its one of the best Android running smartphones. Just a day before the announcement of Galaxy S4, Apple's marketing chief–Phil Schiller–explained how iPhone 5 was better than any Android smartphone. The iPhone 5's battery, crafted by Apple's scientist, offers impressive power without scarifying the battery life. Besides, A6 chip and camera used in the fifth generation iPhone are still two eye-catching features for users.
Why Is Apple Inc. Worried With Google's Android ?
One side, Apple Inc.'s marketing chief admired iPhone's camera, while on the other side, he criticized other vendors for graduating camera pixels, especially Samsung for mounting up the camera resolution from 8 MP in the Galaxy S III to 13 MP in the galaxy S IV.  In addition, he also explained how Apple iTunes Store is the world's most trusted entertainment store. More importantly, the marketing chief pointed out the vulnerability of Android against malware, and he also highlighted the fragmentation on the platform. In simple words, Schiller wanted to clarify why users shouldn't go with Samsung Galaxy S4. Of course, Samsung is the biggest Android vendors; 94% of smartphones sold by the company last year were powered by Android OS.
In an interview Schiller told, "With their own data, only 16 percent of Android users are on year-old version of the operating system. Over 50 percent are still on software that is two years old. A really big difference."
Here is the stats related to sales of Samsung Galaxy lineups and Apple's iPhones since September 2010.


Despite losing the throne to Samsung, Apple Inc. is still a big fish in smartphone world. The reason is quite clear that iPhone is still winning over Samsung Galaxy lineups in terms of shipments. But it wouldn't be so easy for Apple Inc. to sustain the robust sales of iPhones, as sales of Galaxy smartphones are catching up to its smartphones' sales.
Over 322% Quarterly Growth In Galaxy Smartphones Sales
The stat (below) depicts the estimation of Samsung Galaxy Series' sales, which includes traditional smartphones as well as Phablets. During 12 months period, ending December last year, Galaxy sales surged from 9 million in the first quarter of 2012 to a whopping 38 million in Q4 2012. In other words, Samsung has seen over 322% growth in Galaxy smartphone sales during Q4 2012, compared to Q1 of the same year.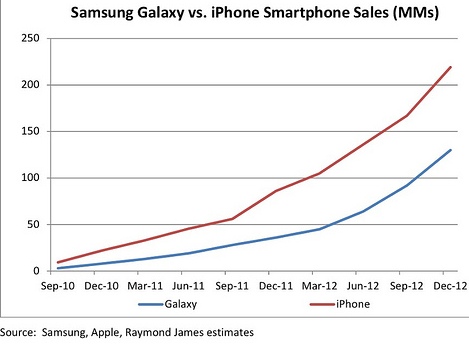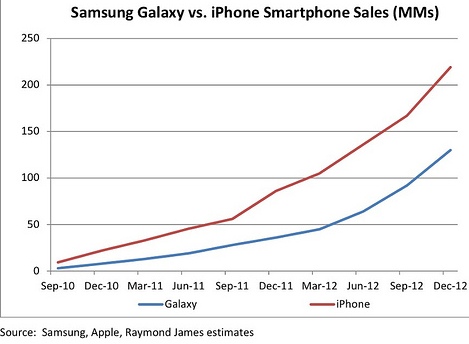 Image Courtesy: Barron's