Smart devices like Smartphones and Tablets have changed the lifestyles of people around the world. Now, they are using the devices as "second screen". Recently we had reported that its was really tough for people to keep themselves away from their smartphones and tablets.
And, we had also brought into light that  a considerable number of users were willing to give up TV in favor of their Smartphone. In the U.S, 27% of Smartphone users wanted to give up TV over Smartphone, followed by 22% and 21% of users in the U.K and Germany respectively.
Also, Social media has bumped up its presence in the internet world and has bragged billions of users to its community. Multi-screening is a well known trend now, especially in Twitter. Twitter  users are accepting this site even when they are watching TV. Its true that Twitter is grabbing TV viewers and 'dual screen' are seen extensively nowadays.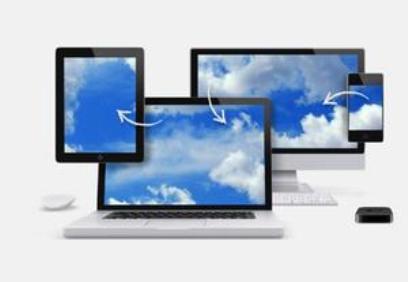 In addition, TV viewers were 12x more likely to tweet regarding a TV show. And, 66% of its mobile users log in to this site at home while watching TV. Certainly, 60% of Twitter users access the social network while watching TV. It is also said that 40% of all the U.K's  Twitter traffic around peak time is about TV.
But now the scenario is quite different, in the U.S. and U.K, active usage of social media services to discuss a show while watching TV is on the decline, falling to 23% and 24%, respectively, in 2012, says a new report from Motorola Mobility.
Motorola Mobility's Media Engagement Barometer is an independent global study of video consumption habits which was conducted among 9,500 consumers in 17 countries. The report reveals that consumers are watching an enormous amount of video, in some surprising ways, in unexpected places.
Few insights from the report:
The U.K and the U.S. sees sizable decline in the simultaneous engagement, as lower numbers for simultaneous social engagement while watching TV than the global average of 43% was noted. While, in 2010, 39% of viewers from the U.K and 32% from the U.S. said they interacted simultaneously on social media while watching.
Recording behaviors are now a constant of the content experience – but content is being forgotten; almost a third (29%) of weekly TV viewing is of recorded content, but almost a third of recorded content is also never watched.
TV watching is now a multi-device experience
Smartphones and Tablets were the most preferred devices for watching TV video content in the bedroom, as compared to TV. While, 10% of tablets are used in the kitchen.
Consumers want to move content between devices more easily; 76% would be interested in a service that automatically loaded content a user liked to their mobile phone or tablet, to enjoy when on the move.
50% watch broadcast TV in the living room, which is highest in Sweden with 81%, 75% in the U.K and 68% in Australia.
36% of consumers globally are watching broadcast TV in the master bedroom, and countries with above-average consumption in the bedroom include Argentina (62%), the US (54%) and Russia (49%).
Tablet users were called as "super users" in the report, as they watched 6.7 hours of movies a week, 1.2 more than the average of 5.5 for non-tablet owners.
Younger audiences to engage with TV program via social media
60% of respondents polled aged between 16 and 24 said they used a companion device to keep track of social conversations while watching. Interestingly, Turkey rose from 44% to 55% from 2010 to 2012, while the UAE bumped up from 60% to 64% during the same period.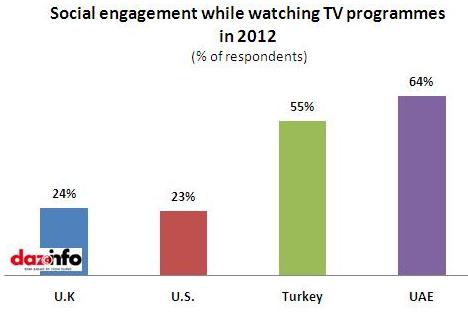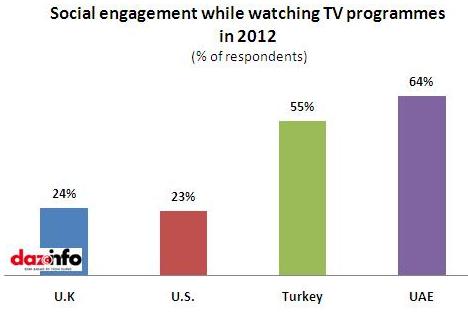 38% of the respondents polled said that they would be more likely to recommend programming on social media than by word of mouth (34%).  78% of them showed willingness to engage with TV service on social networks so that they can share their watching habits and rise up discussion.