LinkedIn is the perfect example of B2B site which holds many professional people in its pocket. From the entry level employees to CEOs are present in this forum.
According to the latest news, HP reached a major milestone this week: It became the first brand with 1 million followers on LinkedIn. Yes, this might not be a shocking news but one has to understand that LinkedIn isn't Facebook. Brands that are entirely consumer-facing—such as Coke, MTV, and Disney—don't fare quite the same there. HP has the benefit of being a consumer brand and a business-to-business brand.
Well, LinkedIn is the most popular social media channel among the globe's fastest-growing private companies says a research by the University of Massachusetts at Dartmouth, Center for Marketing Research, under the direction of researcher Nora Ganim Barnes, PhD.
The study was based on a nationwide phone survey of companies named by Inc. Magazine to the Inc. 500 list, conducted in October and November of 2012. 34% (170 out of 500) of Inc. 500 companies were participated in the study, interviews were conducted with the highest-ranking marketing or communications executive at each company (In many cases, the company CEO or CMO provided the information).
Social media adoption by Inc. 500 companies:
More than four in five companies listed on the 2012 Inc. 500 (81% of them) use the professional networking site, up from 73% a year earlier. Meanwhile, the percentage of these companies using Facebook has declined, from 74% social media adoption among the 2012 Inc. 500.
Blogging gained thrust in 2012 as 44% of these companies now publish a blog, up from 37% a year earlier.
Additionally, software, advertising/marketing, and media companies were most likely to blog in 2012, whereas government services organizations were least likely to post.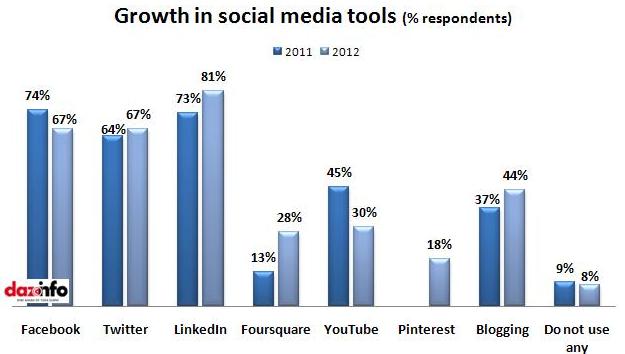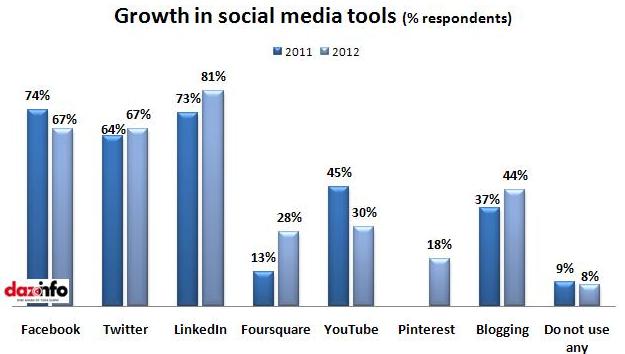 Foursquare usage among such companies has increased to two fold, 28% in 2012, up from 13% of companies in 2011.
Whereas, proportion of companies using YouTube has plunged from 45% in 2011 to 30% in 2012.
Interestingly, 18% of such companies use Pinterest.
Contribution of the content to social media by CEO's, 63% of these CEOs are contributing content or taking ownership of some social media outlet.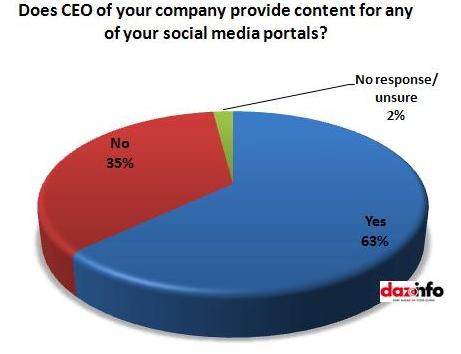 Investments on social media marketing
Only fewer companies are increasing investments in social-media marketing. Just 44% of such companies plan to spend more on social media in the coming year, down compared with 71% of companies that planned to do so in 2011.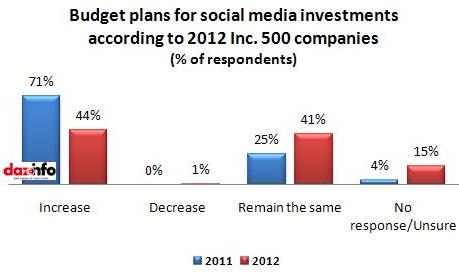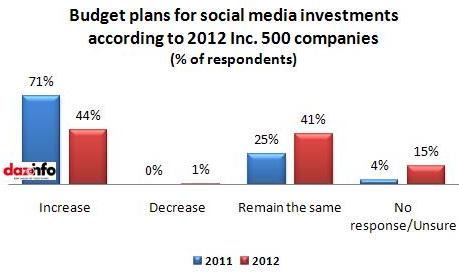 Plus, 41% of these companies say their investments in social media will stay plane in the coming year compared to 25% a year ago.
Social media impact on Business Growth
Despite increased use of social media, these companies are somewhat have a varied opinions on social marketing in the growth of their companies, 62% of the companies say social tools have been very necessary (27%) or somewhat necessary (35%) to the growth of their company.on the other side, 39% disagree, saying social media is very unnecessary (15%) or somewhat unnecessary (24%) for business growth.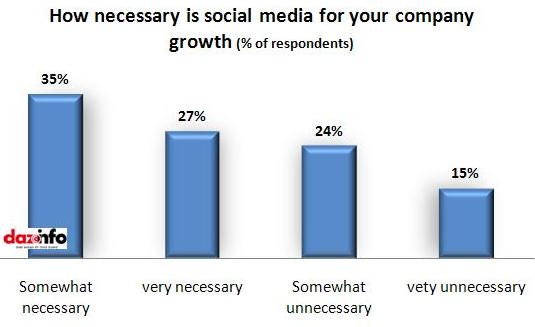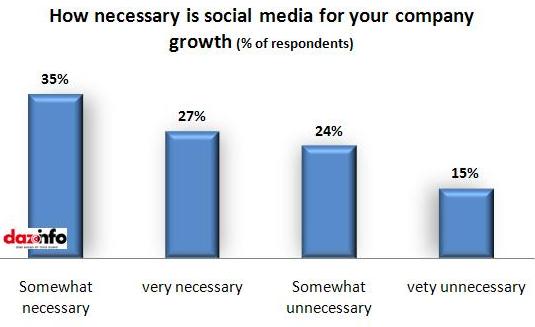 Inc. 500 companies are growing less attentive to social-media buzz: 63% of such companies now monitor social conversations about their names, products, or brands, down from the 68% in 2011.
when the companies were asked what they exactly think about return on Investment; just 34% of them report having the ability to determine financial return on social media investments. Among that third, 19% say social media has helped them cut recruiting costs.