In 2011 itself there was predictions regarding the demise of text message or SMS. A recent study has proved that WhatsApp would take over SMS throne in the coming days. In 2011 the volume of SMS was still growing around the world, but the rate of increase was slowing down.
Interestingly, the revenues for text messages in 2011 were $128 billion and the demise of SMS could definitely choke other phone companies while, Instant messages which are free of cost could mount up its popularity.
WhatsApp is already famous in over 100 countries and covers 750 mobile networks and has an amazing number of around 100 million daily active users globally, to be more specific its 11,574 messages a second and 694,444 messages a minute.
It's true that WhatsApp is only for smartphone users. And, as WhatsApp is free why would a smartphone owner use SMS? This definitely means that as the adoption of smartphones increases, usage of WhatsApp too increases and curtails SMS and Instant Messages usage. It's been predicted that by 2018 smartphone subscriptions would account for 36% of the worldwide market for phone subscriptions.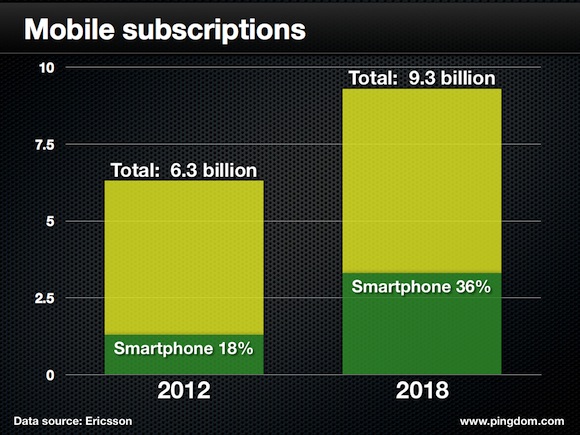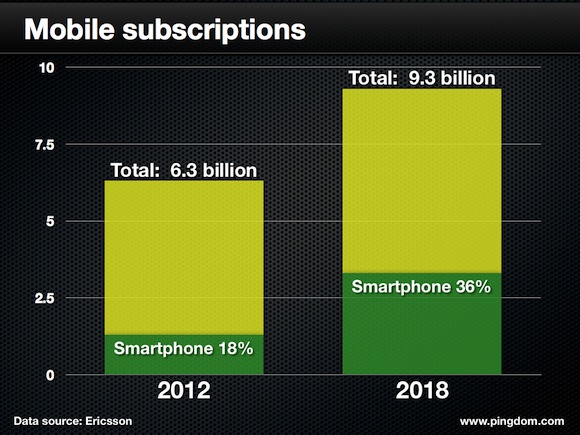 WhatsApp on the 31st of December 2012 recorded a benchmark of 18 billion messages in a day – 7 billion messages inbound and 11 billion outbound messages. Now keeping this as a base Pingdom has released stats assuming if the same numbers of messages were to happen every day. As you can see, one single IM-service would then come close to challenging SMS.
As per another report in 2011, the Netherlands had decreased its SMS usage due to third-party messaging apps, and if this scenario proceeds then obviously we could see SMS die in a few years. But, it's been discussed that WhatsApp primarily works on smartphone platform and it's indeed worth noting that, the smartphone makes up just 18% of overall mobile subscriptions available globally. The firm has predicted that the company's share will remain flat from 2013 to 2018, while Samsung will continue its dominance in this segment. It's expected that Smartphones would account for half of all mobile handset shipments by 2014.
According to another report, 50% of the market will be occupied by cheap (low-end) Smartphones by 2017. It's also expected that smartphones would account for 50% of all mobile handset shipments by 2014. Besides, 2.4 billion mobile handsets are expected to be shipped by 2018, out of these, Smartphones would account for 69% of all sales. That is almost everyone would use Smartphones and when everyone has a smartphone there is no question of paid SMS.
But the question remains, why WhatsApp? when many Asian services like WeChat (China), Kakao Talk (Korea), and Line (Japan) have introduced much more innovative features such as in-service app sharing and sharing to social networks, which held back WhatsApp when certainly users adopt better options than a normal one.