Over the last couple of years, smartphones have shown a tremendous growth, which has sparked out a discussion about the shipment of the devices. According to a recent report from ABI Research, Apple's smartphone market share would peak this year with 22% of the global share. The firm has predicted that the company's share will remain flat from 2013 to 2018, while Samsung will continue its dominance in this segment.
Apple is expected to chase Samsung in mobile technology era. Apparently, Samsung's global smartphone market share surged from 8% in 2010 to more than 30% in 2012. The company has leveraged Android OS for its growth, but this time, it has different strategy with its smartphone business. The South Korean company wants to reduce its reliance on Android, and this is the reason why it has announced to launch Tizen-powered smartphones later this year. At present, the company is working on number of mobile platforms including Bada, Android, Windows Phone and Tizen.
Smartphone Would Account For 69% Of All Mobile Handsets Sales
It's expected that smartphones would account for half of all mobile handset shipments by 2014. Besides, 2.4 billion mobile handsets are expected to be shipped by 2018, and all of these, smartphones would account for 69% of all sales. Of course, the growth in smartphone shipments will be driven by increasing demand of low-cost smartphones, expecting to cost under $250. In addition, LTE handsets are expected to account for 35% of all mobile phone shipments in 2018, while half of smartphones would have the same technology.
Interestingly, a phone with LTE chip does not mean its owner will be making use of the technology. Although there would be a significant number of users with LTE handsets, but they wouldn't access the technology oriented networks.
Apple's Smartphone Market Share To Dwindle
Many believe that Apple's days of mobile dominance are getting over. The company is expected to face uncertainty with its long term goals. As the demand of incremental hardware improvements mounted up, the company is unable to meet the consumers expectations, which is considered as one of the major challenges for it in the near future.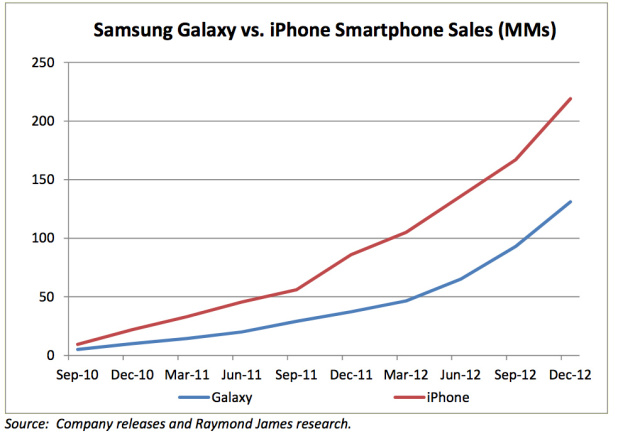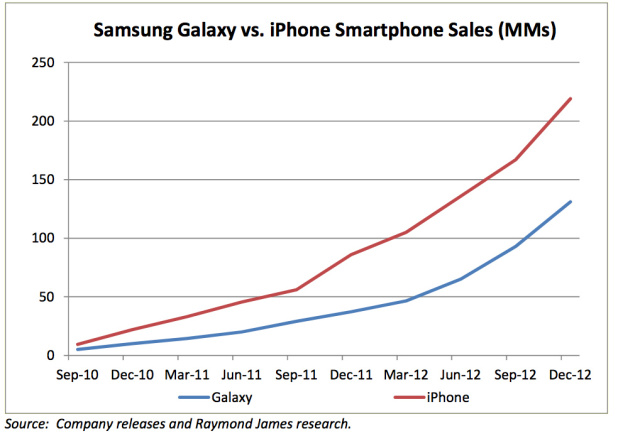 However, it's pretty much clear from the above graph that Apple's iPhones have outsold Samsung's Galaxy smartphones. Over the past two and half years, Apple sold 219 million iPhones, while Samsung could sell just 131 million units of Galaxy smartphones. Apparently, Samsung's Galaxy lineups have succeeded to prevail negative sentiment among people for iPhones.
Overall, tough days are yet to come in Apple's life. And of course, it wouldn't be convenient for the iPhone maker to beat all these challenges. It's currently struggling with instability in its stock market, because the company's growth doesn't seem promising for its investors.