Last year, 1.6 billion mobile handsets were shipped by variant vendors across the world; 44% of all handsets were smartphones. In simple words, over 700 million smartphones were shipped last year, up from 490.5 million units in 2011. As the trend of smartphone is ramping up across the world, consumers' approach towards mobile data planning has also been changing. According to a Nielsen's recent report, majority of consumers still prefer prepaid plans over contracted service. However, the scenario of the U.S. market, where contract plans are more popular, is quite different than other emerging markets.
But it's pretty much clear from the Nielsen report that smartphones owners in each global market were less willing to use prepaid plans than non-smartphone users in 2012. Interestingly, majority of smartphone users in China and India–the world's two biggest markets in terms of mobile subscriber base–were using prepaid plans on their devices last year. Breaking out to some facts, in 2012, 92% of feature phone and 84% of smartphone users in India were using prepaid mobile services on their device.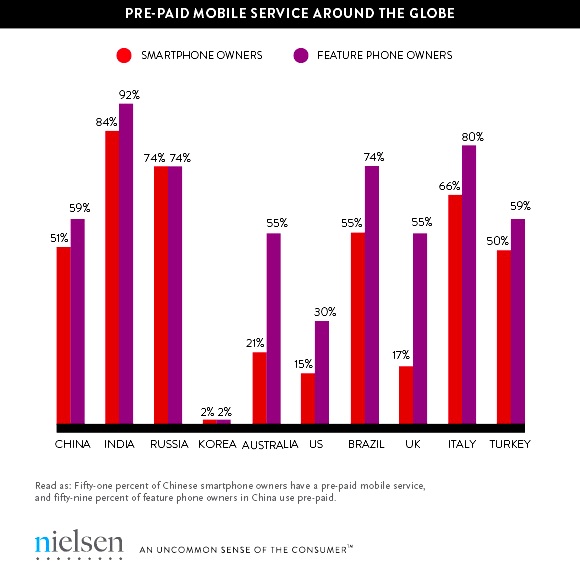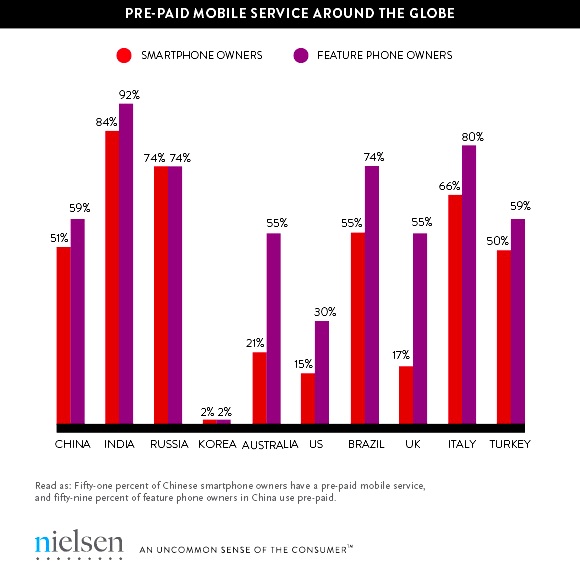 However, the proportion of smartphone users (49%), those were accessing postpaid mobile services on their devices, were quite higher in China in 2012, compared to India. On the other side, the proportion of smartphone users (accessing prepaid mobile services) in developed markets such as the U.S. and U.K., where smartphones are often being subsidized by mobile carriers, was quite low.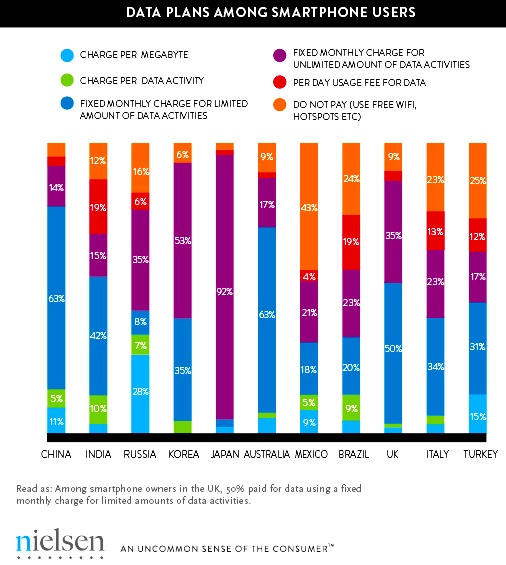 As per the Nielsen report, preference of different data plans were varying with markets, especially in those countries where 3G/4G services were quite popular. In some developed markets such as the U.K., Korea and Japan, where consumers were more likely to access unlimited data plans. While in some other markets,  pay-as-go options for data such as prepaid and pay-per-each-MB of use were more popular.
More importantly, the penetration of smartphone is quite low in the emerging markets like India, Brazil and more, where users are still relying on their feature phones. People in these markets are more likely to use those mobile plans that suit to their tight pockets. They are reluctant to adopt postpaid plans. In such markets, carriers need to come up with robust postpaid data plans in order to entice a significant number of users.