It's pretty much clear that an increasing demand of Smartphones and Tablets has spoiled the business of Intel. In addition, a decline in worldwide PC shipments in Q4 2012 has also compelled analysts to plummet their estimations, related to Intel Q4 2012 earnings. On the contrary, the company has posted better than the expected earnings for the quarter ended December 2012. Thanks to stronger sales of server chips, which helped the company to achieve a benchmark revenue.
Yesterday, Intel posted earnings of 48 cent per share on overall revenues of $13.5 billion. Of course, Intel's earnings report could be a good sign for computer vendors as well as for overall tech industries. However, still the company has heavily betted on PC chips, even trend is moving towards Smartphones and Tablets.
Intel Q4 2012 Earnings
According to a Gartner's recent report, worldwide PC shipments dropped by 4.9% Y/Y in Q4 last year. Despite, Intel's PC Client Group reported a revenue of $8.5 billion in Q4 2012, down 1.5% from the previous quarter, and down 6% from a year ago. On the other side, Data Center Group showed off a revenue of $2.8 billion for the last quarter, up 7% from the previous quarter, and surged 4% compared to the same quarter of the last year. The company spent $4.6 billion on its Research and Development as well as general sales and marketing. Yesterday, Intel's stock jumped slightly 0.18% at $22.70 a share, after the release of its Q4 2012 earnings.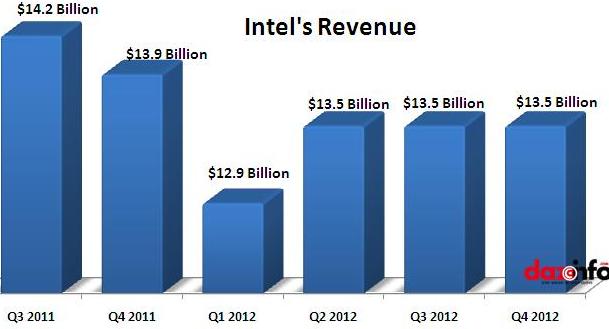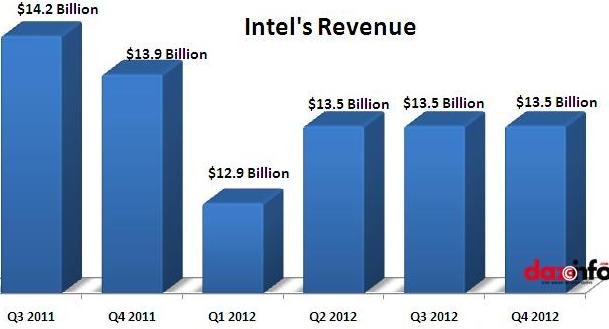 Besides, Intel has also predicted a revenue of $12.7 billion in Q1 of the fiscal 2013, 58% gross margins, and R&D and MG&A spending of $4.6 billion. More importantly, Intel's PC client Group reported a revenue of $34.3 billion for the fiscal year 2012, down 3% compared to the previous year. Data Center Group's showed off revenue of $10.7 billion for the last year, up 6% compare to the previous year.
Intel Wants To Make Stronghold In Mobile Segment
Interestingly, Intel is currently trying to shift its mindset to meet the demand of chips of mobile devices. The company has created laptop chip—code-named Haswell processor-expecting to come mid of this year. At the CES event this year, the chip maker said that it was working with seven major Smartphone vendors, those would launch Intel-based Smartphones in 25 countries.
Furthermore, the launch of Windows 8 Tablets and hybrid computers has narrowed the gap between PCs and Tablets. In other words, Intel's chips which are available in convertible computers, could be used in laptops or touch screen Tablets. And also, Intel's chief executive–Paul Otellini–said that demand of Ultrabooks mounted up 18-folds in Q4 2012 over the last year.
Intel's recent moves are part of its strategy to diversify its business beyond the PC. And why not? It's the demand of the time. Now, users want portable on-the-go internet-enabled smart devices, and if Intel wants to sustain its business, then definitely it will have to frame strategies for this segment.