As expected, the demand of PCs remained lackluster in Q4, 2012. Microsoft launched its one of the most innovative PC OS–Windows 8–in the last quarter, sold more than 60 million licences of the OS. Despite, the sales of PCs declined in the Q4 2012, compared to the previous quarter. Windows 8 powered "Ultrabook" products were limited in supply, and those were also offered at very high-cost. During the holiday season, users were more willing to buy Windows 7 notebooks or low-end PCs, rather than high-priced 'Ultrabooks'. Windows 8 had seen lukewarm response, and the OS was primarily available on high-end expensive PC models.
PC Shipments In Q4 2012
An increasing demand of low-priced and portable on-the-go internet-enabled smart devices (smartphone and Tablet) has swallowed the worldwide PC sales. According to a Gartner's latest report, worldwide PC shipments for Q4 2012 totaled 90.3 million units, down 4.9% (from 95 million units) compared to the same quarter of the last year. With sales of 14.6 million PCs, HP regained its position over Lenovo in Q4 2012. However, Lenovo succeeded to gain second position with 13.97 million unit shipments in Q4 2012.
Of course, a soft economy condition, especially in European markets, caused a decline in PC sales in the last quarter. It' s also true that increasing demand of low-priced Tablets has also dramatically changed the whole scenario, cannibalizing PC sales. Somehow, profusion of on-the-go devices has also influenced PC users to shift from older PC to Tablets, rather than to replace these device with new one.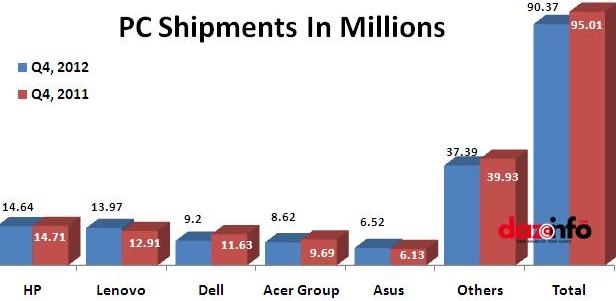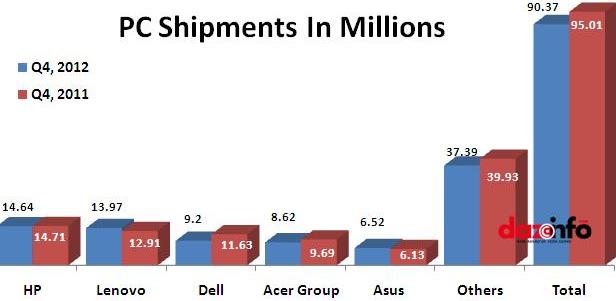 PC Vendors' Market Share In Q4 2012
In Q4 2012, shipments of both laptops and netbooks dropped by 11% Y/Y, while sales of desktop PCs plunged by 6%. On the other side, HP showed off 0.5% decline in Q4 2012, compared to the same quarter of the previous year(2011). In the context, Lenovo shipped nearly 14 million PCs in Q4 2012, managed to hold 15.5% overall PC market share, up 8.2% in terms of shipments compared with the same quarter of the last year. More importantly, unit shipments of Dell declined by whopping 21%, and it reached to third notch.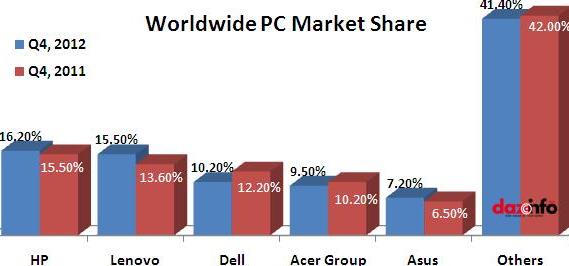 Worldwide PC Shipments In 2012
However, the shipments of PCs from vendors such as Asus, Lenovo and HP are expected to be promising down the road. Breaking out to regional sales, shipments of PCs declined by 2.1% in the US. Although an arrival of Windows 8 attracted users' attention towards PCs, but consumers preferred to spend on other electronic products and services during the holidays. In addition to these, the demand of the devices (PCs) was also grimmer in EMEA (Europe, the  Middle-East and Africa) regions.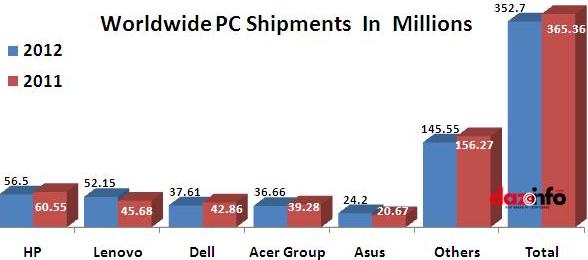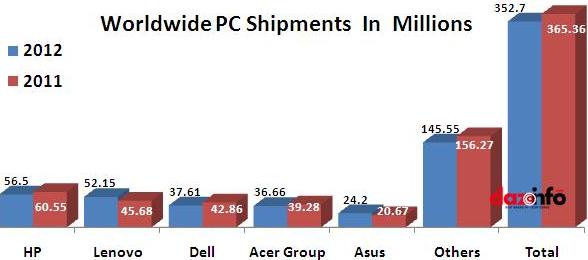 Furthermore, Asia/Pacific regions also saw 1.8% (or 29.9 million units) decline in Q4 2012, compared to the same quarter of the last year. Not interestingly, in these regions, consumers were looking for cheaper Smartphones and Tablets,  rather than expensive PCs.
Top Five PC Vendors' Market Share In 2012
In addition to these, the overall PC shipment declined by 3.5%, from 365.36 million in 2011 to 352.7 million units in 2012. HP managed to retain its position with 16% market share in 2012, followed by Lenovo and Dell with 12.50% and 11.7% market share respectively. Last year, we could perceive crazy innovations in PC segment by some manufacturers like HP, Lenovo and other.


Here, it should be understood that PC shipment includes desk-based PCs and mobile PCs (including mini-notebooks, but not media Tablets). It's pretty much clear that Windows 8 still don't have any halo impact on consumers. However, Lenovo has been working hard with Windows 8 products like Yoga, having both touch screen Tablet and keyboard/power PC.