Apple and Samsung continue to dominate the Smartphone industry. It's true that the industry is growing with a dizzying pace year-over-year, and this year, it's expected to set two new milestones. First, the global Smartphone shipments would exceed 1 billion in 2013, and secondly total Smartphone installed base will surpass 2 billion units figure.
Now, the trend of larger display Smartphones is set to take a much bigger chunk of the market this year. According to IHS iSuppli, Phablets are going to double their market share in 2013, compared to the previous year. Interestingly, 60.4 million Phablets are expected to be shipped in 2013, showing a 136% Y/Y growth. However, last year, just 25.6 million Phablets were sold globally.
Sales of Phablets To Hit 140 Million Units In 2016
Although there's no any specific definition for Phablet, the firm (IHS iSuppli) considered a Phablet as a Smartphone with a display of 5-inch or more. This month, Huawei unveiled two Phablets– 6.1-inch Ascend Mate and 5-inch Ascend D2. Besides, Sony also unboxed its 5-inch Phablet at CES event this year. In addition, Lenovo is also expected to launch 5-inch IdeaPhone K5 Phablet with 1920 x 1080 pixels display soon. More importantly, Chinese vendors such as Lenovo and ZTE are likely to launch more numbers of their Phablets at very affordable price tag this year.
Furthermore, the Phablet industry will continue its growth in forthcoming years as well; the industry is expected to maintain vigorous double-digit annual expansion rate. As the availability of large LCD display ramps up and price of such screens is going down, it's estimated that the annual Phablet shipments could exceed 140 million units figure by 2016.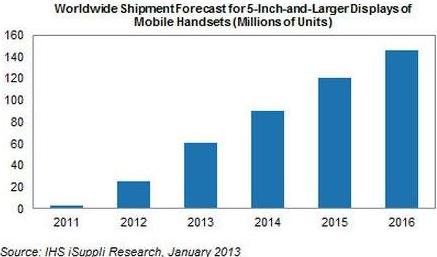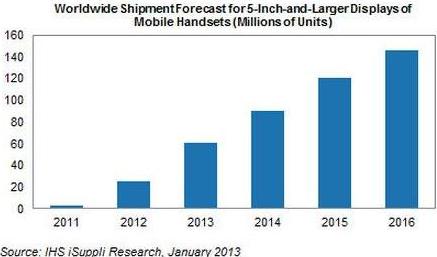 However, the form factor of the Phablet sounds little bit awkward, in comparison to Smartphones. But the device (Phablet) is easier on the eye in contexts of reading the content, interacting with rich multimedia contents and watching video.  Of course, increase in rich Smartphone contents is one of the encouraging factors for the Phablets' growth.
Galaxy Note II Becomes A Paradigm
The concept of Phablet was introduced by Samsung with Galaxy Note. However, the device was initially lashed out by detractors, but now, it has changed the trend of Smartphone industry. The South Korean company sold 10 million units of Galaxy Note by the end of August last year. Besides, 10 million units of Galaxy Note II (sibling of Galaxy Note I) are expected to be shipped as of December end last year. Anyway, the breakthrough of these devices has compelled many manufacturers to think out of the box. And this is the reason why a flock of manufacturers are working on their Phablet projects.