The large screen smartphone devices, widely known as phablet, have started penetrating into the global market thoroughly. The bigger screen size of the Smartphones was successful in luring the tech consumers towards it. However, till last year, the scenario was different; the phablet wasn't so popular in the flourishing market of smartphones and tablets. Though, the newly arrived contestant could not beat the already established business of smartphone and tablets, but it left a significant impact on its consumers, developers and manufacturers.
Samsung Electronics Co. Ltd. (KRX:005930) was the one who came up with the idea of producing a device that have the efficiency of small screen size Smartphone and comfort of the large screen size tablet; there the vision of phablet arises. It's a blend of Smartphone and tablet; it comes under the evaluation of both. A recent study by opera media works revealed that phablet users are a separate group but with a distinctive behavior. Though the number of phablet users is comparatively low, but as the trend in its growth rate depict, it seems it holds a great opportunity in the near future.
According to the latest study from mobile analytic firms Flurry, Phablet devices are going to change the smartphone market dynamics in the next two to three years. Based upon the data collected from 59,240 devices, the study was conducted to comprehend the way phablet devices have turned out favorably in the mobile market, with size being a major factor in its success. The types of devices on which this study has been done are classified into four categories according to their sizes, starting from the smallest size of around 3.5 inches – like blackberry – to the largest size tablets of more than 8.5 inches – as that of iPads.
Small Phones: Screen Size 3.5″ or smaller
Medium Phones: Screen Size 3.5″ – 4.9″
Phablets: Screen Size 5″ – 6.9″
Small Tablets: Screen Size 7″ – 8.4″
Full-size Tablet: Screen Size 8.5″ or greater
After comparing the figures of 2013 Smartphone market to that of 2014, it seems like phablet devices are ready to change the market scenario.
Phablets Playing A Good Deal, Multiplying its App Share Activity
Phablets have admirably cut down the market share of medium sized phones by 2 percent point, full sized tablets by 2 percent point and small phones by 4 percent point which, as shown by data, are affected severely. The sheer decline in the market share of small phones clearly pictures the increasing desire for larger size phones. We can also see that the only unaffected genre of phones is the small size tablets which are more or less offer the same size as that of phablets. Hence there is almost no decline in market share of small sized tablets though phablet itself has witnessed a surprising five fold increase in its market share within one year, which is now a new subject under examination. Currently, except for phablets, no other smart device could gain as much a market share as that of it within 12 months, which actually is quite surprising.
In 2013, flurry reported that the total market share of phablet was just 2 percent, which gained a remarkable increase by getting it to the 10 percent market share. Probably that is the reason why smartphone OEMs are investing more on phablets.
As per the report, 6 percent of the total active mobile users are on the phablets today compared to 3 percent last year, but it is to be kept in mind that this increase of market share of phablet has come at the expense of small and medium sized smartphones. However, consumers are still continuing to find their satisfaction in small and full size tablets, the growth marked the gain of 2 percent point, as a result its market share increased from 5 percent to 7 percent by active users.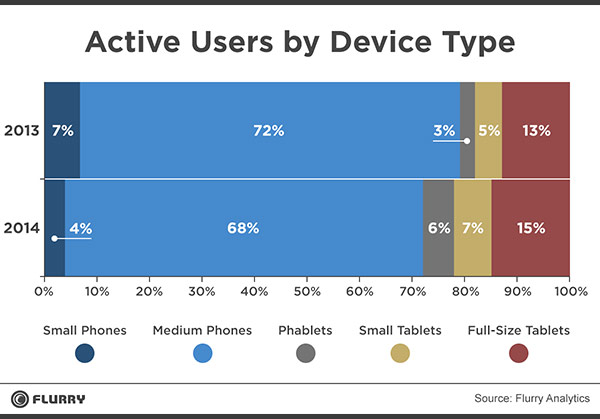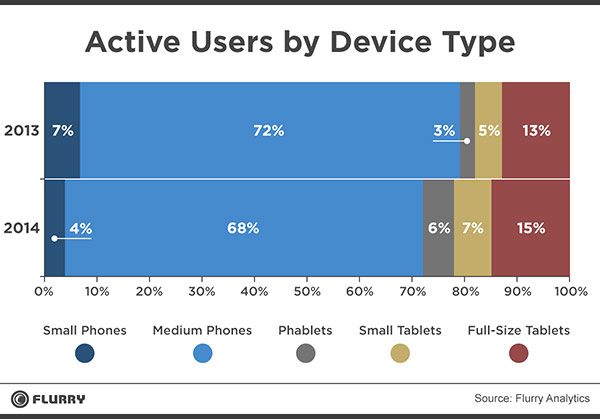 You may find it confusing to get the conclusion of the penetration of phablets in the market from the data provided. Studying app session can be a solution to this. They are indicators of actual device usage. It's quite evident from the data that phablets command a disproportionate share of app activity, while they have only 6 percent active users, but control 11 percent of all app sessions, which was only 3 percent last year.
Since iOS has just introduced a new phablet device, iPhone 6 Plus, which is yet to reach to users and Windows Phone OS has got almost next to nil market presence, so we can get a better understanding of the penetration of phablets in the market just by studying trends in Android users.
The number of phablet users is quite unexpectedly large when it comes to Android users. Within a year the market share of active Android Pablet devices went up to 18 percent from 7 percent last year. Clearly a sign of significantly increasing demand for the larger phones.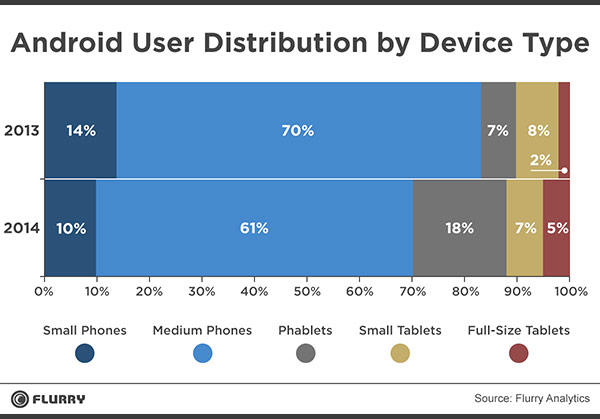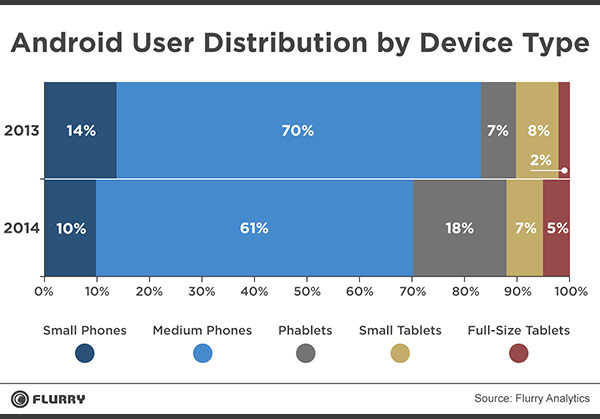 We can also see that demand for both the types of tablets also grew from 10 percent to 12 percent within one year. However, almost 13 percent users withdrew from using mid size phone between 2013 and 2014, which witnessed a remarkable loss of medium phone market from 70 percent to 61 percent. Android users are moving towards the larger phones or tablets, and a better option than both of them is phablet, hence the demand for it is increasing.
Phablet

to Books or Books to P

hablet
Flurry also tried to find out the types of users who preferred phablets over any other device; they could get to the conclusion that there was no "killer category" that captivates phablet users. In fact, they are all like any other user of any of the smart devices, using it more for social media, gaming and entertainment apps, but the interesting thing that flurry noticed in this trend was that the books is the category in which phablet users over-index the most. The noticeable thing about this observation is that Phablets account 6 percent of the installed base, so the fact that phablet users account for 10 percent of the total time spent on books implies that phablet users are intend to invest more time in reading on a large screen.
Evidently, this shift from the small and medium phones to phablets, small and large tablets is among the readers. The sharp decline in the time spent on books by medium phone shows that how difficult it could have been to read content on the small screen, but when they have got the option they are ready to make that change despite the bulkiness of the large devices. What is more important for them is the ease with which they can read on larger devices, and moreover it is fun using a larger screen device in many ways.
Phablet

users are more social

influencer

personas
According to the study of the outcome of the use of flurry personae as a proxy for behavioral makeup of phablet users, the outcomes of which were found to be more social influencer persona by 2.4 x 35% as compared to 15 percent mobile users across all devices while just 12 percent phablet users were entertainment enthusiasts compared to 6 percent of all mobile users. Business travelers and business professionals, both use phablets 1.5 times more than a average mobile user.
By comparing the sites and apps frequently visited by phablet users, they reflect themselves as extremely socially oriented. It is speculated that by 2016, 50 percent of the online video consumption will be done by mobiles and tablets will be the most popular device involved in it. Although the trends shown by phablet users is more or less similar to that of Smartphone users, since people prefer entertainment and social media over information and knowledge on a larger screen, the trends shown by them are quite different. Hence the users spending more time on social media, games and entertainment is not at all surprising.
Opera media works president Scott Swanson commented on these inferences "What we discovered is people now want to use their Phablets for both purposes — to run around town, use the map, check email, text a friend that you're running late. Then they were also using it at home, sometimes instead of a tablet, for checking social media."
Medium sized Smartphone still lead the race
Although the phablet market has significantly grown during this year but it still is not as fully fledged as Smartphone market is. In 2013, out of 980 million Smartphone shipments, only 20 million were phablets. According to Juniper research estimation, this number will grow to 120 million annually by 2018. And till then the total number of Phablets shipped will be 1 billion. Asia has a huge market for large screen devices, in March 2014, 40 percent of Chinese smartphone buyers preferred phablets over Phones.
Hence, in the future it is not certain which device will be the most used devices because each of them has their own unique purpose that cannot be met by any other device. So probably people will try to integrate all of them according to their requirements. However Smartphone still remains the most considerable device, because people do prefer easy to hold devices than the bulkier ones.
Bigger

, the better
This notion of bigger the better rightly applies on the increasing usage of phablets. This is quite confirmed now that consumers are looking forward to own bigger screens. For the last few years tablets have been replacing TVs, magazines, PCs to a larger extent as the all in one way of source of information and media has been made easily accessible on it.
Apple in the field of Phablet market with all other rivals
Since all other rival companies have already launched their large screen devices in the market, which however are more successful in luring consumers, Apple has also plunged into the market with the recent introduction of the bigger screen iPhone 6 and iPhone 6 Plus. However, with the premium price tag, it would be interesting to watch how phablet users react to Apple's 5.5-inch iPhone 6 Plus phablet device. It has already been proved how larger screen devices have been successful in their growth within a short span of time. Samsung which comes out as a dominating company with shipment of 44 percent of all other devices having the maximum number of devices with bigger than 5-inche screen in the market. All other companies like LG, Sony, Huawei, have played their part of being in the race by developing phablet Smartphones as their high end products. Apple almost lost its second place in Chinese Smartphone market simply because it could not provide the competition to larger screen phablets.