At the time, Android is unilaterally dominating the mobile OS segment in terms of shipments. In Q3 2012, three out of every fourth smartphones sold were Android-powered. However, Android's nearest rival—iOS—had just 14% market share till the end of the Q3 last year. At the end of Q3 last year, Windows Phone was struggling to gain the attention of worldwide users. Nokia reportedly shipped 4.4 million smartphones in Q4 this year–thanks to increasing demand of Windows Phone 8 running Lumia 920 model.
Sales Of Windows Phone Smartphones To Hit 13.75 Million Units In Q4
Still, we don't have any exact number of Windows phone sales during Q4 last year. Citing to reliable sources, Forbes has mentioned that Windows Phone is on the way to approach a milestone of selling one million handsets per week. More importantly, the firm has reported (as stated by Steve Ballmer at CES event this year), sales of Windows phone smartphones in Q4 2012 were five times as much of the sales of the devices in the same quarter of the last year.
In Q4 2011, 2.75 million Windows Phone-powered smartphones were shipped. In simple words, if the information is correct, then 13.75 million (which is five times of Windows Phone devices' sales in Q4 2011) Windows Phone smartphones were shipped in Q4 2012.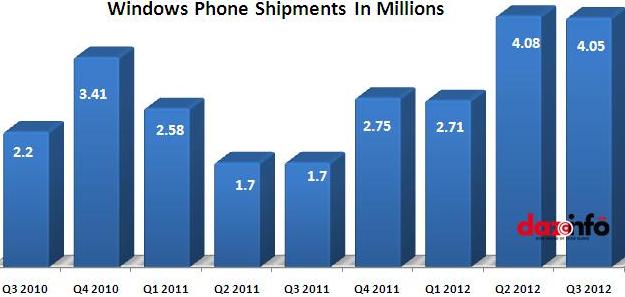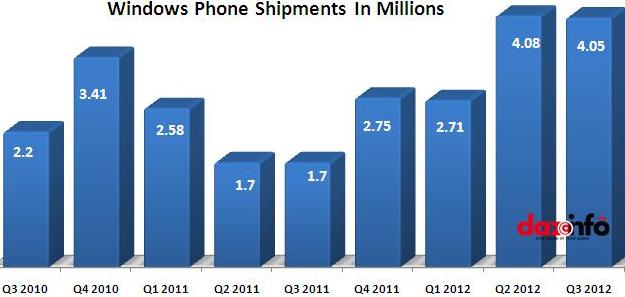 It's pretty much clear from the above figure that there has not been any regular shipment pattern of Windows Phone powered device. In Q4 2010, we could see an incredible growth in shipments of Windows powered devices, compared to the previous quarter. But the demand of the device dwindled in Q2 and Q3, 2012, due to increasing dependence of its hardware partners such as Samsung and HTC on Android mobile OS. However, the company started relying on Nokia last year, showing an increment in shipments in Q4 2011.
Windows Phone Could Be Third Biggest Mobile Platform
According to IDC's report, Windows Phone market share is expected to grow at the compound annual growth rate rate (CAGR) of 46.2% between 2012-2016. On the other side, a growth rate of other mobile OSes like Android and iOS are quite low, expecting to mount up at the CAGR of 9.5% and 10.9% respectively. As per the estimation, Windows Phone is expected to grab 19.2% of overall smartphone market share in 2016, which is even greater than Apple's 19.0% market share.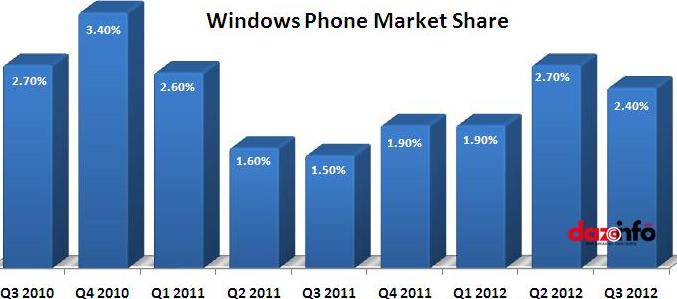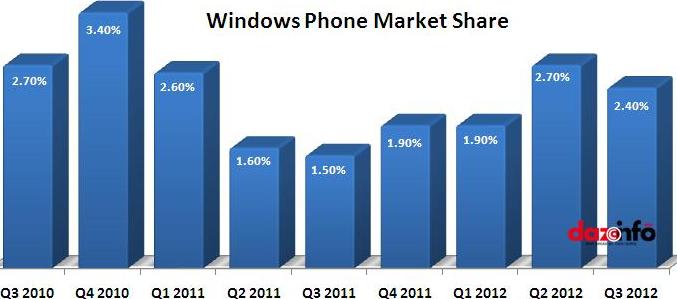 Of course, sales of 13.75 million Windows Phone-powered smartphones in Q4 2012 is really an incredible achievement. Besides, increasing demand of Nokia's Lumia smartphones (4.4 million shipped) in Q4 2012 is depicting something else. It seems that Windows Phone has succeeded to make impact on users. In addition, Microsoft is currently quite aggressive to create a strong app ecosystem around. Now, the Windows Phone app store has more than 150,000 apps. Apparently, the company wants to see Windows Phone as the world's third biggest mobile platform.