Microsoft Corporation (NASDAQ:MSFT) has been struggling with its Windows phone for a very long time. They made several failed efforts to grab a sizable chunk of the smartphone market by riding on the back of its flagship devices like Nokia Lumia series and the latest HP Elite X3. However, Android and iOS devices continue to rule the market. According to the latest rumour, HP and Microsoft are once again gearing up to launch a Windows 10 powered smartphone in early 2017. This upcoming Microsoft Windows Phone is rumoured to be unveiled at Mobile World Congress 2017 as a successor of HP Elite X3.
The specifications of the device are unknown. Given the fact that both Microsoft and HP need to make a mark in the market, we can expect interesting and attractive upgrades in the device. The Elite X3 hosts Qualcomm's Snapdragon 820 with 4GB RAM, 64GB storage and a 16-megapixel camera which means we can expect more advanced Snapdragon 835, 6-8 GB RAM, different storage capacity versions and a better camera quality in the upcoming version. But hardware specifications are not the primary reason behind the disappointing performance of Windows Phones in the market. Windows mobiles are failing to make a mark because of its OS – Windows Phone OS.
Windows Phone OS Failure
Microsoft's Windows Phone OS has always failed to provide its users with a great experience. To provide a unified and seamlessly integrated experience between mobile and desktop the company is powering all mobile devices with Windows 10 OS. The interface, however, fails to attract the mobile users. It lacks many convenient features, such as control centre, which provides access to general settings and controls. On the other side, these features are frequently used and are offered by Android and iOS.
Besides, Windows Phone Store is pretty disappointing for its users. The app store lacks many popular games and apps. As it fails to attract app developers, most of the apps are either not upgraded regularly or are not introduced on the Windows Phone OS platform. This is resulting in a great disappointment for Windows mobile users, especially when they see their peers on Android or iOS platform enjoying the latest features of apps. Undoubtedly, Windows will need to work on providing an unmatched user experience to win the lost and new customers. However, it is going to be a tough call for Windows phones to beat Android and iOS.
Microsoft Lost the Smartphone OS Market
The smartphone operating system market has become highly competitive. Android leads the OS market with the maximum market share. As of Q3 2016, Windows Phone OS market share touched a mere 0.4% compared to iOS' 11.5% and Android's 87.8%. Microsoft revealed that the revenue from phones has decreased by $4.2 billion (56%) in the fiscal year 2016, thanks to the falling sales of Windows Lumia Phones. The sales of Lumia devices went down by almost 60% within a year, to 13.8 million units in fiscal 2016 from 36.8 million units in the fiscal year 2015.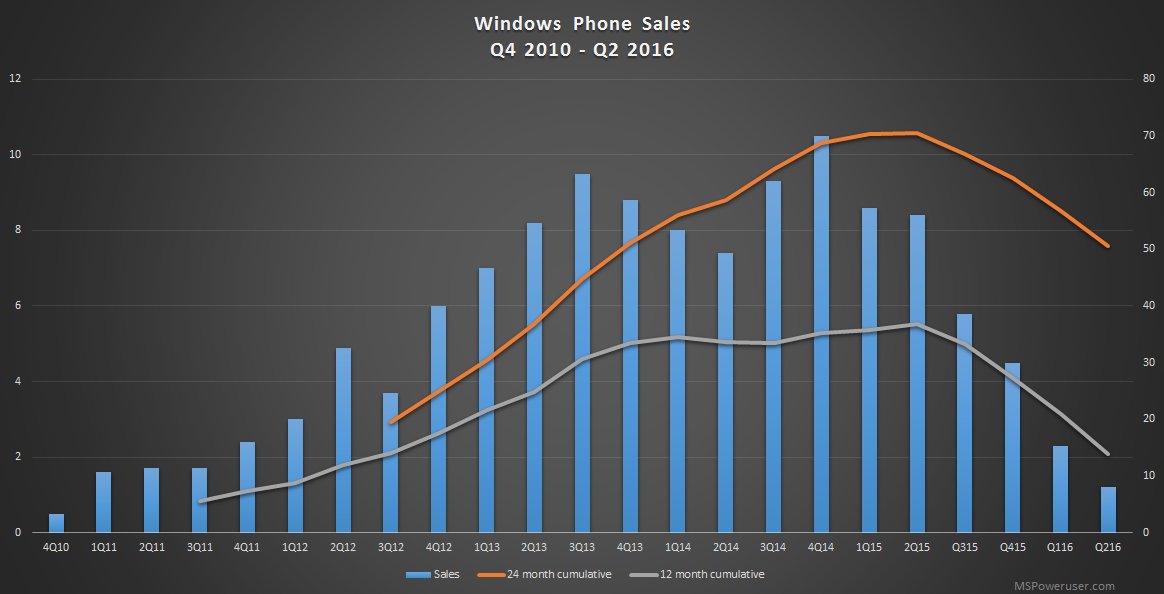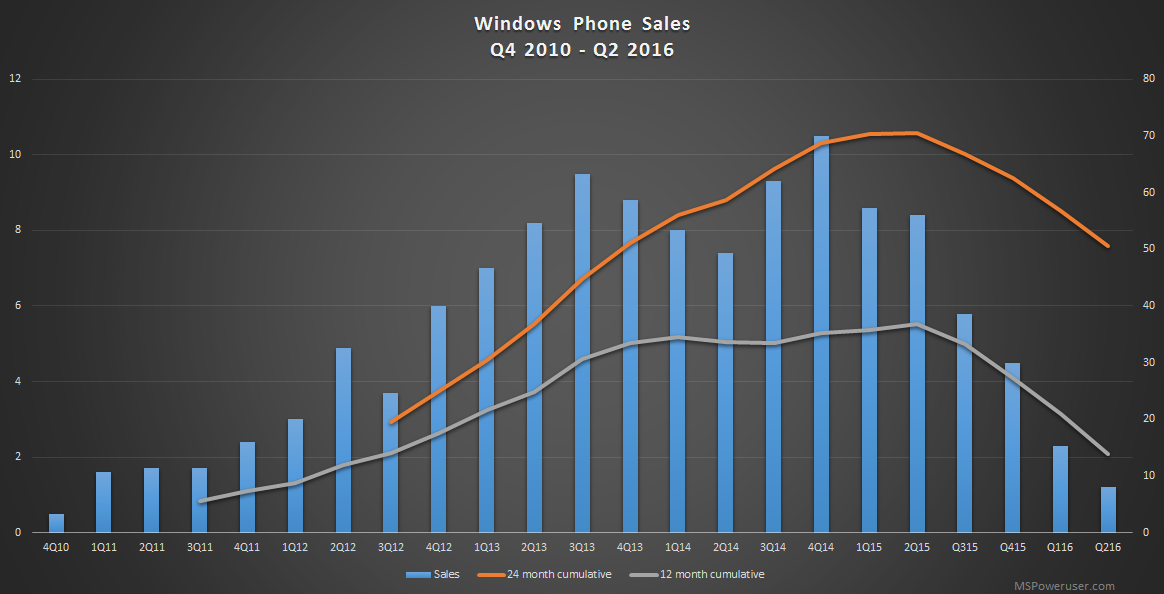 When the sales/revenue of a product/brand falls at such a high rate, it means that the consumers are changing their track towards a better option available in the market. However, Microsoft and HP are still not ready to give up.
What's Wrong With Microsoft?
If we consider the brilliant features and design introduced in Surface Pro 4 by Microsoft, it gives us a reason to believe that Microsoft still has the potential to think and develop great mobile devices and software for an unmatched experience. However, the company is trying to kill two birds with one stone – which has never been fruitful for any company in the past. Apple and Google both tried to follow the same model but failed, and later decided to power Desktop and Mobile Environment with two separate operative systems. The reason is simple, mobile and desktop are two different ecosystems altogether, and users behaviour on one ecosystem is quite different compared to the other one.
With the current scenario and past performances, however, it is highly doubtful that the successor of Elite X3 will be a hit in the market, until and unless it offers something unique and unprecedented experience. Android and iOS are loaded with tons of features and the customers are having a tough time choosing between them, leave alone Windows. The problem is not that the consumers do not need a Windows phone, but Microsoft has mismanaged it badly. The inconsistent third-party support, distribution chaos and unavailability of apps have been disappointing users for long and making them shy away from Windows Phones. It seems like Microsoft doesn't believe in itself because of its changing strategies and lurching behaviour.
While we are doubtful of the fate of the upcoming Windows device, let's just wait for the device to launch. You never know what Satya Nadella has got in its kitty to surprise us all!
Image: TheVerge