Despite of aggressive marketing by Microsoft and warm market response Windows 8 market share is witnessing slow appreciation. Interestingly, users are still showing more confidence in Windows XP OS as more than 42% of Windows OS users are showing their back to all successors of XP OS.
Just a few weeks before, Google announced that it would remove support for Microsoft's 'Exchange ActiveSync Protocol' for Windows Phone from January 30 this year. In other words, Windows phone users would not be able to access email, calender and contacts simultaneously using the same Gmail account from January 30 onwards. It was expected earlier that the company will do something in favor of its Windows Phone users, but it already declared to cut off Exchange Active Sync support to personal and non-enterprise users.
Windows 8: No Live Messenger From March 15
This time, the company is trying number of stunts to entice a significant number of users towards its Windows platform–Windows 8 and Windows Phone 8. Besides, the company has also planned to discontinue Windows Live Messenger in 2013. The software company wants to shift all users from its Messenger to Skype – acquired last year – in Q1 of this year. Today, Microsoft emailed all 100 million+ Messenger users that it's aggressively going to stop Messenger from March 15 this year. It means, use of Skype will be mandatory for them instead of Messenger.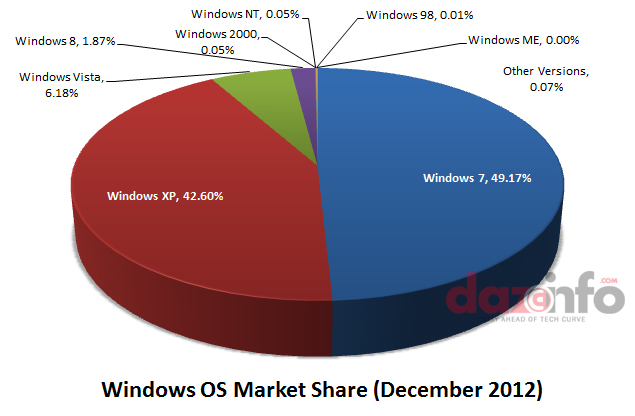 Windows 8 Market Share: 60 Million Licenses Sold
Today, Microsoft announced that it has sold 60 million licenses resulting in 1.87% Windows 8 market share. However, the company has not yet announced anything about how many licenses it has sold to vendors and enterprises separately out of this. The figure (60 million) represents the cumulative sales of Windows 8 including upgrades and sales to OEMs. The sales of Windows 8 have seen similar (or even better) trajectory with Windows 7.
Microsoft finally released full-fledged version of Windows 8 OS on October 25 last year. Now, there are more than 1,700 certified systems (devices) for Windows 8 and Windows RT. Really, more than 60 million licenses sold till date is showing a robust initiation of the OS on the market. Besides, the company has also seen a strong growth in developers' number for building Windows 8 apps. At the time, the company seems quite aggressive to create a robust app ecosystem. This is the reason why the number of Windows 8 OS running apps has been quadrupled since the launch of the OS.

However, Microsoft released the 'consumer preview' of Windows 8 OS in February last year, and more than 1 million 'consumer preview' were downloaded within 24 hrs of its availability. At the end November last year, the company announced to sell 40 million licenses of the OS. In other words, the company sold around 20 million Windows 8 licenses and upgrades since the end of November last year. Comparatively  Windows 7 OS averaged 19.4 million sales (licenses and upgrades) per month in first nine month on the market since its launch.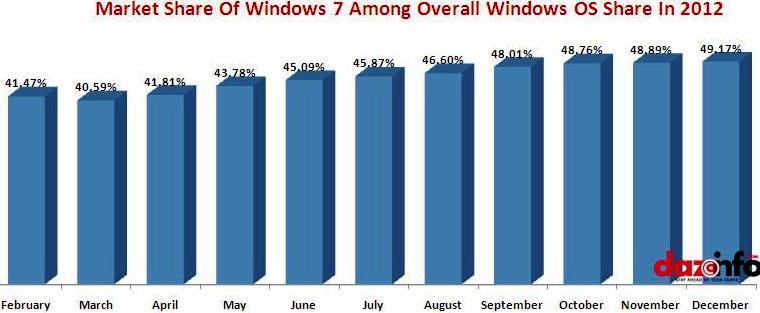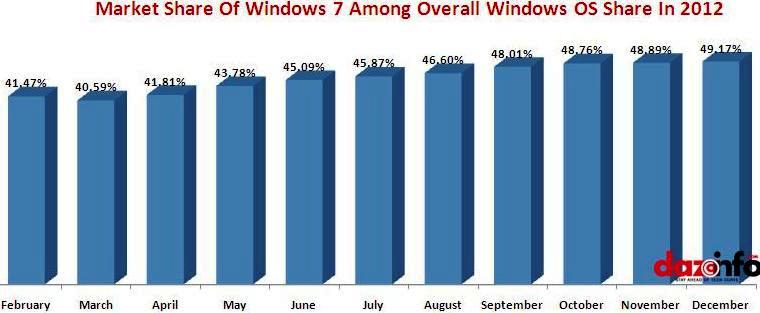 Undoubtedly, Windows 7 is one of the most successful products of Microsoft. Still, the OS is accounting for almost half of Windows Market share. But, in the last two months ending December 2012, Windows 8 saw an incredible jump in Windows 8 market share– surged from 0.44% in October 2012 to 1.87% as of December end last year.
It would to interesting to see how companies, who migrated from Windows XP to Windows 7 in early last year, are going to act upon Microsoft's new baby OS.