Presently, it's really tough for people to keep themselves away from their smartphones and tablets. It's pretty much clear that smart devices (smartphones and tablets) have changed the lifestyles of people around the world. Now, they are using the devices as "second screen". Here, the word 'second screen' is used for the trend of using Smartphone or Tablet while watching the TV.
Just a month before, we showed off that a considerable number of users were willing to give up TV in favor of their Smartphone. In the U.S, 27% of Smartphone users wanted to give up TV over Smartphone, followed by 22% and 21% of users in the U.K and Germany respectively. However, the figure was somehow higher in emerging countries like India, where 49% of smartphone owners wanted to give up TV over mobile devices.
According to a Nielsen's recent study report, second screen adoption (trend of using smartphone or Tablet while watching TV) is on the rise in the U.S.. In the country, 85% of mobile owners (having either smartphone or Tablet) use their device while watching TV  every month, while 40% of owners use their devices for the same purpose daily. More importantly, 41% of Tablet owners use their device as 'second screen' daily, down from 45% (those used Tablet daily while watching TV) in April this year. However, the figure of smartphone owners is little less (39%) those use their device while watching TV daily.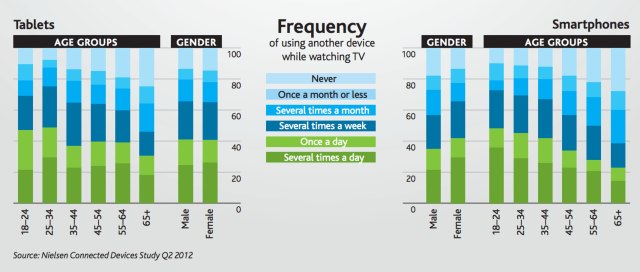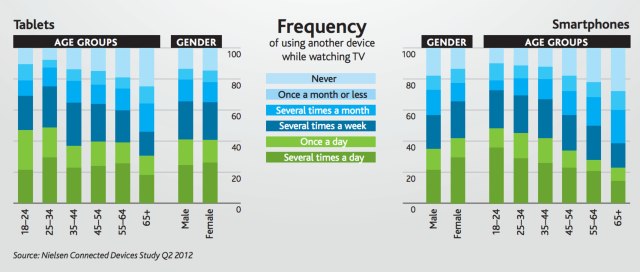 For Tablet users, age does not seem to be a barrier, especially when there's a talk about second screen adoption. In the U.S., 36% (age group 35-54 year) and 44% of Tablet owners (aging 55-64 year) respectively use their device while watching TV. The report has revealed that the older age group Tablet users (55-64 year old) are keenly interested in surfing web pages and checking mails while watching TV. However, among younger age group (18-24), Smartphone is more popular compare to Tablet as 'second screen' due to higher price tags of Tablets. Among younger age people, tablet is still considered as luxury purchase. These younger group (18-24 year old) are more willing to use social networking sites on their Smartphone; 44% use Smartphone for social networking sites.
Anyway, it's pretty much clear that Smartphone and tablet today are frequently used by people as second screen in the U.S. As considerable smartphone owners in India (among emerging countries) are likely to give up their TV over mobile devices, it indicates that they are more interested in their Smartphones compare to TV. In simple words, TV is losing its charm against Smartphones and Tablets.