In Q3 2012,  global PC shipments dropped by 8.3%, compared to the same quarter of the last year. It was the first time (in Q3 2012) when Lenovo surpassed HP in terms of PC shipments. Now, Lenovo is the world's biggest PC manufacturer, followed by HP and Dell.
According to a recent report from IDC, the PRC (People's Republic of China) Smartphone shipments reached a record of 60 million units mark in Q3 2012, which is three times more than PRC PC shipments in the same quarter. Besides, smartphone shipment recorded 38% QoQ growth in Q3 2012, outpacing the 9% quarter-over-quarter (QoQ) growth of the total mobile phone market.
In Q3 2012, vendors were aggressively prepared for school vacations and the national holidays in PRC and they launched several new models for consumers. A new wave of sub-US$150 Smartphones with upgraded specifications (especially for 4-inch+ screen size and dual-core processors) was at the extreme in the quarter.
As usual, Android succeeded to sustain its dominance in PRC Smartphone market. However, availability of a slew of new iOS and Windows Phone 8 handsets in the market would spice up the things in Q4, and we could see more outburst of shipments in the quarter. Chinese vendors such as Coolpad, Lenovo and ZTE made there presence among top five smartphone vendors list in APEJ (Asia Pacific except Japan) region. However, ZTE was the world's fourth largest Smartphone player in Q3 2012 in terms of shipments, shipped 7.5 million units of Smartphone in the quarter. On the other side, Huawei is continuously ramping up its mobile market share globally.
Apple's PRC Smartphone market share declined in the last quarter, and the company reached to sixth position with less than 10% market share. However, the company is expected to regain its market share with iPhone 5 in Q4 2012.


Among global brands, Samsung maintained its supremacy in PRC Smartphone market, encouraging to domestic as well as global vendors to launch 5-inch screen (with quad-core processor) devices in the market. On the other side, Lenovo's strategy, being number one Smartphone vendor in PRC, seems meaningful this time. At present, the company is looking out of box and this is the reason why it's planning to extend its boundaries outside China to some other emerging markets like India and more. Lenovo has recently launched six Smartphone models in India. However, Indian Smartphone market is currently pre-dominated by Samsung, with 49% market share.
More importantly, Coolpad leapfrogged in Q3 2012, and replaced ZTE from its position. While ZTE has consistently been focusing on carrier subsidized handset business, with low-priced and big screen models. In Q3 2012, Huawei succeeded to maintain its presence among top five PRC Smartphone vendors, introducing more dual and quad-core models. Take a Sneak peek at the graph, how Smartphone is gradually gaining feature phone market share: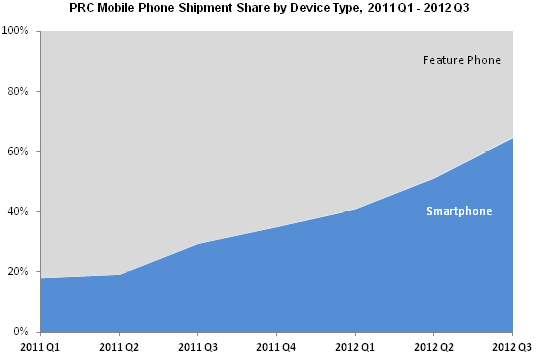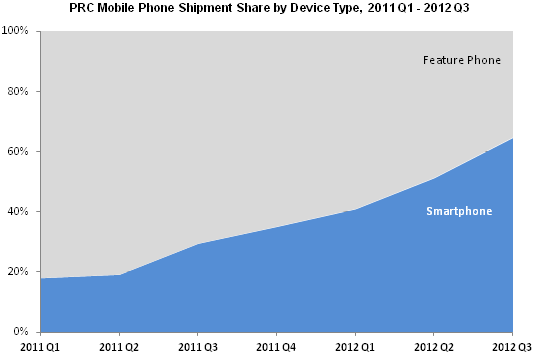 Lenovo has already proven itself in PC segment– thanks to strong demand of the company's PCs in emerging markets. The company has created good impression on global users with its PC, and it's now trying to leverage on its brand value for extending its Smartphone business around the globe. Huawei and ZTE are well-known even in the U.S. Smartphone market, and now users in the country seems to be more eager to get their hands on Smartphone due to affordable price tag and incredible specification reasons.
Anyway, some global brands such as Apple, Nokia and RIM are struggling to stronghold their presence in emerging markets due to advent of potent domestic rivals. It's pretty much known that domestic Smartphone vendors know better to their countrymen and trend compare to global vendors. Besides, local vendors have got good responses outside their borders and definitely, it could be a big threat for global brands, especially Samsung, Apple and Nokia.