Just a few days before, we described that ultra-slim PCs (Ultrabook, MacBook Air and MacBook Pro) would outburst PC market in upcoming years—shipments of ultra-slim PCs are expected to reach 65 million units by 2015.  But according to a Gartner report, worldwide PC shipments declined to 87.5 million units in Q3 of 2012, down 8.3% compared to the same quarter of the previous year.
Apparently, the third quarter was considered as transitional quarter because a significant number of users waited during the quarter for the arrival of Microsoft's Windows 8 powered PCs. However, Windows 8 could not have made any impact on PC shipments in professional markets. The reason is quite obvious that professional markets are not going to adopt Windows 8 PCs immediately after the release.
First time, Lenovo ranked no. 1 position in terms of PC shipments in Q3 2012 with 15.7% market share, followed by HP, Dell and Acer with 15.5%, 10.5% and 9.9% shares respectively. Thanks to Lenovo's pricing strategy and aggressiveness towards professional markets that helped the company to achieve number one position in terms of PC shipments.
On the other side, HP is currently busy in reconstruction of its device business—PCs, Tablets and printers. In addition to these, market share of Dell also dropped during the last quarter of this year (but not as of HP) due to its strong focus on the professional markets. Dell's market share plummeted to 10.5% in Q3 2012 from 11.2% in the same quarter of the last year. Now, Dell is seeing opportunities in solution providing and that's why it's gradually transforming its PC/device business to a solution-oriented.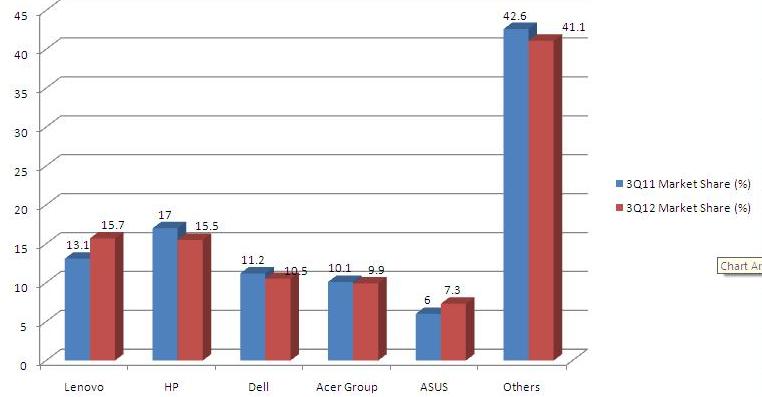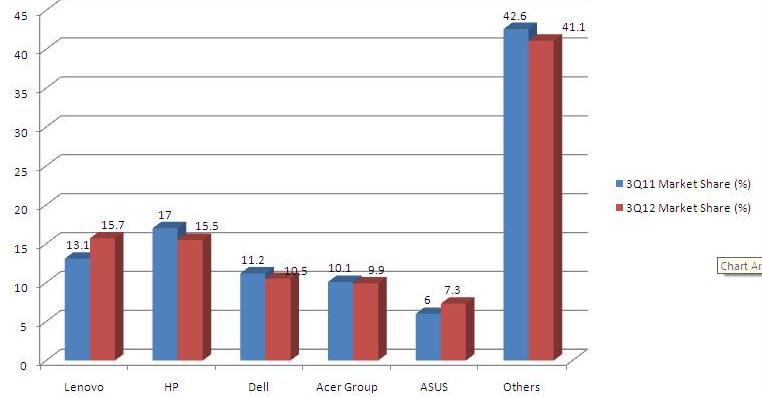 PC shipments in Europe, Middle East and Africa (EMEA) also declined to 25.8 million units in Q3 of 2012, a 8.7% year-over-year drop. It was the biggest decline in PC shipments in EMEA markets in the last four years. Of course, the challenging economic environment around and lack of innovation in PCs compelled users to keep themselves away from spending on the device.
The condition was somehow similar in Asia/Pacific markets as well; PC shipments totalled 31.3 million units in Q3 2012, a 5.6% Y/Y decline. However, the government PC initiatives in India and China boosted to PC shipments in the last quarter, but they failed to offset weaker PC shipments in other emerging markets. Likewise, PC shipments in Latin America totalled 9.7 million units in the Q3 of 2012, a 6.2% Y/Y decline.
According to another report from IHS iSuppli, the PC shipment is expected to contract by 1.2% in 2012. PC shipments in 2012 would drop to 348.7 million units from 352.8 million in 2011. However, PC shipments could mount up in Q4 of this year due to an advent of Windows 8 PCs.