Yesterday, Apple's stock price showed off 1.57% increment, compared to the previous day, and reached to $547.24. However, the stock price (yesterday) of the company was still quite lower than $702.10, which was on September 19 this year. Of course, there's nothing fundamentally changed in the company over last five or six months, the reason behind this significant instability in its stock is still a obscurity.
At present, iPhone 5 and iPad Mini are trading well around the globe , expecting to outburst the market sales in these holidays. Apple is forecast to ship 26 million iPads in Q4 2012 and more than 250 million iPhone 5 by the end of next year, despite investors are not confident with the company's future strategy. Yesterday, we already explained why Apple's stock was significantly more volatile than its earnings and innovations.
This time, the company is majorly relying on its two major products—iPhone and iPad. In fiscal 2012, iPhone and iPad accounted for $80.5 billion and $32.4 billion respectively to the company's overall revenues of $156 billion in 2012.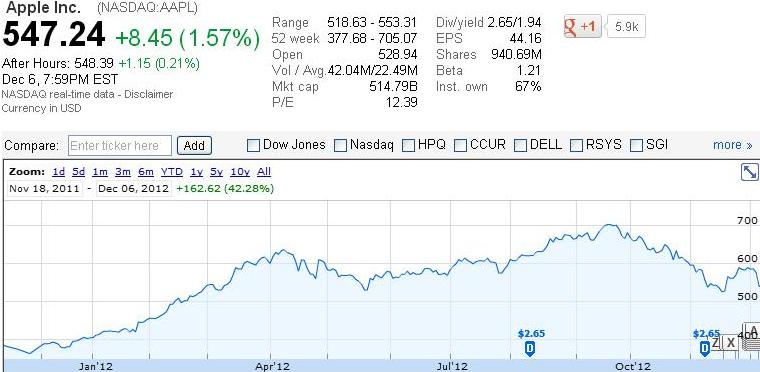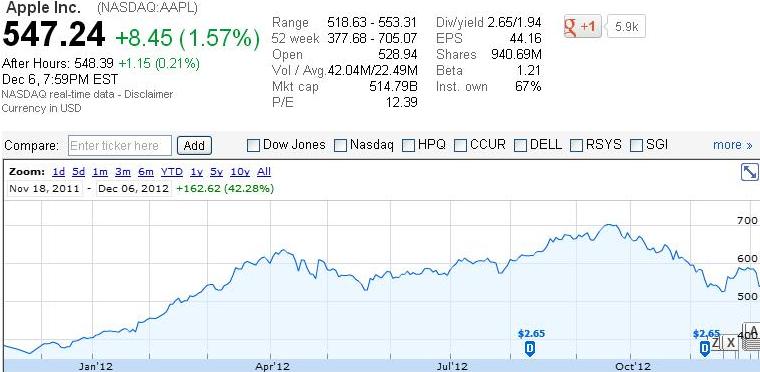 Apple is facing stiff resistance from Google in software arena and from Samsung in hardware space. Major concerns for the company at the time is that Bob Mansfield, senior Vice president at Apple Inc, who is going to retire this year and its senior vice president of iOS software–Scott Forstall– is no longer associated with the company. Scott sold $20 million worth of Apple stock in late of November and also, Eddy Cue, senior VP of internet software and service at Apple Inc, sold $8.86  million of Apple's stock worth on December 5th this year.
Anyway, Scott and Eddy's decision (selling out of their shares) has influenced Apple's shareholders. And the moving away of the Scott and retirement of Bob have critical impacts on company's stock. Besides, in the last few months, the company has revamped almost all of its products rather than innovations. Actually, the company has not focused on any innovations other than screen (size and resolution) this time.
In addition to these, its Chinese hardware partner– Foxconn–failed to meet the standards of iPhone 5, and the product was initially occupied with the 'scuffgate' issues. More importantly, IDC's recent report about Apple's Tablet market share, which stated the drop of share from 56.3% in 2011 to 53.8% in 2012, has also influenced to Apple's stock.
Tim Cook is Apple's CEO for just over a year and has incredibly succeeded to streamline the company. Either you believe or not, there's something vague in the company. According to Tim Cook's Interview with Bloomberg Business yesterday, it's clear that the company is also more curious about manufacturing TV now. However, Apple had already launched its TV in the market, but it failed to prove itself.
Tim also said that the company would join a small (but growing) number of companies to move some of its Mac manufacturing to the U.S. The company is trying to go beyond (more than assembling the Macs) in the U.S. and also, it wants to bring some manufacturing jobs back to the U.S.. For the plan to be successful, the company is going to invest $100 million in the U.S.-based production process in 2013.
At present, Mac accounts for relatively small part of Apple's business; the division contributed less than 20% to the company's nearly $36 billion revenue in the last quarter of the fiscal year 2012. But more importantly, the production of the company's iPad and iPhone products, which is currently accounting for 70% of its entire revenue, will continue in China due to price effectiveness reasons.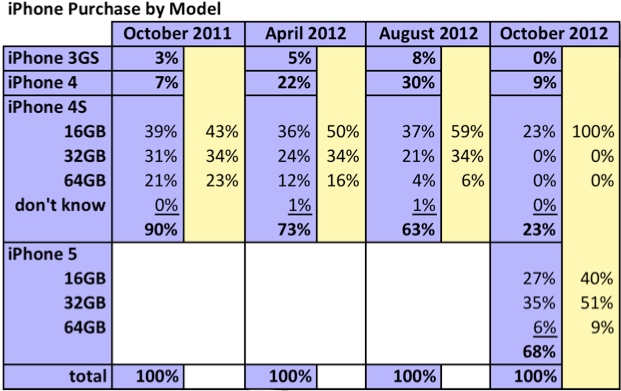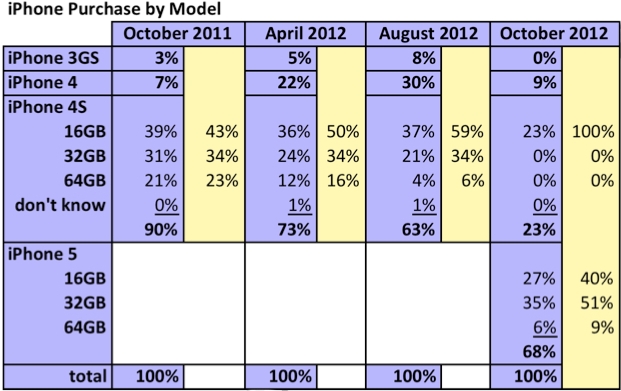 Now, the average selling price of its products has become one of the major challenges for Apple. According to a recent data from Consumer Intelligence research Partners (CIRP), iPhone 5 accounted for 68% of total iPhone sales during first month period since its launch in late September; which is significantly less than the iPhone 4S, accounting for 90% of all iPhone sales during the first month of its retail availability in the last year.
This time, Apple is selling number of iPhones including iPhone 4, iPhone 3GS, iPhone 4S and iPhone 5. But interestingly, it's selling most of them at lower prices. The company is gradually squeezing the average selling price (ASP) of its iPhone 5– a most important product for the company.