India has become one of the most attractive places for smartphone vendors. This time, iPhone 5 is running out of stocks in India just after few days of its launch. According to a study conducted by Google and IPSOS, Indian smartphone users are more attached to their smartphones compare to some other mature smartphone markets including the U.S.A., U.K., France and Germany. Now in India, television is steadily losing its ground to smartphone in terms of content consumption. Here, smartphone owners use to spend times on their mobile handsets for searching information, online shopping, video watching and get connected with social networking sites.
The study also revealed that 27% of smartphone users in the U.S. are willing to give up TV in favor of smartphone, followed by 22% and 21% of users in the U.K and Germany respectively. On the other side, almost half the number of smartphone owners (49%) in India are more likely to give up TV for smartphone, followed by South Africa with 35% of users. Of course, the study shows that Indian smartphone users prefer smartphone over TV.
Interestingly, 56% of Indian smartphone users feel that smartphones are more entertaining compare to TV. In the context, just 21% smartphone users in the U.S. believe that smartphones could provide them better entertainment than TV, followed by some other matured markets such as France, Australia and Germany, where just 20%, 18% and 17% of users respectively favor smartphones are better than TV in terms of entertainment.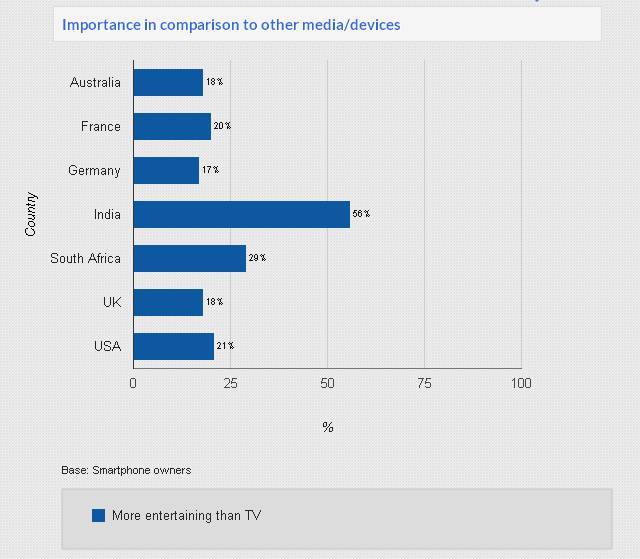 Really it's interesting to know that Indian men still lead over women in terms of smartphone penetration. Furthermore, 58% of Indian women (smartphone users) believe that smartphones are better source of entertainment than TV. However, the percentage is little bit low among Indian men; 55% smartphone users (Indian men) are interested to watch video on their smartphones.
More importantly, smartphone penetration in India is still a major concern. But thanks to low-priced smartphones in the country that boost smartphone adoption. We could feel the importance of multi-purpose devices (smartphones) in the lives of Indians in comparison to the global counterparts. Of course, A smartphone can do a pretty much things what a traditional PC can.
According to a recent survey report, Indian smartphone users are spending  247 minutes of their time on internet, which is higher than the time spending of users on tablet and desktops to access internet. Entertainment-on-the-go has become one of the most popular trends in India and smartphones are often used for the purpose. The adoption of smartphone has created a significant decline in interest towards other activities; 21.9% smartphone users feel that their interest has declined from TV.
Of course, as engagement of users on smartphones is increasing, it creates an opportunity for marketers and advertisers to expand their business on mobile platform. 20 million smartphones are expected to be shipped this year and the figure is expected to increase with galloping pace down the road. Indeed, advertisers need to be more focused on mobile platform in order to draw the attention of significant number of users around the country.