India PC market has faced the jolt in Q3 2012 due to poor performance of Dell, HP and local vendors. The PC market in India declined by 5.9% in third quarter of 2012 compared to the same quarter of 2011. In Q3 2012, combined PC market (desktop and mobile) in India recorded 2.9 million units sale only despite of festivals season with tons of offers and discounts were floating across the country by all vendors.
A recent Gartner reports said that compare to 55% PC sales in Q3 2011, only 47% of PCs were sold in third quarter of 2012. Factors like high-inflation, global economic instability and limited wallet power among users are identified behind such downturn in Indian PC market. The performance of Indian PC market in Q3 2012 also disappointed the investors who were betting big as Gartner procrastinated positive growth in Q3 2012 in Q2 performance report.
However, compared to second quarter of 2012, Indian PC market didn't show any improvement or disappointment. In Q3 as overall PC units' sales number remained identical. It has only tuned out as 'share-shift' among vendors where Dell, HCL and other local vendors found themselves on losing ground to Lenovo, Acer and HP.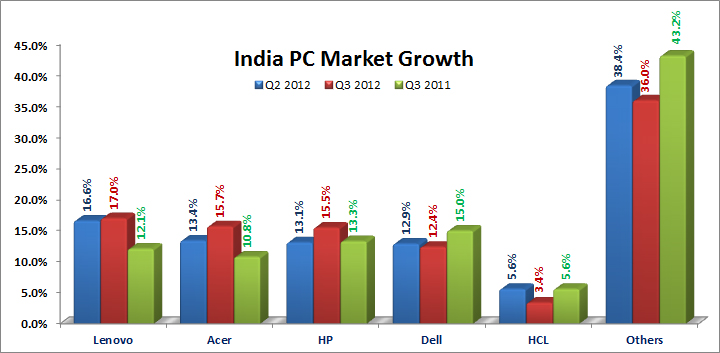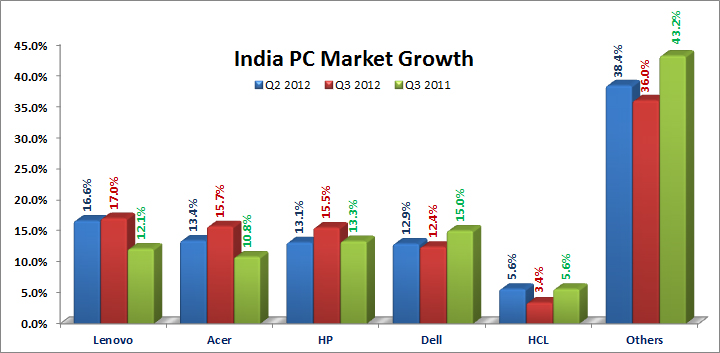 Smartphones Are Replacing Home PCs
The decline in Q3 2012 is significantly influenced by the poor sales performance of white-box desktop systems, came down to 35% from 47% during the same period in 2011. The trend of B-Y-O-D is augmenting among professionals, squeezing the need of separate systems for official and personal usage.
 Around 94% of employees prefer to use their Smartphone both for personal and professional usage and only 10% employees use PC whole day, according to a recent survey report.
Infact, Non-IT users are predisposing more towards Tablets than Desktop and Laptops due to limited dependencies over computation in their daily life. The explosive growth and adoption of Smartphone has pushed users away desktops and laptops. The supportive ecosystem of Smartphone App is narrowing the gap between traditional computing and Smartphone usage further. Besides, the welcome attitude of bigger screen Smartphone and Phablets has just fueled the fire against Indian PC market.
The need of instant information availability and data mobility has made consumers to prioritize mobile devices over PCs. While home users are leaning towards Smartphone, professionals are replacing their Laptops with Tablets. Consequently, the growth of traditional PC market is largely being dependent on corporate and business sector.