Despite of slow global adoption and challenges, India PC market has recorded 17% growth in Q2 2012, compare to same duration in 2011. Mobile PCs which grew 54%, emerged as the main driver of the growth. While, 2.9 Million PC units were sold in this duration, multinational brands controlled the overall market.
As per Gartner, the growth of PC market in India will continue in third quarter of 2012. However, Desktop PCs could face heat due to accelerated demand and adoption of Mobile technologies and Mobile PCs.
"Consumer buying accounted for 50 percent of total PC sales in the second quarter of 2012," said Vishal Tripathi, principal research analyst at Gartner.
Consumer growth is primarily being driven by low-cost PCs and demand in education sector backed by the fulfillment of government orders. However, Mobile Tablets are still not pacing up in Indian scenario unlike West, due to few infrastructure challenges like openness of WiFi accessibility and 3G tariff cost.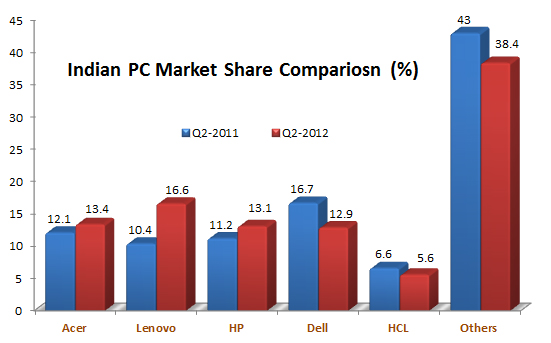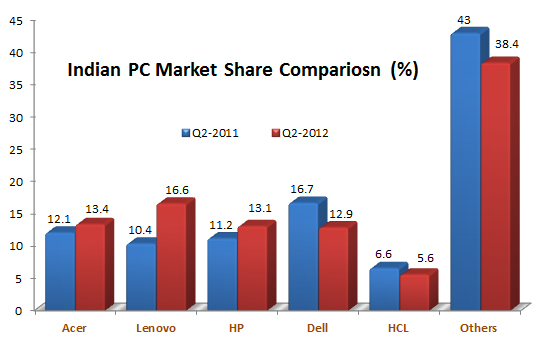 On the other hand, India PC Market is largely being driven and control by multinational players like Lenovo, Acer, HP and Dell. While Lenovo has maintained its supreme position with 16.6% PC market share, the four control 56% of PC market share combined. Unfortunately, DELL is the only vendor that has registered the maximum loss compare to Q2 2011. From the supreme position in India PC Market with 16.7% in Q2 2011, DELL has succumbed to loss in one year coming down to 12.9% PC market share.
One important point, to be noted here, is the size of market share held by other players which includes domestic vendors also. Though, the market share is down sizing for such vendors, but still the sizable percentage has its own influence. In India non-branded ( custom configured) PCs business has got a large market and being controlled by thousands of dealers or unknown vendors. Till last year, significant  price difference was wooing people towards custom configured PC which has been tuned around by branded machines by narrowing the price gap in 2012 – resulting in market loss.