Although Android has raced out iOS globally in terms of smartphone market share, the OS is still lagging in terms of usage and engagement compare to Apple's mobile OS. On thanksgiving and Black Friday, iOS devices outclassed Android powered smartphones and Tablets in terms of online shopping. According to IBM Digital Analytic Benchmark report, online retail sites' visits through mobile devices rose by 10% on Black Friday 2012 compare to the same day of the last year, and iPad alone accounted for more than 88% of overall Tablet traffic.
On Black Friday, iPhone dominated over Android powered smartphones in terms of online shopping; it accounted for 8.7% of online shopping, followed by Android smartphones at 5.5%. With similar fashion, iPad fairly dominated over Android Tablets in terms of online shopping on Black Friday.
Apple Is Being Confined
In Q3 2012, Android powered Google Nexus 7, Kindle Fire and Samsung Galaxy Tab 2 outperformed iPad business; Apple's Tablet market share dropped from 65.5% in Q2 2012 to 50.4% in Q3 of this year. On the other side, 75% of smartphones shipped today is being powered by Android OS. However, there's a fierce competition between Android and iOS in the U.S. in terms of smartphone space, but Android is fairly over ruling iOS outside the U.S.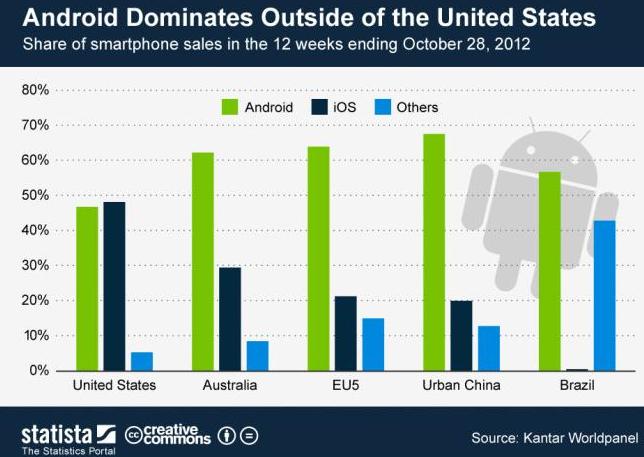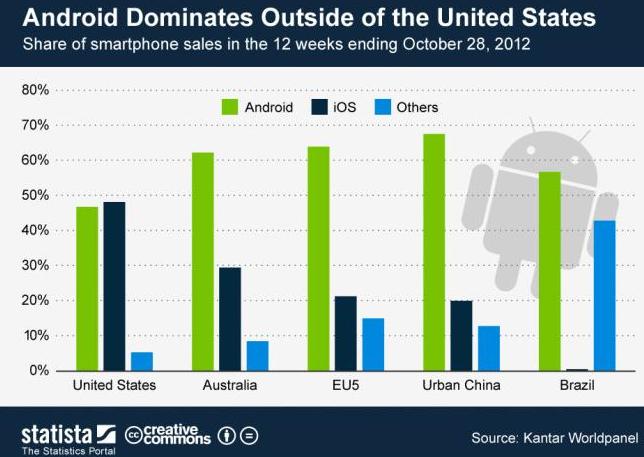 Of course, Android has been swallowing up the market share of iOS around the world, and Apple is being confined. Apparently, iPhone 5 has helped Apple to make stronghold in the U.S. Apple accounted for 48.1% of smartphone sales in the twelve week period ending October 28. Undoubtedly, Android is the top dog on smartphone market share, and it's also eating the iPad's lead.
Android Is Lagging In Usage And Engagement
This time, the monetization of platforms is more important, and iOS is leading in this space. iOS users are more likely to spend money on premium apps and online shopping. This is the reason why marketers prefer iOS platform compare to Android for their business promotions. Android has succeeded to entice more number of late adopters since the end of the last year; those were less interested to do with their phones compare to early adopters (smartphone enthusiasts).
It has been noticed that Android users are more willing to get free apps. We have already showed that iOS users are wealthier and prefer to do online shopping than Android users. Majority of Android users in emerging markets are just graduating up from a feature phone to a smartphone, and they don't really know what to do with their device and how to use the features in it. However, Android is popular among these users due to affordable price tags.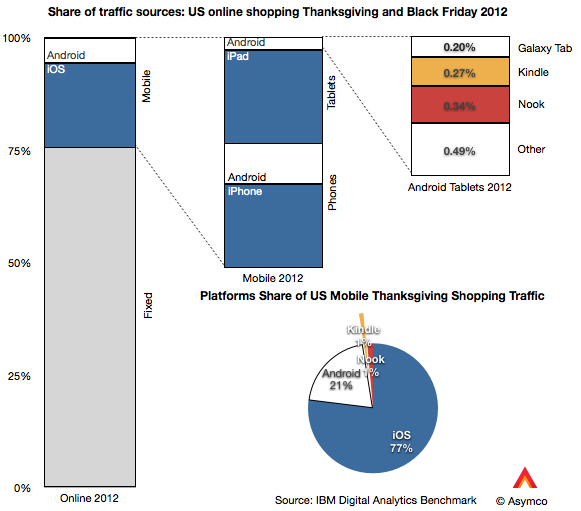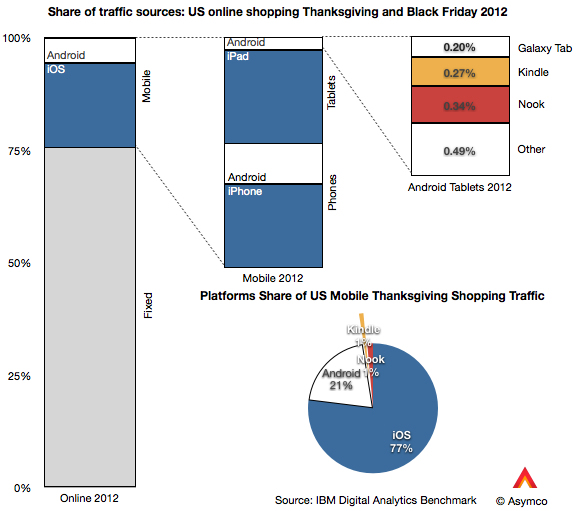 It's pretty much clear from IBM's Thanksgiving and Black Friday reports that iOS is quite ahead of Android in usage and engagement. Indeed, these (usage and engagement) are two important factors that lure marketers towards iOS platform. This time, Google really needs to work hard for the monetization of Android platform, if it really wants to generate dollars.
iOS buyers are specifically buying the devices for the features which they can access, while the perception of a significant number of Android users is somewhat different than iOS users, as Android users have purchased the device due to affordable price and free contents availability. Majority of Android smartphones are still running on Android Gingerbread versions, but more than 60% of iPhones were updated to iOS 6 within 15 days of its launch.