It's beyond the shadow of doubts that Apple is now one of the world's most profitable technology companies, but it's difficult to say whether the company could sustain its profit margin in forthcoming years or not. It's expected that Apple has reached to its peak of profits. Actually, an increase in the cost of goods involved in the iPhone 5, up from $353 to $370 in the quarter ending December 2012, is also a major concern. The components encompassed in iPhone 5 such as LTE chips and and high resolution display screen have compelled the gross margin for the device down to 38.8%, from 40%. An analyst from Pacific Crest–Andy Hargreaves—has estimated that the quarterly earnings per share (EPS) of the company will drop to $14.76 in the quarter ending December 2012 , from $15.28 in the same quarter of the last year.
Holiday Season: Apple Sales To Surge Up Enormously
Anyway, it was the prediction for the Apple's profit that declined due to drop in iPhone 5's profit margin. Despite, Apple could still see an opportunity in the quarter ending December 2012 due to increasing demand of iPad Mini and fourth generation iPad; According to a recent survey report, conducted by the mobile video and Media Company "Vuclip" over 20,435 U.S. consumers, 57% respondents are likely to purchase a Tablet by Christmas. More importantly, nearly 30% of users are willing to purchase iPad, while 22% and 3% users plan to buy Samsung and Amazon's Tablet respectively by the end of Christmas holiday. It's good to listen that 30% of users are likely to own Apple's iPad, but Samsung has reached beneath to it in terms of Tablet's demand.
However, there are still some sorts of factors such as brand, cellular connectivity (3G/4G/WiMax), operating system, price, app availability, battery life and screen size that determine the purchase of Tablets. It's clear from the survey report that 26% of consumers in the U.S. are likely to purchase Tablets on the basis of brand, while 19%, 12% and 10% of users decide to buy due to connectivity, OS and price respectively. However, it would not be as silly as goose to say that Apple's iPhone 5 and iPad Mini would be among one of the most preferred holiday gifts this year.
Another internet research company—ComScore—has reported that smartphone penetration in five European countries including France, Germany, Italy, Spain and UK is now 53.7%; nearly 130 million people in these countries used smartphones at the end of Q3 2012. Interestingly, out of these users, 15.5% have a tablet, up from 9.3% in the same period of the last year. However, such impressive numbers didn't show any respect to world's best brands as Apple had to deal with unpleasant scenario when its third generation iPad was scrutinized by the U.K regulators for advertising false promises this year.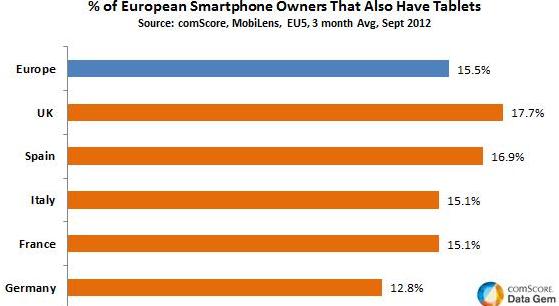 The main hurdle for Apple's 4G compatible devices is that most of European countries (including France, Spain and Italy) offer 4G LTE services on the 2.6 GHz or 800 MHz bands, but Apple's iPad 3, iPad Mini and iPhone 5 run on different band. On the contrary, Samsung has continuously been growing up its market share in these countries due to its 4G LTE compatible devices.
In other words, Samsung has succeeded to swallow Apple's smartphone and tablet market share since last couple of years, and now, it's tough for Apple to retain profit margin on its products.