As penetration of smart devices (smartphones and Tablets) is ramping up, the trend of advertising is shifting to mobile platform. Now, 'Retail & Restaurant' brands are more focused on mobile advertising campaign in order to grab the attention of significant number of users around. According to a recent report from the independent mobile advertising and data platform–Millennial Media–, Retail & Restaurants brands have consistently been in the top 10 in terms of mobile spending and activities related to the device from  Q1 2012 to Q2 of this year. During the first-half of this year, Retail & Restaurant advertisers' spending on mobile platform grew at an average of 11% per month–thanks to campaigns that were operated by national retail chains, fast food, clothing companies and casual dining chains, resulting an incredible mobile spending growth.
Interestingly, 'Clothing retailers' accounted for 30% of all Retail & Restaurants' campaigns during six months average period ending June 2012. Departmental stores played vital role for clothing retailers to drive consumers to their locations. On the other hand, restaurants and QSR/Fast food brands represented 16% of all advertiser mix during the same period. It has been noticed that advertisers targeted to mobile users, read their mind through their location based campaigns.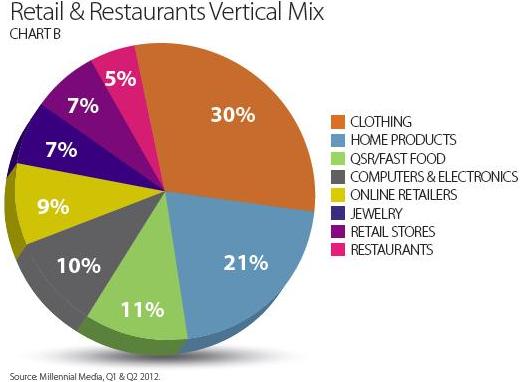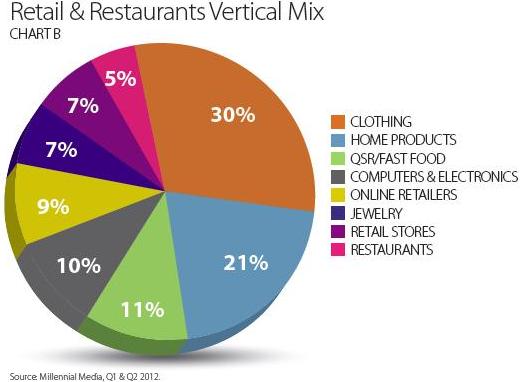 We could not deny with the importance of post-click advertising campaigns that engage website visitors after they click on an online advertisement. Commonly, post-click marketing technique creates a landing page (rather than home page) that features content relevant to advertisement. Of course, post-click marketing encourages visitors to request information, registration or making online purchases.
This is the reason why majority of  Retail & Restaurant advertisers used variety of post-click campaigns during first half of this year. And in these campaigns, store locator, m-commerce and view map demonstrated active participation. More importantly, 'Store Locators' showed off the largest involvement by 44% in the post-click campaign action mix. In addition to store locator, m-commerce and view map, 'Retail Promotion' also played a significant role for retail & restaurants advertisers.


The report also reveals that consumers (those are early adopter of mobile technology) are more willing to upgrade their devices and also, they are more likely to use mobile apps for m-commerce. It has also been noticed that mobile users, who are quite comfortable using secure activities such as banking and investment accounts management on their device, have relied on their mobile devices for day to day transactions.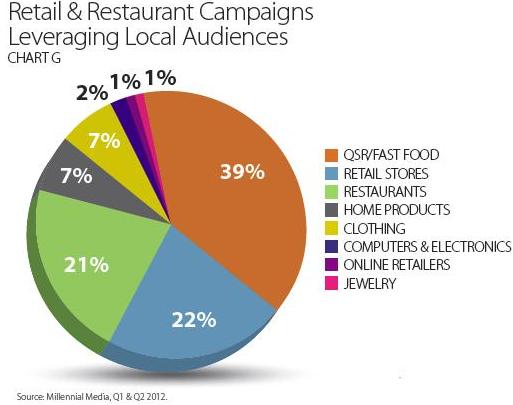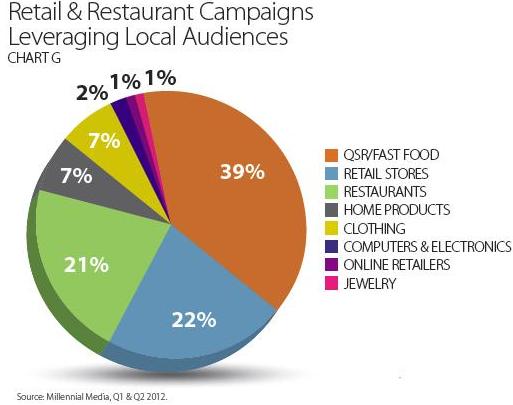 To entice users, there is a need to understand their requirement, purchasing behavior and trends. That's why, 61% of Retail & Restaurants advertisers utilized a form of location-based targeting in their campaigns during an average of six months period ending June 2012.
Clothing retailers are still relying on their 'departmental stores' to clinch customers and are more focused on mobile advertising campaigns and mobile optimized web pages for their business activities.