Apple iPhone5 is no longer a secret since Sept 12 of this year. Everyone was expecting a unique thing from Apple prior to the launch of iPhone 5, but when the new iPhone came into the market it just embarrassed to the company's enthusiasts. Just a few week before, Nokia unveiled its new Lumia 920 smartphone at an event in the New York City; which has enticed the attention of a significant number of folks around the world. At present, Samsung Galaxy SIII and HTC One X are available in the market. Undoubtedly, Nokia Lumia 920 (yet to come), HTC One X and Samsung Galaxy SIII are currently considered as the potent rivals of upcoming iPhone 5.
Design:
As far as design is concerned, Apple's aluminum-and-glass iPhone 5 shows off a super-industrial aesthetic. In this context, I think Nokia Lumia 920 is distinct; nevertheless plastic swathe around the body would not be everyone's cup of tea. On the other side of the horizon, Samsung Galaxy S III is also no way vulnerable than Lumia 920 and iPhone 5–it's made up of glossy and shiny plastic, but it's more intent to shattering and breaking. It's clear that Nokia is an outstanding hardware manufacturer and HTC is also one of the pioneer players in this arena, despite of these, I would prefer Apple's aluminum-and-glass iPhone 5.
Display And Screen Size
Apple's new phone 5 has larger screen size (4-inch) than its original iPhone. The new Apple's smartphone has resolution of 1136×640 pixels (yield 326 pixels ppi) with 16:9 aspect ratio. Clearly, Samsung Galaxy SIII is currently wining the race over its rivals including HTC One X, iPhone 5 and Nokia Lumia 920 in terms of screen resolution. Galaxy SIII smartphone has 4.8-inch HD Super AMOLED display screen with screen resolution of 1280×720 pixels and 306 ppi pixel density. Indeed, the size of Samsung's smartphone offers an awesome experience of watching videos, reading and composing messages, but its pixel density is somewhat lesser than iPhone 5. In addition to this, Samsung Galaxy SIII has high reflection and dimmer 'maximum brightness' than iPhone 4S.
I appreciate Nokia Lumia 920's 4.5 inch screen that has PureMotion HD+ display ability—having AMOLED screen technology. The screen WXGA resolution (1280x 768 pixels) of the device is little higher than the standard HD (1280 x 720 pixels) resolution and it has pixel density of 332 ppi. On the other side, HTC has 4.7-inch screen, 1280 x 720 pixels screen resolutions with pixel density of 312 ppi. It's also clear that HTC One X is dominating over Samsung Galaxy SIII  model in terms of pixels density, while Nokia Lumia 920 is dominating over all other (HTC One X, iPhone 5 and Galaxy S3) Smartphones in terms of pixel density.
Camera:
All (Samsung Galaxy SIII, HTC One X, Nokia Lumia 920 and iPhone 5) have 8 MP camera, but I think, Nokia Lumia is real 'dark horse' in this aspect having PureView technology. On the other hand, Samsung Galaxy SIII features fancy shooting mode like panorama and multishot burst. Read the article.
It's also pretty-known that a considerable number of professional photographers has admired iPhone 4S' camera. Definitely, we could expect a better camera in Apple's upcoming device and of course, the iPhone 5  could leverage over its predecessor (iPhone 4S) in terms of camera quality.
It's true that Nokia is using 'PureView technology' in Lumia 920 smartphone, but the Finnish Company should remember that Lumia 900's camera has not been awe-aspiring for users. Nevertheless, I would recommend Nokia Lumia 920 smartphone in camera quality aspect.  See the specifications for further details: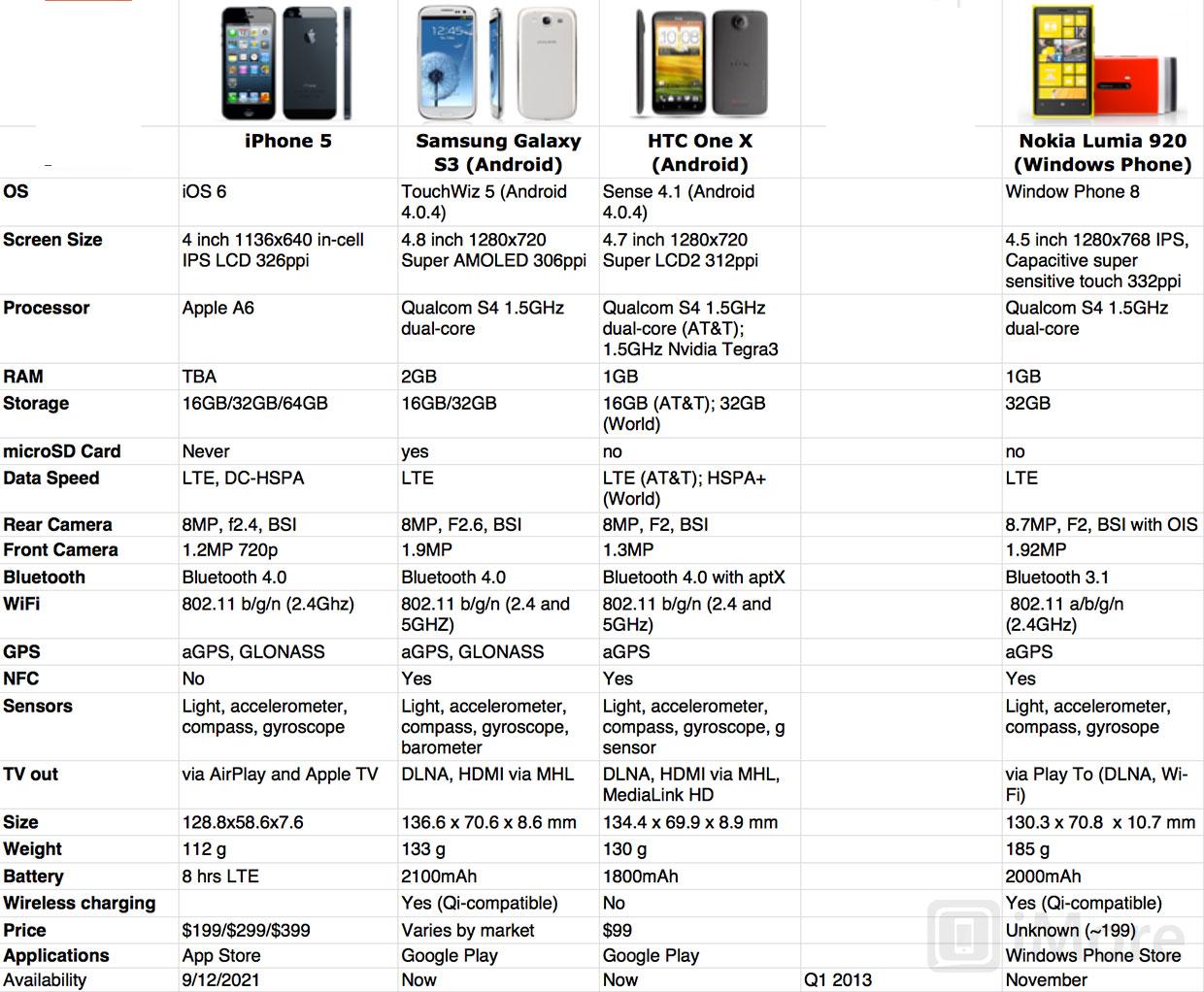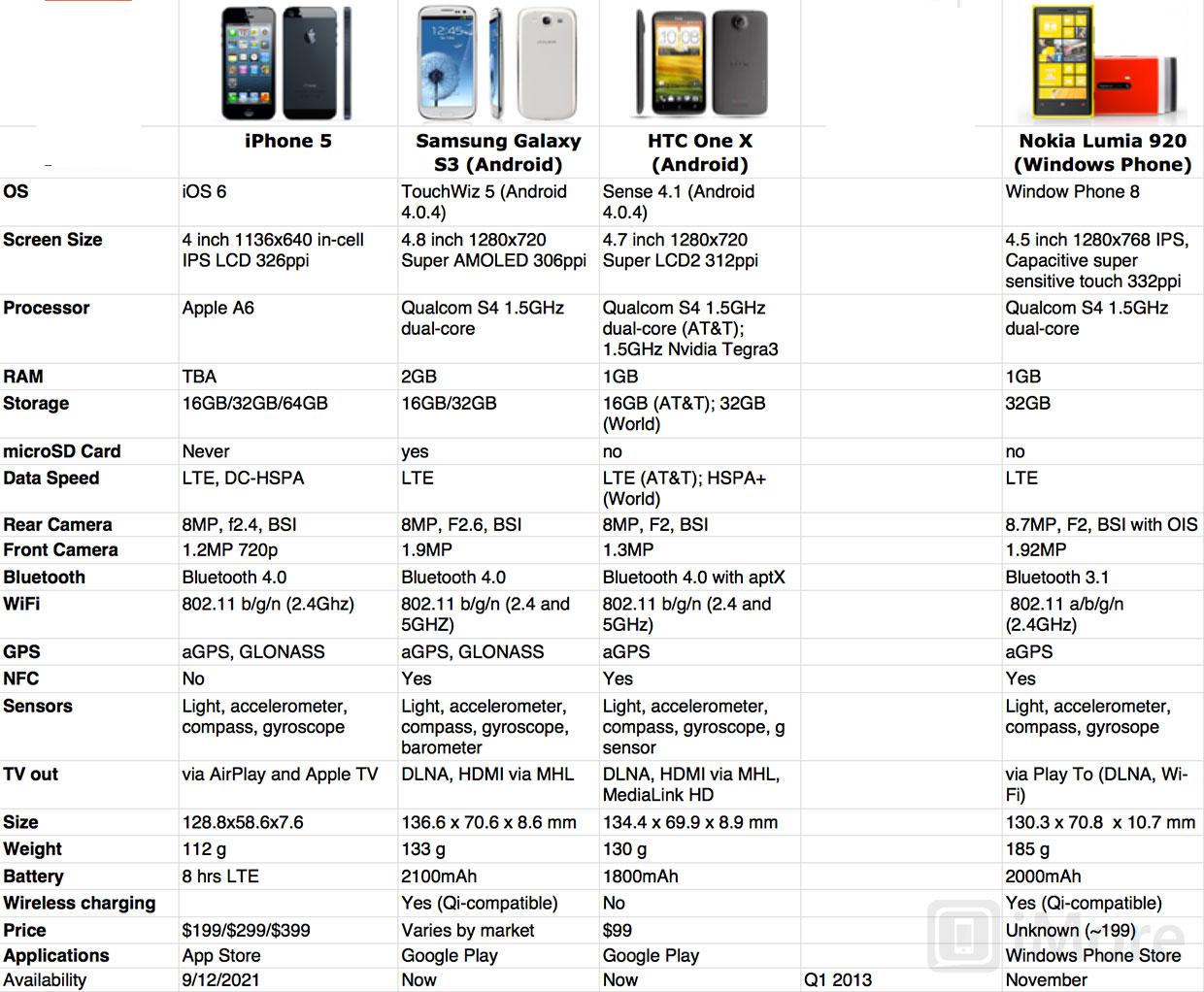 Most important paraphernalia is that Apple has integrated LTE support in iPhone 5, but Samsung has long experiences in this space; even Nokia has better capability to deal with LTE technology than Apple. Apple is just gearing up the technology and it also lags behind of HTC.
Battery Life:
Nokia is currently working on battery life of Lumia 920 smartphone and it plans to equip a 2,000 mAh battery in the device to provide good amount of run-time. In the comparison, Samsung Galaxy SIII has 2,100 mAh battery–that has ability to play videos for 9 hrs. In the sense, I think, the battery-life of Apple's iPhone 5 is better than all, that can play videos for 10 hrs and also offers web-surfing over LTE for 8 hrs.
Of course, the actual test of the battery comes when you use battery-draining features like voice recognition app, video streaming and web-surfing. However, we could only see the performance of battery life of Apple's iPhone 5 when it will come in the market.
Voice Assistant:
I have already mentioned that how Google's voice assistant is better than Apple's Siri. But, it's difficult to find out that which one is better in the functionality whether Apple's 'Siri' or Samsung's S Voice.  Apparently, Nokia Lumia 920 is far behind in the personal voice recognition app arena, which is still relying on Microsoft's integrated voice command software–TellMe. I foresee that Apple would improvise its personal voice assistant in iPhone 5. Anyway, I will vote for Apple's iPhone 5 for personal voice assistant.
How iPhone 5 Could Lose Its Ground Against Its Rivals?
Apple has endeavored to shore up some of its weak spot in iPhone 5: larger screen, LTE and added more than 200 new features. It's true that Apple hasn't mentioned anything about NFC for the iPhone 5. Basically, NFC is used to share contents across phones and pay for purchases. Samsung is the first company in the market which offers file sharing over NFC in its Galaxy SIII smartphone. We are interested in Nokia Lumia 920 because it offers NFC, wireless charging and promises extra-ordinary display.
Apple's iPad 3 has recently been lashed out in the U.K and Australia and the company was forced to take out all the references related to 4G for its new iPad. In the U.S and Europe, the terminology for technology involved (including 2G, 3G and 4G ) are little different in the sense. See the Table for details:
| | |
| --- | --- |
| What the U.S. says | What Europeans say |
| 2G (or "GPRS, EDGE") | 2G |
| EV-DO, HSPA, 3G | 3G |
| HSPA+ (or "4G") | 3G (at a push: "3.5G") |
| DC-HSDPA (or "4G") | 3G (maybe "4G") |
| 4G (or "LTE") | 4G LTE |
It's clear from above table that HSPA+ and DC-HSDPA for 4G in the U.S. are considered as 3G in the Europe. According to Reuters' report, European operators are expected to spend over $15.2 billion on LTE growth in the next three years. In Europe, Apple's iPhone 5 could face stringent hurdle due to different band of spectrum. At present, most of European countries are offering LTE service on the 2.6 GHz or the 800 MHz band, including France, Spain and Italy, whereas Apple's iPhone 5 runs on the 1.8 GHz band. It's pretty clear that only those operators could offer the service that have 1.8 GHz spectrum.
Previously, I explained why Apple's iPad 3 properly worked on 700 MHz band (which is being provided by Verizon and AT&T) in the U.S.. During Apple's event on Wednesday, the company's senior vice president–Phil Schiller–stated that LTE is around twice-as-fast as its closest rival DC-HSDPA, which is consider as 3G in Europe. Of course, Apple could lose its ground to its rivals in Europe.
Lack of NFC in iPhone 5 is considered as the biggest surprise in the device. It means that users those will purchase new iPhone will have to wait for at least one year until the advent of next generation of iPhone for prospective mobile payment. Just a few days before, I described how Apple's rivals could leverage over LTE patents to suppress the company. Anyway, I think, Apple will have to pay for LTE and lack of NFC in its upcoming iPhone 5.
Image credit: iPhone Headlines
So, considering all above scenario , which one would you like to bet upon as your next smartphone:
[poll id="16″]