This time, smartphone vendors are focusing on upcoming holiday season to generate hoard of cash from their device. Of course, users will also have wide options to select smartphones such as Samsung Galaxy SIII, Galaxy Note II, iPhone 5 , Nokia Lumia 920 and more in this holiday season. But on other side, a smartphone vendor has kept itself away from the cash making race. You might think about the  manufacturer, but it's no other than RIM. The Canadian handset manufacturer will launch its upcoming BB10 device on January 30 next year.
In meeting with NYT editors and reporters, RIM's CEO—Thorsten Heins—showed off his confidence that BB10 will definitely rescue the company. However, as per presentation, the device would not have any innovation related to its hardware portions.
However, RIM has to demonstrate users how Blackberry 10 is different than other existing smartphones in the market. As convention of Bring-Your-Own-Device (BYOD) is beefing up, RIM could set up itself among enterprises. BlackBerry 10 will privilege corporations to segregate corporate data and apps from a users' personal contents.
We could see a home button on Android and iOS smartphones that facilitates users to switch repeatedly between applications to perform different tasks. But BB10 users will not need to move repeatedly between apps what Android and iOS users do on their smartphones. Taking an example of social networking sharing, BlackBerry 10 messaging center will display Facebook updates, LinkedIn messages and twitter posts along with emails. In other words, Blackberry 10 users will use BB10 messaging center as a hub without opening specific apps (such as Twitter, Facebook and more) they could do all sorts of tasks what they can do on native apps.
Thorsten Heins said, "Whenever you enter an office, you don't have your laptop with you, you have your mobile computer power exactly here. You will not carry a laptop within three to five years."
It's also a bitter truth that RIM has failed so far to entice corporation with its BlackBerry Playbook Tablet computer, and this time, it's working hard to build a better mousetrap in the corporate workplace.
In Q2 2012, the company reported a revenue of $2.9 billion, up from $2.8 billion in the previous quarter. In addition to this, subscriber base of the company also mounted to about 80 million by the end of Q2 2012. These were some positive upshots for the company in Q2 2012 that motivated investors. Anyway, RIM's investors are well-known for their "glass-half-full" attitude. See the graph (below) how RIM's stock price has declined since last year.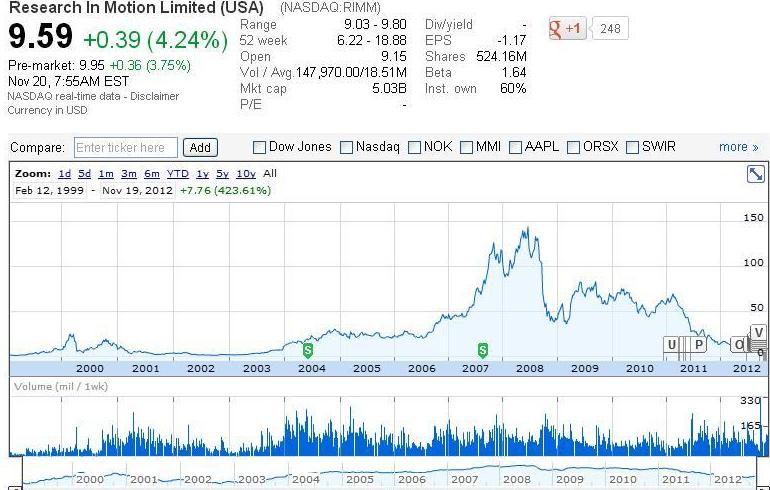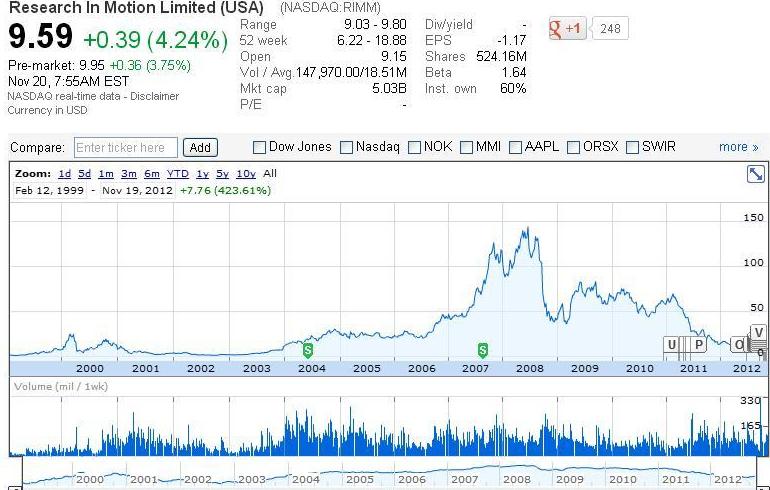 It's pretty-known that Apple and Google has succeeded to clinch majority of RIM's market share since last couple of years. Now, Microsoft's Windows Phone 8-powered devices are available in the market, and it's considered that Windows Phone could be a third alternative smartphone platform. Indeed, RIM will have to compete with Android and iOS along with Windows Phone platform if it wants to regain its market share.
However, there's a turmoil around related to intellectual proprietary (IP) rights. HTC has recently settled all of its patent disputes with Apple. Today, HTC's CEO—Peter Chou—told that the company will pay Apple $6 to $8 per Android phones as part of patent settlement. Apple's patent lawsuits against Samsung and other vendors have created a tangled patent chaos around the world, and smartphone vendors are now looking for Android alternatives.
Enterprises are  still relying on RIM and this is the reason why the company wants to do more in the favor of enterprises compare to offer superior user's experiences on smartphone. The company has finally adopted touchscreen capabilities, but it's too late; it  has been 5 years since the inducement of touchscreen in the original iPhone.
The new BB10 will work on Virtual Private network (VPN) that will enhance security on the device. More importantly, the company has implemented standard developers tools that are based on HTML5, Javascript and C++. Of course, these tools will offer additional advantages to HTML5 developers. Besides, the device will also have an improvised data management ability that will differentiate the device from others.
Image Courtesy: (Google Finance)