It seems that the bad days of Indian telecom sector aren't ending. The sector finds itself in period of major uncertainty after dismal refreshed 2G spectrum auction. Indian government succeeded to generate just INR 94.1 billion (US$1.71 billion) from refreshed 2G auction, less than a quarter of expected INR 400 billion. But this time, it is unpredictable to say whether it retains its status as a second largest mobile market in terms of subscriber base. Uncertainty in the telecom industry began when honorable Supreme Court of India cancelled all 2G licenses of vendors in February this year.
For the first time in the history of Indian telecom industry, tremendous decline in subscriber base from July 2012 is been noticed. since, operators started alienating inactive prepaid subscriber base, impacted this gradual decline.
Thinking as per operators' perspectives, the downfall of mobile subscriber base isn't going to put any negative impact on operators. The decision was taken by telecom regulators to increase average revenue per user (ARPU) and to find out the actual active subscriber base in the country. Of course, ARPU has always been a concern for telecom vendors, and the measure would be productive for them in generating cash.
Increasing Active Subscriber Base Creates Hope
India had 937.7 million telecom subscriber bases (wireless + wireline) at the end of September this year, down 1.87% compare to the prior month. However, the teledensity of the country reached to 77.04 as of September 30, and more importantly, active subscriber base reached to peak level in September 30. It should be understood that actual active subscriber base is more important for operators compare to total subscriber base. The reason is quite obvious that the revenue of vendors depends upon actual active subscriber base rather than the total.
Broadband Connections Rising
In terms of online access, the government is endeavoring to promote broadband internet throughout the country. In India, total broadband subscriber base increased to 15.08 million at the end of September this year from 14.82 million at the end of August 2012. In September of this year, broadband subscriber base recorded 16.19% Y/Y growth. Besides, there were 157 internet service providers (ISPs) at the end of September 2012. See the market share of top five ISPs in terms of subscriber base: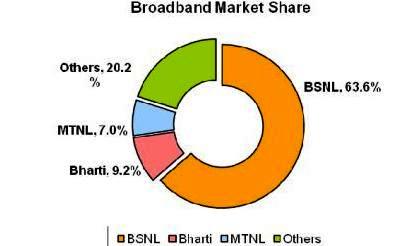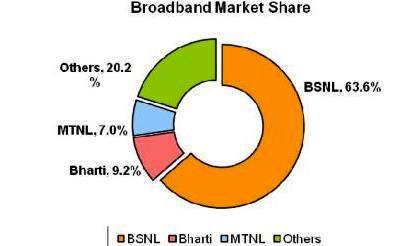 It's true that the 2G subscriber base in India has been driven by low tariffs, low-priced handsets and most notably high competitive market created by regulators and the government. The launch of mobile number portability (MNP) in 2011 has intensified the competition in the market.  MNP requests reached to 69.78 million at the end of September 2012 from 64.92 million in the prior month. Interestingly, 4.86 million requests had been registered during the month of September 2012 alone.
On the other side, Indian government's revised Foreign Direct Investment (FDI) policy–foreign investors can cap up to 74% of share–has desperated to local telecom vendors. Initially, foreign investors could cap up to 49% of share in spectrum bidding and they needed to tie up with local vendors.
However, increasing number of smartphones and tablets has mounted up data consumption in the country. Mobile subscribers' appetite for data consumption could definitely be a good bode for 3G and 4G vendors. Furthermore, increasing broadband connections in the country would also fuel the telecom industry to retain its status on the global platform.