According to a recent report by Gartner, Samsung has done extremely well in Q2 2016 and, as a result, secured the numero uno position in terms of the worldwide smartphone sales to end users in the quarter. However, it's not just Samsung. There are also other Chinese brands like Huawei, Oppo, and Xiaomi, having influence over the list with their presence at third, fourth, and fifth places respectively. Apple, however, managed to secure the second place. Samsung had a considerable growth in terms of 22.3% market share in Q2 2016 in comparison with 21.8% market share during the same period last year. Even though the progression isn't much impressive as it could be, Samsung has still done a lot better than Apple, which on the other hand secured 12.9% market share in Q2 2016, 1.7 percent point lesser than 14.6% market share from Q2 2015.
So, why are we bombarding you with all such data, you may be scratching your head. Let us come to the point; Can you figure out what that one thing which is common in most of the smartphone manufacturers that made the list of top smartphone vendors in Q2 2016, or even in the previous quarters is? Yes, you guessed it right, it's Android, they are banking upon!
Android Learnt Progression While Others Did the Exact Opposite
Collectively, Android market share hits 86.2% in Q2 2016, with nearly 296.9 million units have been sold, worldwide. To recall, Android had 82.2% market share during the same period last year, alongside 271.6 million units in the account. Android remains the number one mobile operating system and the consistently huge yet growing market share is something that speaks a lot on behalf of its popularity among users worldwide. What we can decipher from the fact that Android handsets are doing the relatively good job in the international market while the iPhone market share is persistently at a downside, somewhere down the line, Android is cutting down onto the chances of other mobile operating systems. Despite the fact that that there are only two operating systems to look up to, and as we're not talking about Windows 10 Mobile, Apple's newest iOS 10 still has a long way to go.
How Android Progressed While Others Synced to Death
Back in June 2013, the research and analysis firm Canalys forecasted that more than 1.5 billion smartphones would ship in 2017. Out of 1.5 billion total number of smartphone shipments, more than 1 billion smartphones were predicted to be based on an Android ecosystem. In 2012, there were more than 470 million Android-based smartphones were shipped. On the other hand, Apple's growth was estimated to be slower, which in turn came right. The Canalys had also predicted that Apple's market share is going to fall to 14.1% in 2017. However, the reality turned out to be even horrible. If we have to talk about the worldwide smartphone OS market share in past four years, Android successfully managed to keep up its supremacy. Thanks to the scalability of the platform. Meanwhile, Apple's market share kept on falling since Q2 2012 due to momentum in the overall smartphone market was driven particularly by the low end.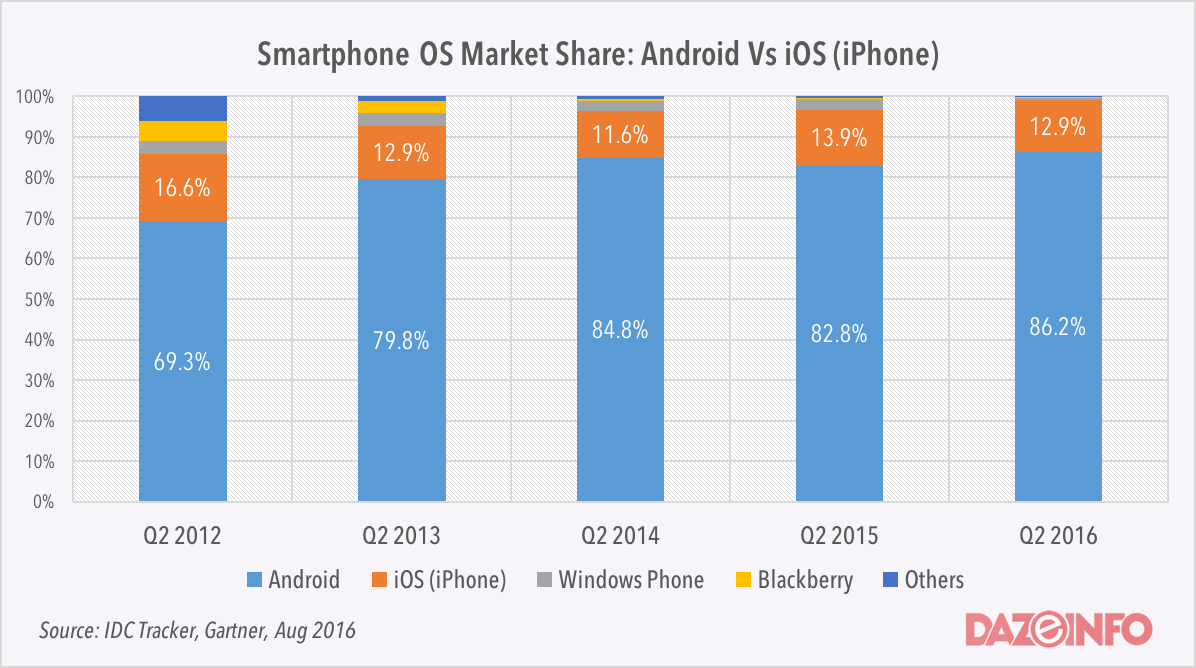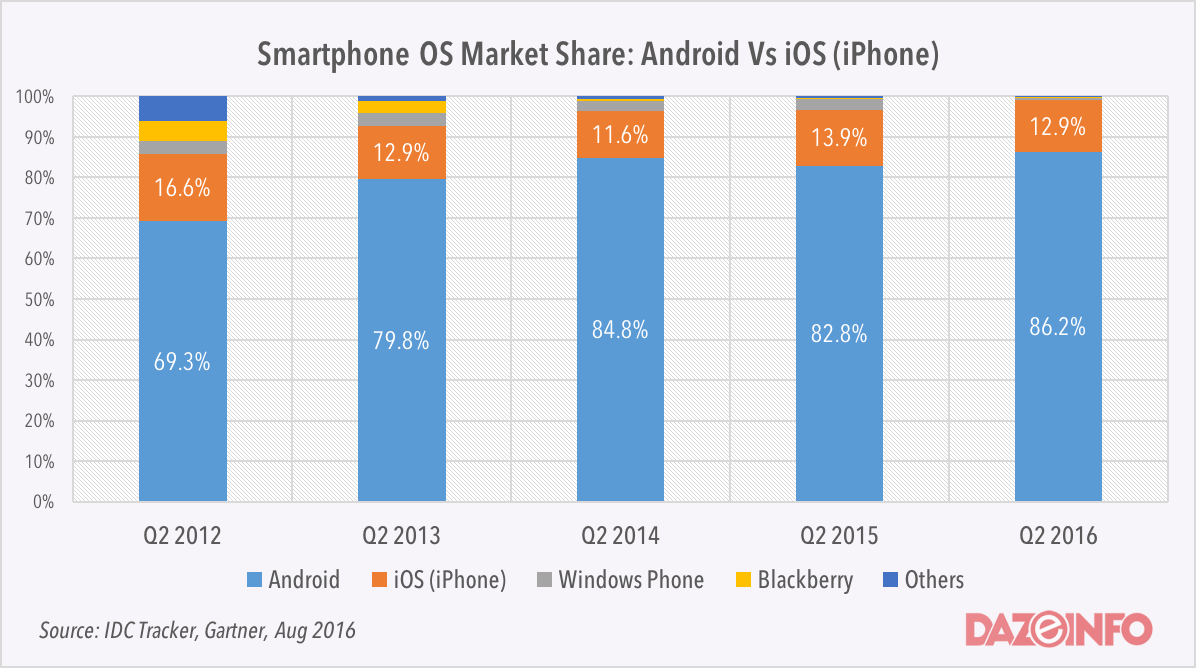 In Q2 2012, Android secured 69.3% market share while iOS also seemed to be on the safer side with 16.6%, followed by Windows Phone and BlackBerry OS at 3.1% and 4.9% market share respectively. Since Q2 2013, the table started turning upside down from all other operating systems except Android. Interestingly, Windows Phone registered 0.3 percent point growth during the same quarter in 2013 for one last time. BlackBerry, which seemed in a pretty prominent position with 4.9% market share was pushed down drastically to 2.8%. With the advent of more Chinese players coming in, Android survived without any trouble. In Q2 2015, Android market share had come down to 82.8%, a small decrease of 2 percent point from the previous year. Samsung, being one of the top contributors couldn't give its best due to an underwhelming performance by its flagship Galaxy S6 and S6 Edge. However, the Android market share was comparatively better and steady than Q1 2015 due to the sudden growth in a number of shipments from Huawei, Xiaomi, and ZTE.
Beware Apple! Android 7.0 Nougat May Become Your Worst Nightmare
Google's officially started rolling out Android 7.0 Nougat to Nexus lineup, which according to the company, delivers more than 250 features upgraded from last year's Android 6.0 Marshmallow OS. Meanwhile, iOS 10 is also on the way. However, when it comes to features rundown, Android 7.0 puts Apple in huge trouble with some of the features that hardly make sense to Apple users on the basis of ground reality. However, among all the two features of Android that are making people head turn are:
Multi-window support: This makes it a whole lot easier for Android users to play with two apps side-by-side on the same screen. By making this a reality, multitasking has indeed climbed a new milestone. Sure, iPad users are playing with it for quite some time. But it remains to be seen if this charm plays its card on iPhone or not. And if it doesn't happen that way, what it's going to cost Apple. A market share? Probably yes.
Daydream VR: Virtual Reality or as it's abbreviated, VR, has become a pretty familiar term these days. We don't hear weird VR stories anymore, and VR sickness has stopped giving us goosebumps. What has changed meanwhile is the fact that VR is no more limited to something awkwardly fancy? Thanks to Android. It is getting severe and in a more positive way, of course. However, Apple is yet to arrive with its own VR thing. As of now, everything's hidden entirely into the company's secret closet that can only be accessible by the rumour mill.
Why Did Others Fail to Compete With Android Over the Years?
Windows Phone is often remembered when it comes to losing a market to Android. Since Microsoft acquired Nokia back in 2014, Microsoft relied heavily on making changes to the original product portfolio with the company branded Lumia devices. However, it didn't go so well for the company as its platforms were not as unified as they are since the launch of Windows 10. Also, the prices were horribly mediocre. As a result, Microsoft (sort of) decided to get rid of Nokia, which exposed the company to many missing elements.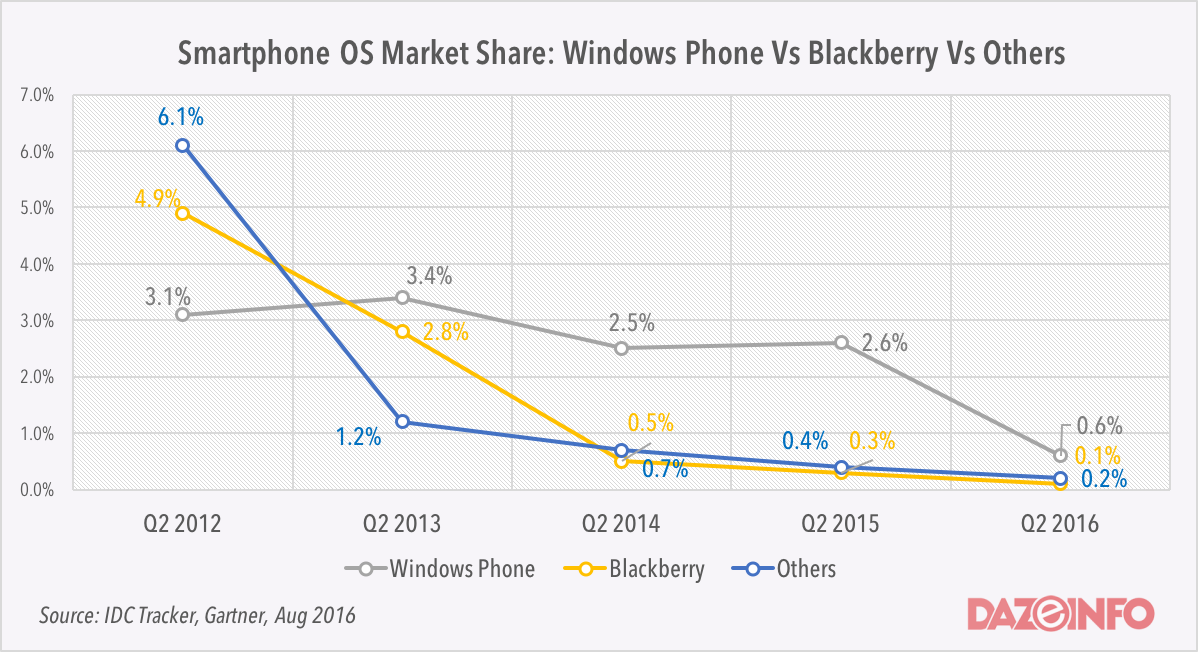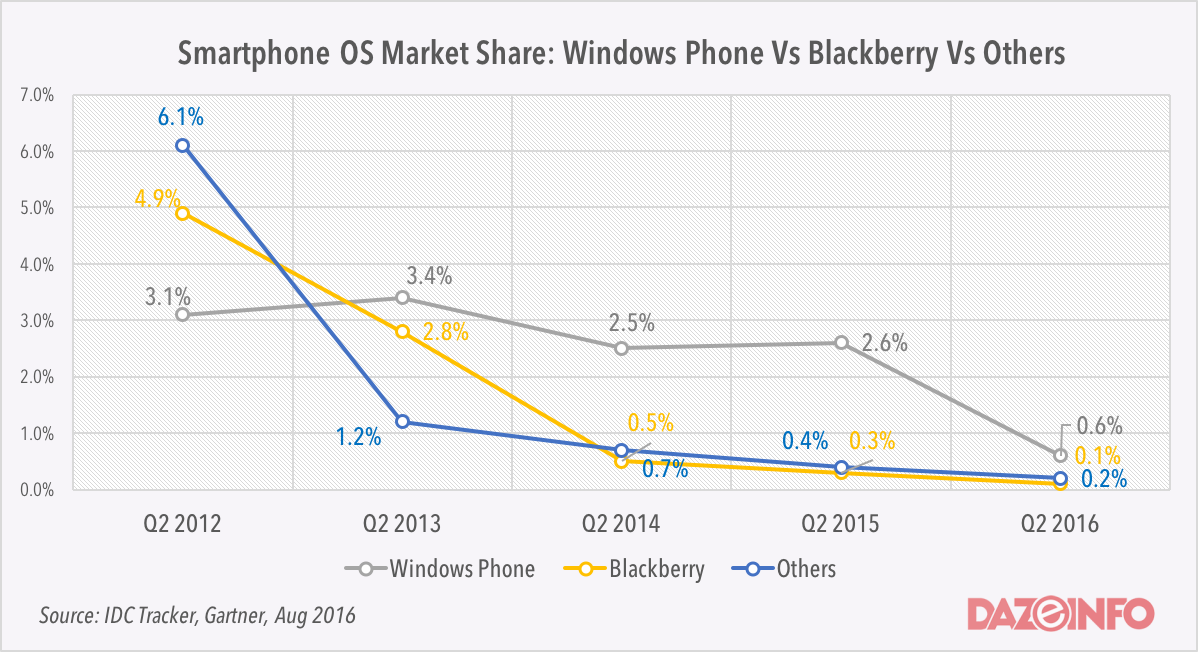 BlackBerry OS, on the hand, endured worsening regarding the worldwide growth. A lot of its volume shipments showed up on or after the Blackberry Classic. However, BlackBerry failed to cope with the growing competition in the market from both Android and iOS due to its lacklustre approach in dealing with the hardware. The company re-emerged with the idea of BlackBerry Priv – the company's first-ever official Android smartphone in November 2015. Unfortunately, none of its efforts showed any sign of hope.
Apple iOS witnessed a decline in market share for by 22.3% QoQ with 47.5 million shipments in Q2 2015. In spite of this decremented, Apple managed to survive by coming up with bigger screened iOS devices. The prominence of the iPhone 6 Plus proceeded in numerous key markets including China, where the overall market saw a restoration in development by 6.7%.
Wrapping Up
If we look at the records carefully, it's quite observable that Android always managed to hit the bull's eye with "better the bigger" ideology. Apple holds many patents in the mobile division, be it hardware or software, no matter what. In spite of that, when it comes to implementation, it doesn't necessarily benefit the one who does it first, but the one who does it better. Android has always managed to do it all better and as user-friendly as possible. Also, the price is also an important factor, especially in a country like India where people are getting more than they desire at half the costs of iPhones. Hence, if we look at how Android and Apple has performed in year's period, Android is on the verge to eat all other operating systems. And yes, iOS is one of them.