Recently the malware threat level is sprouting in the android platform. Hackers are targeting over the Android Platform to steal, earn and even spread Malware. For instance you can take a look back at the 100,000  Android devices in China that were attacked by malware (Trojan). A lot of the developers are still uncomfortable to work on Android Platform.
So what are the various risky Android Malwares, you might ask? According to Sophos, here are the top 5 detected Android malwares.
5)Andr/DrSheep-A:
Andr/DrSheep-A is an Android malware that can let the hackers to compromise social network accounts like Facebook, LinkedIn and Twitter. Hackers compromise user accounts or passwords in a wireless network environment. So the next time you try to access your accounts, you might find your accounts to be no longer accessible.
4)Andr/BatteryD-A:
Most of the Android fans have complaints about the battery consumption and this issue is not only limited to Android devices. So there are some fake app like the "Battery Doctor" that makes false promises to increase battery life on your Android devices. But what actually happens is that it aggressively pops ads, by sending identifiable info to the server using HTTP.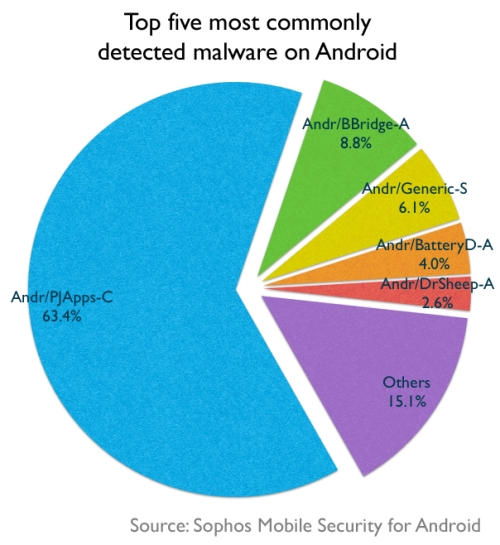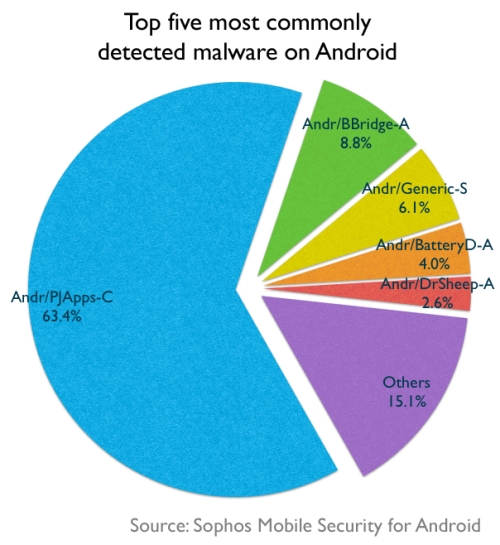 3)Andr/Generic-S:
Andr/Generic-S Android malware allows Hackers to gain unauthorized access to your information. Hackers benefit from such malwares where they can use the information to their advantage. Also it is responsible of displaying unwanted advertisements on your device screen.
2)Andr/BBridge-A:
This malware is responsible of further installations of malicious apps in your Android device without your knowledge, making it even more dangerous than the above mentioned malwares. It has the potential of connecting with the central server using the HTTP and giveaway vital data or info. It automatically signs you up with premium rated services online, without your prior knowledge and might cost you high. It even intercepts the incoming sms and removes the warning of you being charged for using premium rated services.
1) Andr/PJApps-C:
Andr/PJApps-C is the most commonly detected malware on Android devices of almost 63.4%. These are paid for apps that was hacked. Though it might not be malicious, yet it is illegal.