Obviously a lot of people would have heard about the malware issues related to the Android Platform and the number is expected to increase. And recently, 100,000  Android devices in China have already become victims of malware (Trojan) attack. People behind the making of such malwares, would have heavy wallets by now.
The malware is named as "[email protected]", which is responsible of stealing away user's money. As per the discovery of the malware by TrustGo, it silently runs on the background and places orders by automatically downloading paid apps and contents from the Mobile Market of China Mobile (Android app store). Be ware, users might experience a huge phone bill and further lead you to fight with your respective service providers. More over you might not even be aware of the actual reason. Users should use a more reliable mobile antivirus capable of screening such process.
As per TrustGo, (MMarketPay.A) Trojan is capable of finding paid application, triggering the click event in the background silently, intercept the received SMS messages and collect verification code sent by M-Market. In case if CAPTCHA image is invoked, then the Trojan will post the image to remote server for analyzing the verification code and finally post the verification code to the MMarket site. Superbly clever isn't it.
9 of the markets in China (nDuoa, GFan, AppChina, LIQU, ANFONE, Soft.3g.cn, Talkphone, 159.com, AZ4SD) found such viruses and 100,000 Android devices are already affected. Here are some of the MMarketPay.A malwares remade as the following, to infect further devices:
com.mediawoz.goweather
com.mediawoz.gotq
com.mediawoz.gotq1
cn.itkt.travelskygo
cn.itkt.travelsky
com.funinhand.weibo
sina.mobile.tianqitong
com.estrongs.android.pop
This is a pretty filthy malware. Already a lot of the developers are still uncomfortable to work on Android Platform just because of security issue . This news for them is definitely going to be a further no-no for the Android platforms. Here is a Malware report – May 2012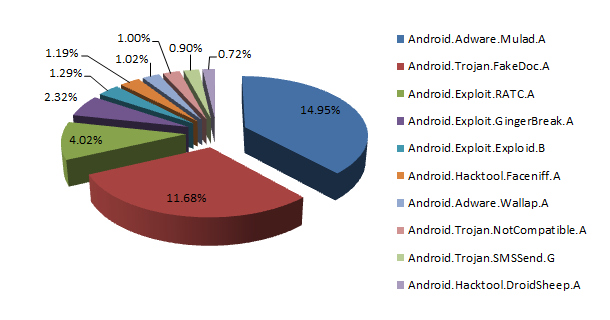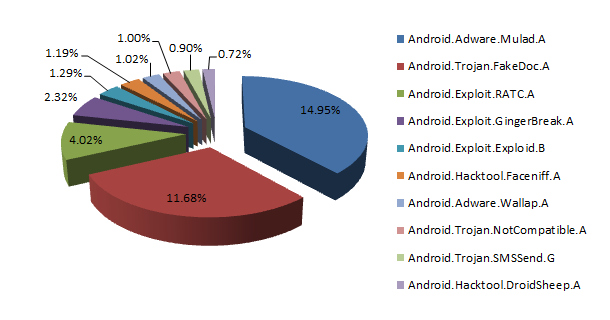 The security measures endeavored for fixing the security issues in Android platform is not sufficient. Mobile manufactures should seriously take this into consideration or else new android fans might spin away from using the technology. This most probably might have an adverse effect on the Android based mobile sales. Nothing can stop such criminals from inventing new malwares as they will continue to do so what so ever, but such attacks could be screened and minimized.
Image credit: hotforsecurity