Indian Tablet market is presently at the nascent stage and there is a great scope for potential Tablet manufacturers. It's expected that Indian Tablet market is going to be bullish this year due to significant increase in demand of the low price Tablet. Undoubtedly, the success of Tablets in India is determined by numbers of factors such as applications with vernacular support, data connectivity and price of the device. However, the country has still poor 3G and Wi-Fi penetration, which is squashing out the business of low-cost devices by different device manufacturers.
According to a recent research, more than 8,000 Tablet PCs are being sold  every day in the country. Likewise, a computer market research firm has also estimated that around 85,000 Tablet PCs are going to be shipped in 2012 and it's more likely to reach approximately 23.38 million by 2017.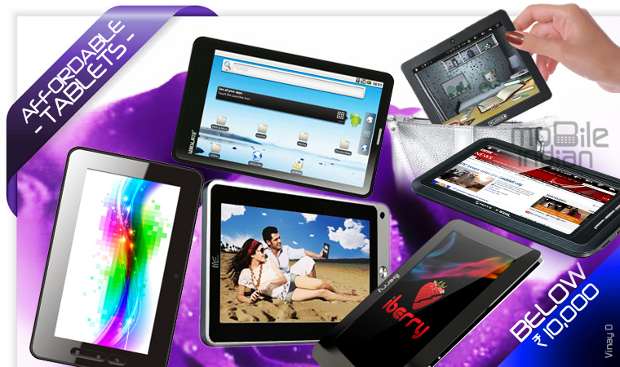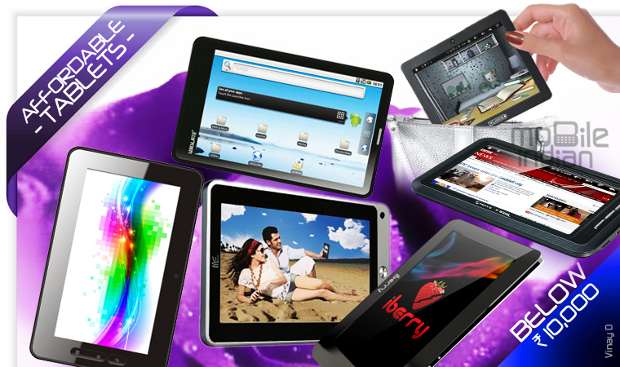 At present, a dozen of Tablet's lineup (form local manufacturers) are available in India at the nominal price. Last year, Data Wind with the collaboration of IIT Rajasthan's students,  introduced the world's cheapest Tablet "Aakash" for just $47. It's estimated that Indian government demanded 1 million units of device for the Indian student last year. However, the Canadian Company failed to produce such huge demand. The company has already announced to launch upgrade version of Aakash Ubislate 7 this year.
It was just the beginning of the advent of low price Tablet in the Indian Market, thereafter, BSNL launched its "Penta IS701R" Tablet at just INR 3,499 with Wi-Fi on March of this year in order to compete with Aakash Tablet. However, Reliance also introduced its CDMA Tablet in the same month of this year–its price (INR 12,999) is somewhat more than that of BSNL's Penta and Aakash–but the company has focused on the quality hardware and services.
In addition to these, Micromax has also entered into the Tablet segment with the launch of Android 4.0 based "Funbook " for just INR 5000. The company has targeted to technical students and IT professionals. Likewise, HCL has already introduced its three Tablets models models –My Edu Tab K12, My Edu Tab HE and My Edu Tab U1– this year.  My Edu Tab U1″  has been launched for the mass market at the nominal price of RS 7,999 ($158). Another  local mobile device manufacturer, Karbon,  has also jumped into the cheap Tablet war, launched its Android 4.0.3 version based Tablet in the market for INR 6,990.
There is a wide range of Tablets with different configurations and number of features at the nominal price in the market. Undoubtedly, the cheap Tablets from local manufacturers have threatened to brand manufacturers in India.
Challenges For Brand Manufacturers:
The price lay down by brand manufacturers are quite higher than the local manufacturers. Normally, the Tablet prices of brand manufacturers start from where the price of local manufacturers' end. Brand manufacturers are offering their Tablets with the range from INR 15,500 to INR 40,000. Last year, RIM launched its PlayBook model in the Indian market, initially, it did not get any impressive response from the folks. But the demand got leapfrog when the company decided to cut down the price of Tablet by 50% in the last year.
It quite well-known that the Indian market is price sensitive. Here, users are more likely to own cheap devices with maximum features. Local manufacturers are quite aware with the mentality of folks that's why they launch the devices what users are demanding. Foremost paraphernalia is here that price should be low, where brand manufactures do mistakes.
Indeed, economic factors are also playing a vital role in the penetration of Tablet across the country. The per-capita income of Indian folks are comparatively very low than matured and developed markets like the US ,where the Smartphone and Tablet penetration is quite high. Previously, I have already described that how households income, education background, and age of folks determine the purchase of the Smartphone and Tablet worldwide.
The penetration of Smartphone and Tablet are still confined to the elite cities of India. In India, the traditional feature phones with dual SIM have higher demand. Majority of users in the country are using their feature phone just for conventional calling and receiving. Some portions of the country are still out of reach from even 2G networks but here is a linger discussion about the implementation of 4G networks across the country. Almost 50% users are using their mobile devices for internet access across the country.
In India, majority of folks just bother about the service not for the quality. Quality of services become secondary for the folks here. That's why, some branded players like Apple has failed to make penetration in India. According to a recent report, 70% SMB (employee lower than 1000) have at least one Smartphone and Tablet device in their firm and 50% are planning to implement next year. Undoubtedly, the scenario of the country is changing due to advent of low price Tablet in India.